I'm putting the "green" back in green bean casserole!
Are you with me? I sure hope so. Because you know that traditional green bean casserole that everyone goes crazy for at Thanksgiving? Well, it's not really my thing.
Up until a couple years ago, I had never even actually tried it. It's not a dish that my family makes and serves. So it wasn't until I was older and out on my own that I had the opportunity to eat it at a Friendsgiving.
I must admit it was tasty. I did like it. And I might have even had two servings. Salty, creamy, fatty. What's not to love, right? But I don't think it will ever become a fixture on my Holiday table. I prefer my green beans super fresh and crunchy. Not covered in condensed soup.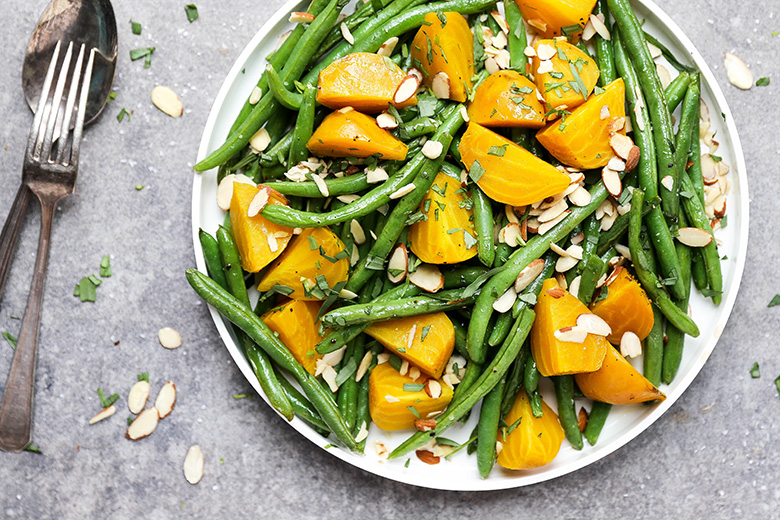 So today, I'm sharing this recipe for Green Beans and Golden Beets with Tarragon and Almonds. And my hope is that some of you out there on the internet might be feeling the same way as me about green bean casserole. And you might be itching for a lighter Thanksgiving side dish.
I love this recipe for the Holidays for a couple of different reasons. First, it's both vegan and gluten free, making it safe to eat for probably most of your dinner guests. Second, I think it's just as delicious served warm or at room temperature, taking some of the pressure off of timing out all your dishes perfectly. And third, you can do some of the prep work in advance (roasting the beets), saving you precious minutes on the big day.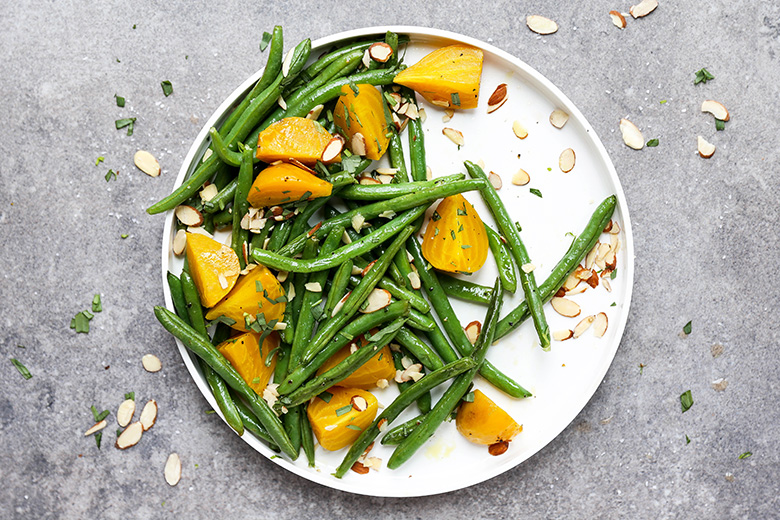 So the beets. Yes, they do take a long time to roast. But I like to roast them whole, because I think it preserves some of the brightness (both in terms of color and flavor) of the flesh. As I mentioned above, you can definitely do this part the night before. But wait to slice them until you're ready to serve the dish. You can use red beets, if you prefer, but I love the sunny, Fall-like hue of golden beets for Thanksgiving.
Cheers,
Liz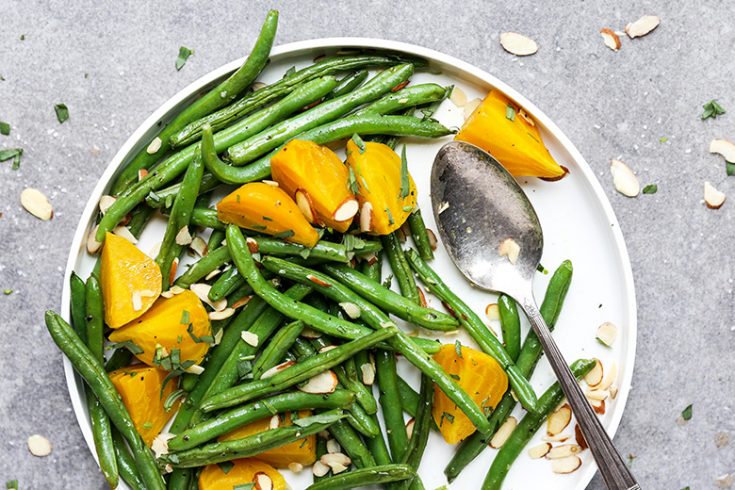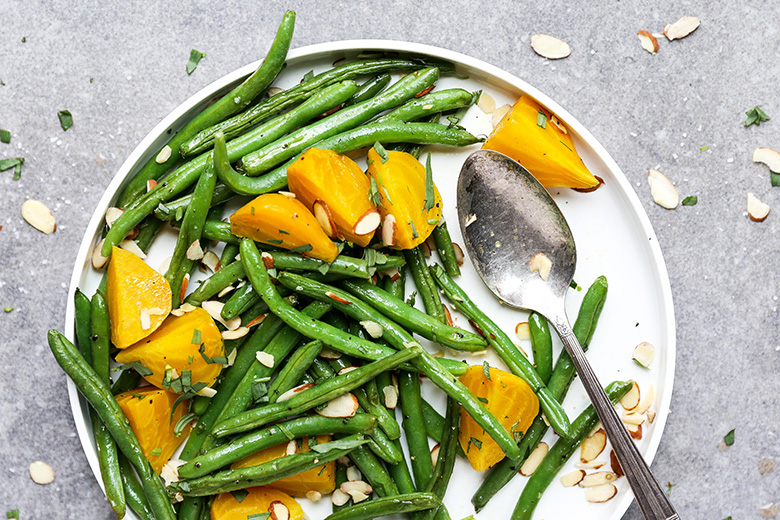 Green Beans and Golden Beets with Tarragon and Almonds
Yield: 8 servings

Prep Time: 10 minutes

Cook Time: 1 hour

Total Time: 1 hour 10 minutes
Ingredients
1 lb golden beets (medium sized), peeled and trimmed
2 tablespoons extra-virgin olive oil, divided
1 tsp. salt, divided
1 tsp. black pepper, divided
1 lb green beans
1/2 tablespoon red wine vinegar
1/4 cup sliced almonds
1-2 tablespoons fresh tarragon, roughly chopped
Instructions
Pre-heat your oven to 425 degrees.
Tear off a large piece of aluminum foil and fold it in half to double it. Add the beets to the aluminum foil, then drizzle them with 1 tablespoon of the olive oil and sprinkle with 1/2 tsp. each of the salt and black pepper. Fold up the edges of the aluminum foil to create a packet for the beets. Then place this packet in your pre-heated oven, directly on the oven rack. Roast the beets until they can be easily pierced with a small paring knife, about 50-60 minutes. Then carefully remove the packet from your oven and let the beets cool slightly. Once the beets are cool enough to handle, slice them into wedges.
Meanwhile, add the green beans to a large rimmed baking sheet. Toss with the remaining olive oil, salt and black pepper. Then roast in your pre-heated oven for 10-12 minutes. Remove and set aside.
Add the green beans and beets to a serving platter. Sprinkle with the red wine vinegar. Then top with the almonds and fresh tarragon. This dish can be enjoyed while still warm, or at room temperature.
Leftovers can be stored in an airtight container in your refrigerator for 2-3 days.
SaveSave
SaveSave
SaveSaveSaveSave
SaveSave
SaveSave
SaveSave