This post was originally published here on November 17, 2014. I've given the photos and text a bit of a refresh. Enjoy!
Are you guys all familiar with that traditional green bean casserole that's usually served at Thanksgiving? Yes? Well, I'm not. Because I've never eaten it in my life.
I'll pause for reaction.
Yes, it's true. Most people are shocked to find out that I've never had it. I think it makes me un-American or something. I don't know. I guess when your family is made up of a bunch of farmers, dumping an entire can of condensed soup onto crisp, fresh vegetables is kind of a sin.
But I'd be down to try it. So maybe someone wants to invite me over for a Friends-giving someday. Hint, hint.
Casserole or no casserole, I still think Thanksgiving should have green beans. I usually do a simple side dish of sautéed green beans with slivered almonds. But this year, I'm changing things up and going spicy with these Harissa Green Beans with Spiced Chickpeas and Feta Cheese. I hope my family doesn't revolt against me.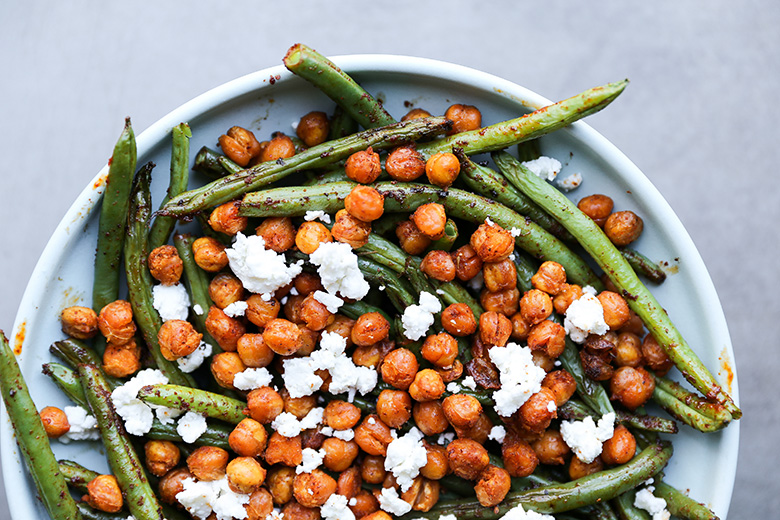 I used harissa paste, which you can buy in the grocery store or make at home (I've got a recipe here), to flavor the green beans. And a short list of spices to season the chickpeas. I roast the green beans and chickpeas separately to ensure they both end up perfectly cooked (just say "NO" to soggy green beans!). And only once they're done do I combine them with a few crumbles of creamy feta cheese before serving. The end results is a healthy, well balanced dish that's definitely worthy of your Holiday table. And a bit of an upgrade from the traditional casserole, if I do say so myself (not that I have any actual proof of that because I've never eaten it before).
Oh hey, want to know another weird Thanksgiving-related secret about me? My family doesn't serve mashed potatoes on Thanksgiving.
I think that statement requires a second pause.
And now since many of your have probably fainted from the trauma of reading that, I propose that this is a good place to end this post.
Cheers,
Liz
Ingredients
For the Chickpeas
1 (16 ounce) can chickpeas, drained and rinsed
1 tsp. extra-virgin olive oil
1/2 tsp. salt
1/2 tsp. cumin
1/2 tsp. paprika

For the Green Beans
1 tablespoon harissa paste
1 tsp. extra-virgin olive oil
12 ounces green beans, trimmed
1/4 cup feta cheese, crumbled
Instructions
Pre-heat your oven to 400 degrees.
Spread the chickpeas out on a paper towel. Then use another paper towel to pat them completely dry. In a medium bowl, combine the olive oil, salt, cumin and paprika. Add the dried chickpeas and toss until they are well coated. Spread the chickpeas out onto a rimmed baking sheet. Then transfer them to your pre-heated oven to roast for 25 minutes, stirring once halfway through cooking time. Remove the chickpeas from the oven and set them aside.
Meanwhile, prepare the green beans. In a large bowl, combine the harissa paste and the olive oil. Add the green beans and toss them to coat. Spread the green beans out onto a second rimmed baking sheet and transfer them to your pre-heated oven. Roast for 10 minutes. Then remove them from the oven and set aside.
To serve, arrange the green beans on a serving plate. Top with the chickpeas and the feta cheese crumbles. Serve immediately.
Leftovers can be stored in an airtight container for 1-2 days, although the chickpeas will loose their crispness over time.
https://www.floatingkitchen.net/harissa-green-beans-with-spiced-chickpeas-and-feta/