This post was originally published here September 21, 2013. I've since adjusted the recipe slightly. And I've updated the text and photographs to reflect those changes. This is a great Holiday side dish for both Thanksgiving and Christmas!
In my world, November means one thing and one thing only. It's go-time for Thanksgiving! And I can't think of a better way to kick off the month than with one of the most beloved and iconic Thanksgiving side dishes of all time: mashed potatoes.
A quick confession before we get into today's recipe. The Thanksgiving dinners of my childhood DID NOT have mashed potatoes. I know! It's shocking, right? But you see, we're Armenian. And Armenians eat rice pilaf. So it wasn't until I was older and started hosting my own Thanksgiving dinners with more of a mixed crowd, that I started serving mashed potatoes. At first it was out of fear of mutiny if there weren't mashed potatoes present. But now they are on my must-have list of side dishes, too. What can I say? I've adapted!
I still also want my rice pilaf!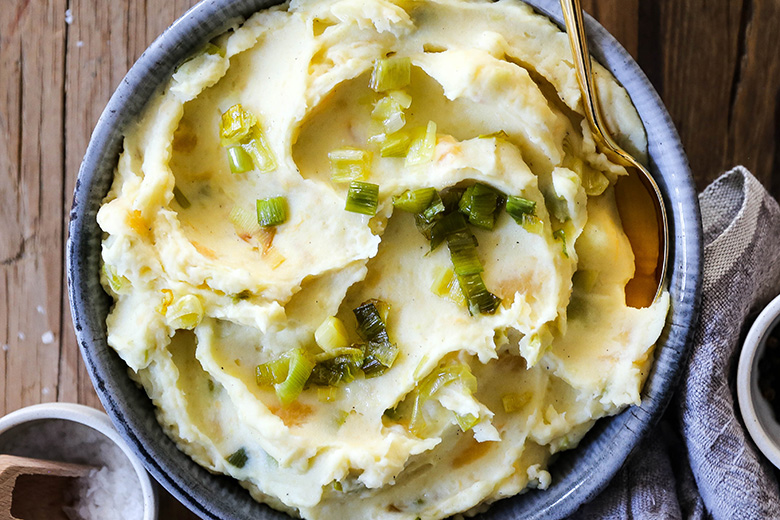 So now that we've cleared the air, let's talk about these Sour Cream Mashed Potatoes and Turnips with Sautéed Leeks. I'm guessing most, if not all, of you already have a go-to recipe for mashed potatoes. And I'm not here to just re-hash the same old thing. Because what's the point in that? Instead, I'm bringing you a slight variation on the classic that I'll hope you'll want to try if you're looking to change things up a bit. And if not for Thanksgiving, then maybe sometime later this Fall or Winter. I know we all have our own Holiday traditions. So I take zero offense if you're happy sticking with what you know and love.
For mashed potatoes, I always choose Yukon Golds. They are naturally creamy and buttery. And I never have a problem with them being mealy. In addition to the potatoes, this recipe also has turnips. If you haven't eaten turnips before, they have a mildly spicy, earthy flavor. They're most similar in taste to a parsnip. And when cooked, they combine seamlessly and smoothly with the potatoes.
The sautéed leeks bring a subtle onion flavor to this dish. And they provide a little bit of texture and color, too. I don't need my mashed potatoes to resemble baby food. I like them to be toothsome. For creaminess, I use a combination of sour cream and extra-virgin olive oil. Yes, there is no butter or milk here. Again, I know! But I promise they are as rich and satisfying as any mashed potatoes you've had previously.
If you give my Sour Cream Mashed Potatoes and Turnips with Sautéed Leeks a try this Holiday season, or at any other time, please let me know. I'd love to hear about it!
Cheers,
Liz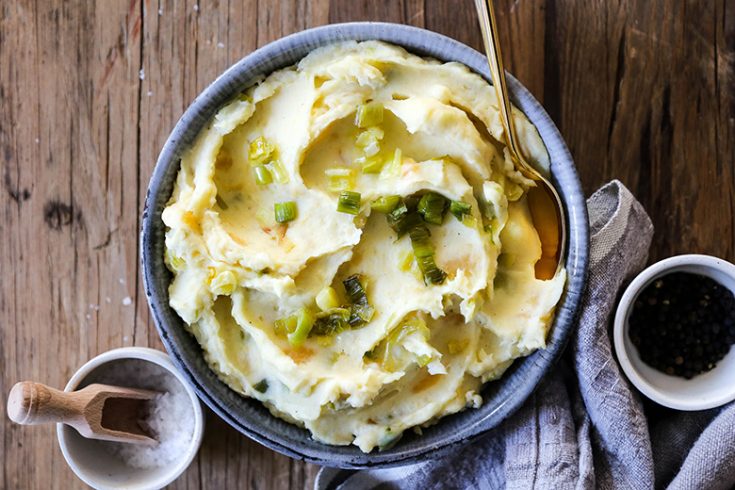 Sour Cream Mashed Potatoes and Turnips with Sautéed Leeks
Yield: Serves 4-6
Prep Time: 10 minutes
Cook Time: 30 minutes
Total Time: 40 minutes
Ingredients
1 1/2 lbs Yukon Gold potatoes, peeled and cut into cubes
1 lb turnips, trimmed, peeled and cut into cubes
1/4 cup extra virgin olive oil, divided
1 leek, white and light green portions thinly sliced
1/3 cup sour cream
1/2 tsp. salt, plus more for seasoning the cooking water
1/2 tsp. black pepper
Instructions
Place the cubed potatoes and turnips in a large pot and cover them with 1-inch of cold water. Add a generous pinch of salt. Place the pot over high heat and bring to a boil. Then turn down the heat to maintain simmer and cook the vegetables, uncovered, for 20-25 minutes. They should be soft and easily pierced with a small paring knife. Quickly drain the vegetables and immediately transfer them back to your still hot pot to help evaporate any excess water.
Add the sour cream, salt, pepper and 2 tablespoons of the olive oil to the pot. Mash the vegetables with a large wooden spoon or a potato masher, incorporating the other ingredients as you do so. If you want a smoother mash, you can use a hand mixer. Cover to keep warm.
Meanwhile, warm about 2 tablespoons of the olive oil in a medium non-stick skillet over medium heat. Add the sliced leeks and cook, stirring frequently, until tender and lightly browned, about 5 minutes. Remove from the heat.
Scrape the sautéed leeks and any remaining olive oil into the pot. Stir to combine. Then taste and adjust for salt and pepper, if necessary.
Re-warm slightly before serving, if necessary.
Leftovers can be stored in an airtight container in your refrigerator for 2-3 days.