Thanksgiving 2020 is in the books. There was an abundance of great food…even though there wasn't an abundance of people. But still we ate, drank, Zoomed and laughed. All in all, it was a success. And I am indeed feeling very thankful.
Before we dive straight into all things Christmas (it is still technically November after all!), I wanted to share this easy Creamy Potato and Parsnip Soup. I'm still feeling rather overstuffed from the long Thanksgiving weekend. So a gentle, cozy bowl of soup is exactly what I'm in the mood for. I'm not quite ready for all the festive cookies and cakes just yet!
The bulk of this soup is Yukon gold potatoes. And that's what makes it so damn dreamy. This soup is beyond luscious and creamy. And yes, I do stir in some sour cream at the end (you can substitute Greek yogurt, if you prefer). But it's just under a cup. Most of the creaminess comes straight from the potatoes!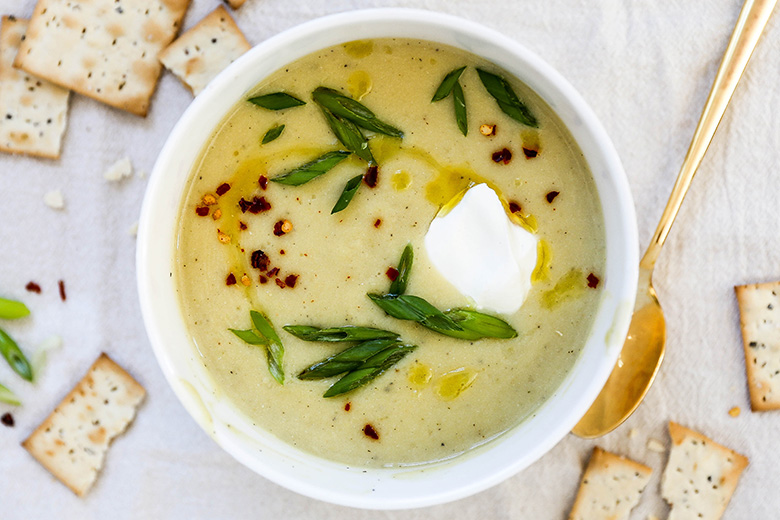 I was pleasantly surprised at how well the flavor of the parsnips came through in this Creamy Potato and Parsnip Soup. Because if I'm being completely honest, I had initially planned to use more parsnips in this recipe. But when I searched in my crisper drawer, I found I only had two rolling around in there. I swear there was a third! But I made it work. And I'm really happy with how it turned out. You can definitely taste the unique flavor profile of the parsnips in here, which I like to describe as sweet, earthy and nutty. But if you want to experiment with amping up the parsnip flavor even more, I'd say you can't go wrong adding in an additional half cup.
This soup is THICK. You might need some extra broth to thin it out, especially when re-heating the leftovers. And it's ready to take on all the toppings that you could desire. I wanted to keep this recipe vegetarian, so I just used some sliced scallions and a shake of red pepper flakes. But cooked and crumbled bacon would be delicious. Or a sprinkle of shredded cheese. Whatever you might put on top of a loaded baked potato will work here as well!
The next couple of weeks I'll be in Christmas mode. So if you have any last minute requests for recipes, ingredients or flavors that you want to see here, let me know!
Cheers,
Liz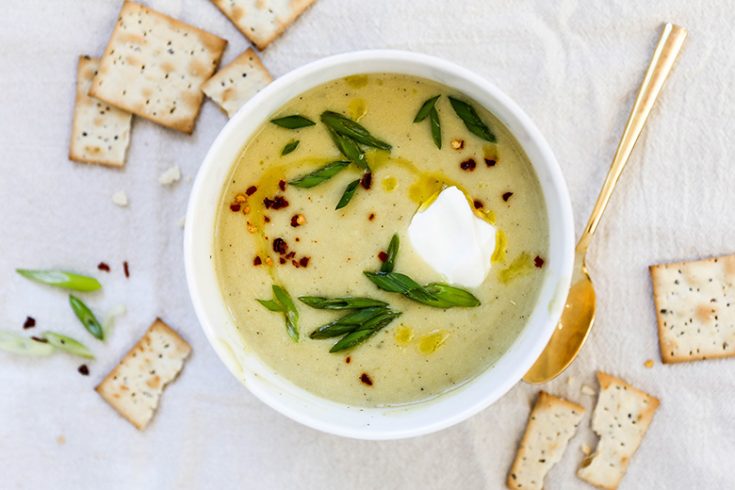 Creamy Potato and Parsnip Soup
Yield: Serves about 6
Prep Time: 10 minutes
Cook Time: 45 minutes
Total Time: 55 minutes
Ingredients
2 tablespoons extra-virgin olive oil
1 tablespoon butter
1 1/2 cups peeled and chopped parsnips (from about 2 medium parsnips)
1 cup peeled and chopped onion
4 garlic cloves, peeled and chopped
6 cups peeled and chopped Yukon gold potatoes
1 tablespoon fresh rosemary, chopped
2 tsp. fresh thyme leaves
1 1/2 tsp. salt
3/4 tsp. black pepper
1/4 cup white wine
4 cups vegetable broth
1 bay leaf
3/4 cups sour cream
2-3 scallions, trimmed and thinly sliced
Red pepper flakes
Instructions
In a large stockpot over medium heat, warm the olive oil and butter. Add the parsnips, onion and garlic and cook, stirring occasionally, for 5 minutes. Add the potatoes, rosemary, thyme, salt and pepper and cook, stirring occasionally, for an additional 5 minutes.
Add the white wine and turn up the heat so it simmers, scraping up any browned bits from the bottom of the pot with a wooden spoon. Then stir in the vegetable broth and bay leaf. Cover the pot and bring the soup up to a boil. Then turn down the heat to maintain a simmer. Cook until the parsnips and potatoes are very soft, about 25-30 minutes. Then turn off the heat and allow the soup to cool slightly. Remove and discard the bay leaf.
Once the soup is cool enough to handle safely, purée it until it's completely smooth using either a blender, an immersion blender or a food processor fitted with the blade attachment. You will most likely need to work in batches.
Return the puréed soup to your pot and re-warm it over medium heat. Add the sour cream and stir until it's fully incorporated. Taste and adjust for salt and pepper, if necessary.
Ladle the warm soup into bowls. Top with sliced scallions and a sprinkle of red pepper flakes before serving. Enjoy immediately.
Leftovers can be stored in an airtight container in your refrigerator for 2-3 days.