This post was originally published here October 9, 2013. I've adjusted the recipe slightly and updated the text and photographs to reflect those changes.
I see a lot of bloggers talking about Spring. And while I appreciate the optimism, it's still very much Winter here in New England. In fact, February is typically our coldest and snowiest month of the year. And we usually get a surprise late-season blizzard in March. Ugh.
So what does all this mean? Well, I'm still on high alert for whatever Mother Nature has left to throw at us (can't put the snow shovels away yet!). And I haven't given up on my favorite comfort foods, either.
Growing up, I always remember having beef stew on the weekends. My Mom made (and still makes) hers on the stove top. A process that would take her the better part of the late afternoon and early evening, as she would brown the cubed beef in batches and then let it simmer in the stew base for several hours before adding the remaining ingredients and finishing the stew. It was always tender, flavorful and the perfect antidote to the Sunday scaries. But it was also a time-consuming process.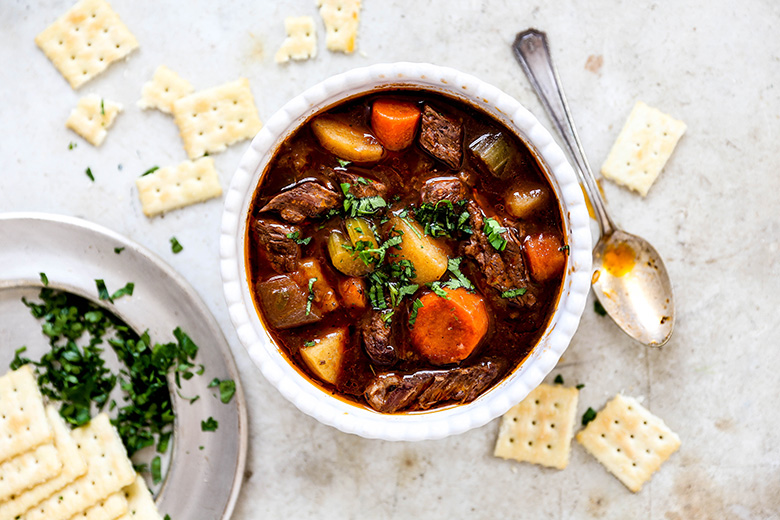 So here I am. Being the whiny only child that I am. Wanting to enjoy delicious homemade beef stew. But wanting it without all the heavy time commitment.
Annoying. I know.
But with my slow cooker, it's all possible. What a world we live in!
This Slow Cooker Beef and Vegetable Stew is a MUST MAKE. Yes, you still need to brown the meat. But the trick is to do it in larger steak-sized pieces. The whole process doesn't take nearly as long this way, because you save yourself time by not having to trim and cube all the meat into bite-sized pieces. And you won't need to work in as many batches and monitor the browning process as vigilantly.
From there, it's essentially the standard slow cooker dance that we all know and love. Add the vegetables in first, then lay the browned meat on top, followed by the liquids. Cover and then just let it go.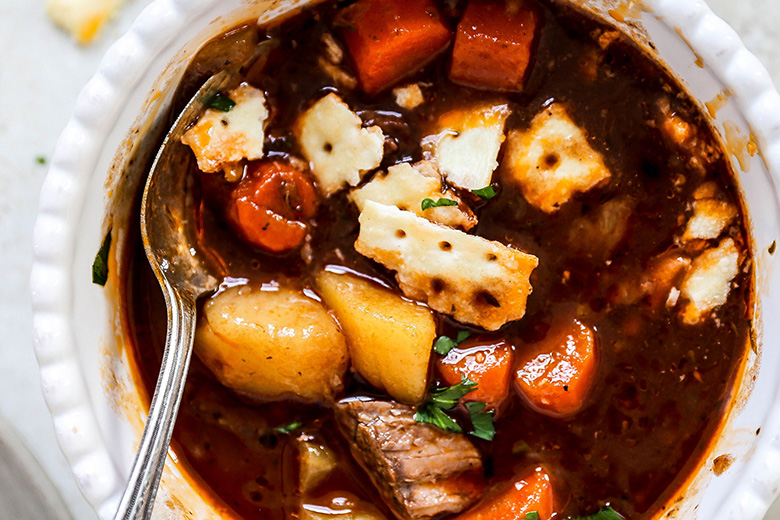 If I'm making this recipe on the weekend, I'll usually start it in the afternoon and cook it on the "high" setting for 5-6 hours. But you can also start it in the morning and leave it on the "low" setting for 10-11 hours. Which means if you're feeling ambitious, you could certainly set this up before work and be treated to a bowl of homemade stew when you arrive home.
This Slow Cooker Beef and Vegetable Stew is also a big hit because it has one of my favorite ingredients of all time. Have you guessed it yet? It's chocolate! YES! You know I'm down for putting chocolate (in this case, we're using unsweetened cocoa powder) in ALL THE THINGS. And savory meat dishes are no exception. The cocoa powder adds richness and depth of flavor. And it will make people say "hmmm…what's unique about this recipe?". But don't worry. The final stew doesn't taste strongly of chocolate. Just trust me and give it a try!
Cheers,
Liz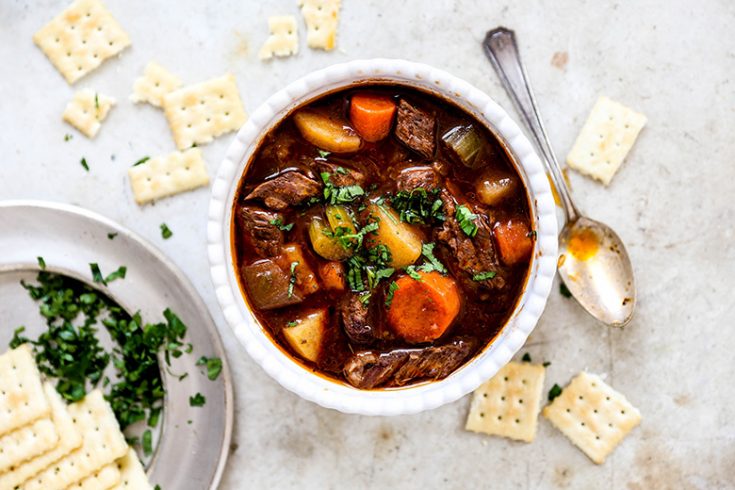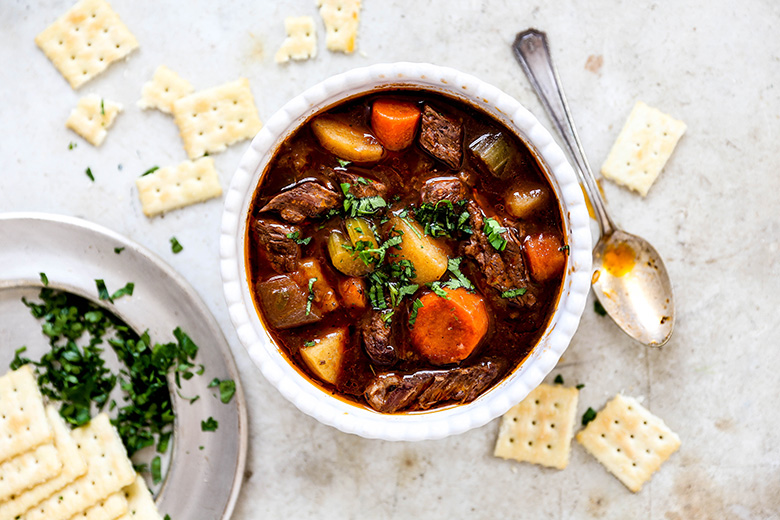 Slow Cooker Beef and Vegetable Stew
Yield: Serves 8
Prep Time: 30 minutes
Cook Time: 12 hours
Total Time: 12 hours 30 minutes
Ingredients
3 cups beef broth, divided
2 tablespoons unsweetened cocoa powder
1 (15-ounce) can tomato sauce
1/2 cup red wine
2 tablespoons balsamic vinegar
1 tablespoon Herbs de Provence
1 1/2 tsp. salt, divided
1 tsp. black pepper, divided
3 cups peeled and cubed potatoes
2 cups peeled and chopped carrots
1 cup peeled and chopped celery
1 cup peeled and chopped onion
1/2 cup chopped dried apricots
4 garlic cloves, peeled and minced
1/2 jalapeño pepper, minced
3 tablespoons vegetable oil, divided
3 lbs boneless steak, trimmed of excess fat (ribeye or top loin works well)
3 tablespoons cornstarch
Fresh parsley, minced
Instructions
Warm about 1/2 cup of the beef broth and add it to a large bowl. Add the cocoa powder and whisk until it's well incorporated. Then stir in the remaining beef broth, tomato sauce, red wine, balsamic vinegar, Herbs de Provence and 1/2 tsp. each of the salt and black pepper. Set aside.
Add the potatoes, carrots, celery, onion, apricots, garlic and jalapeño to your slow cook. Drizzle with about 1 tablespoon of the vegetable oil and stir to coat.
Cut the steak into 8 equal-sized pieces and season both sides with the remaining salt and black pepper. Heat the remaining vegetable oil in a heavy bottom pan over medium-high heat. Working in batches, add the steak and cook about 2 minutes per side, just until browned.
Lay the browned steak on top of the vegetables in your slow cooker (it will overlap some). Then pour the broth mixture over top. Cover your slow cooker and cook on the "low" setting for about 10-11 hours or the "high" setting for about 5-6 hours. The vegetables and steak should be tender.
After cooking, ladle out about 1 cup of the broth from your slow cooker and transfer it to a small bowl. Add the cornstarch and whisk until it's dissolved and the mixture is thick. Scrape this mixture into to your slow cooker and stir gently to combine. Cover and cook for an additional 20-30 minutes before serving. Garnish with fresh parsley for serving, if desired.
Leftovers can be stored in an airtight container in your refrigerator for 2-3 days.