Well look at what we have here. Something savory!
So far, it's been a month dedicated to everything sweet. Candies, cookies and cakes galore! I've hit almost all the major Holiday food groups.
The only thing missing from the lineup up until this point has been a festive cocktail. And, well, I actually have a brand new adult beverage coming out later in the week. So if you're looking to put a little jingle in your step this Holiday season, keep your eyes peeled for that one. And in the meantime, let's talk about this Beet and White Bean Hummus with Homemade Holiday Tortilla Chips.
I wanted to make a dip that was all dressed up in the colors of Christmas, and beets seemed like the best way to do that. Or at least the best (and most natural) way to come close enough. The hot pink hue of this hummus feels very festive to me. Especially when it's finished off with a few sprigs of fresh dill (a very Christmas tree looking herb, if you ask me).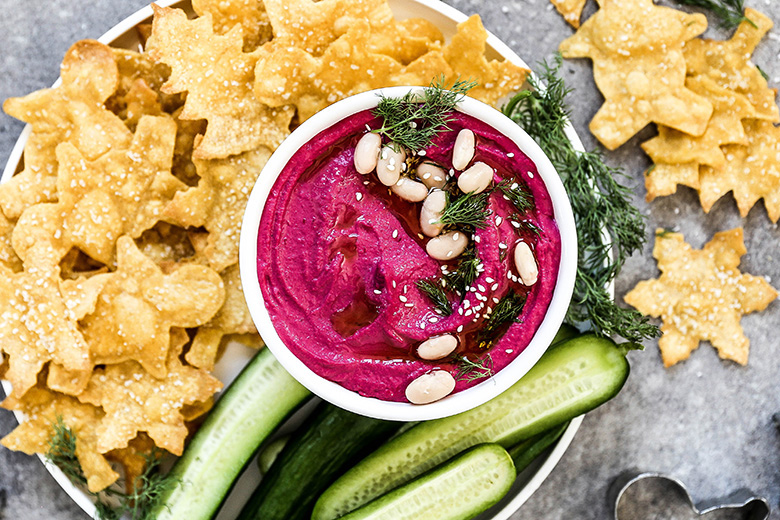 To make this appetizer even more worthy of the Holidays, I made some DIY tortilla chips using my Christmas cookie cutters. I literally have a bucket of cookie cutters hiding in the back of my kitchen cabinet. And they hardly ever get used. So this was a fun and easy way to take them for a spin at least one extra time during the Christmas season. I got the idea from Amanda at Heartbeet Kitchen, who brilliantly used Halloween cookie cutters to make spooky tortilla chips to serve alongside her Cream Cheese Onion Dip. So genius. I'm totally obsessed with the concept.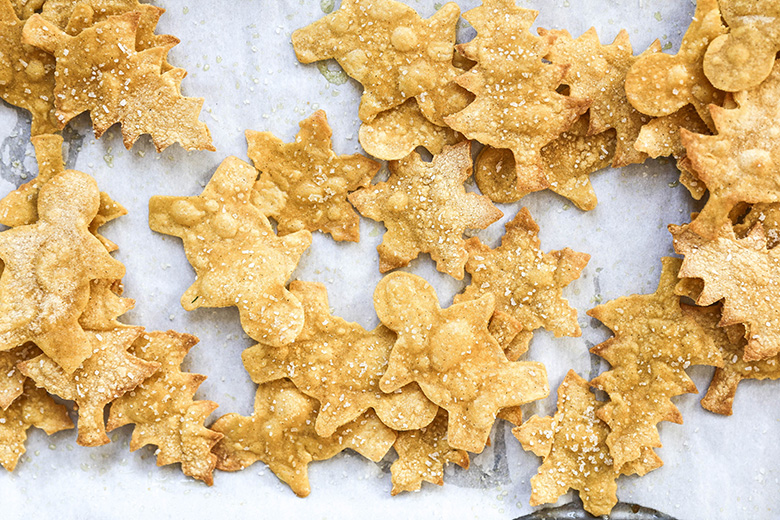 Of course, if you're not feeling the homemade tortilla chips, you can certainly buy a bag of your favorite brand from the grocery store. But if you are going to venture down this path, I would recommend reaching for a bottle of spray-able cooking oil. It makes coating the individual corn tortilla cut-outs much easier!
Cheers,
Liz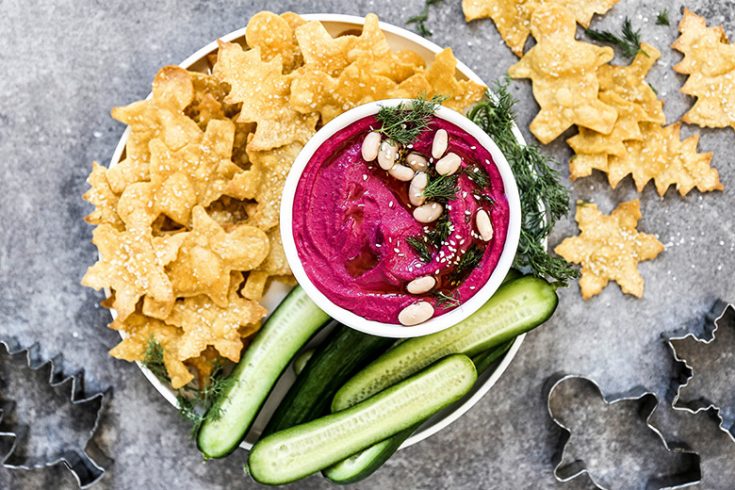 Beet and White Bean Hummus with Homemade Holiday Tortilla Chips
Yield: Makes about 3 cups of hummus
Prep Time: 15 minutes
Cook Time: 2 hours
Total Time: 2 hours 15 minutes
Ingredients
For the Hummus:
1 medium beet, trimmed and peeled
2 tablespoons extra-virgin olive oil, plus more for roasting the beet
1 tsp. salt, plus more for roasting the beet
1/2 tsp. black pepper, plus more for roasting the beet
1 (15-ounce) can white beans, rinsed and drained
1/3 cup tahini paste
1/4 cup fresh squeezed lemon juice
2 tablespoons Greek yogurt
1 garlic clove, peeled
For the Tortilla Chips:
1-2 packages corn tortillas
Neutral tasting oil (like canola oil)
Salt
Instructions
Pre-heat your oven to 400 degrees. Place the beet in the center of a square of aluminum foil. Then drizzle it with a little olive oil and sprinkle with a pinch of salt and black pepper. Wrap-up the aluminum foil, making a packet for the beet. Then place it in your pre-heated oven to roast for 65-75 minutes, or until the beet can be easily pierced with a small paring knife. Remove and set aside to cool. Once the beet is cool enough to handle, roughly chop it into cubes. Set aside.
In your food processor with the blade attachment, pulse together the white beans, tahini, lemon juice, yogurt, garlic and the remaining olive oil, salt and black pepper until everything is just combined. Add the beet cubes and pulse an additional 5-6 times. Stop to scrape down the sides of the bowl. Then process until the hummus is completely smooth, about 2 minutes. Taste and add more salt and black pepper, if desired. You can also add an additional 1-2 tablespoons of olive oil if the hummus is dry.
The hummus can be made 1-2 days in advance and stored in an airtight container in your refrigerator until you're ready to serve it.
To serve, transfer the hummus to a bowl. Garnish with fresh herbs (I used dill), sesame seeds and a drizzle of olive oil, if desired. Serve with tortilla chips, sliced vegetables, bread or any of your favorite dippers.
To make the tortilla chips, use your favorite Holiday cookie cutter(s) to cut out shapes in the corn tortillas. Spread the shapes out into a single layer on parchment paper lined baking sheets. Then brush/spray them lightly with oil and sprinkle with salt. Bake in your 400 degree oven for 8-9 minutes, or until crisp and starting to turn golden around the edges. Remove and set aside to cool. Serve with the hummus.
Notes
Don't waste the corn tortilla scraps! You can cook them up just like you do the cut-outs. And save them for yourself to snack on before your party guests arrive!
Recipe inspired from Bon Appétit.