Disclosure: This post is sponsored by Duda Farm Fresh Foods. All opinions are my own. Thank you for supporting brands and companies that help to keep Floating Kitchen afloat!
Have you ever met a salsa you didn't like? Yeah, me neither. And I'm a bit of a snacking monster, so I've tried A LOT of salsas in my day!
If you love chips and salsa as much as I do, then I've got a brand-new salsa variation for you to add to your snacking repertoire: salsa made with radishes!
Sounds fun, right?!?!
Since the radishes are the star of the show here, I've teamed up with Duda Farm Fresh Foods to help me deliver the crunch. Their Ready Radishes are crisp, flavorful and already prepped to add straight into your favorite recipes. Dandy Ready Radishes make this Radish and Pineapple Salsa quick and easy to put together. So you'll spend less time in the kitchen and more time snacking!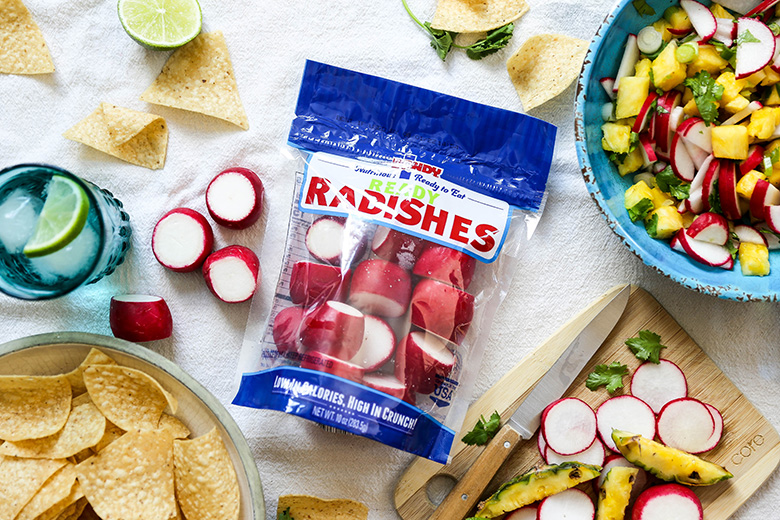 This Radish and Pineapple Salsa combines sliced Dandy Ready Radishes, fresh pineapple, scallions, cilantro, jalapeño and lime juice. Just add all the ingredients to a big bowl, stir and devour. This salsa is refreshing, easy and extremely versatile. I love eating it right out of the bowl with tortilla chips. But you can also use it as a topping for tacos, grilled chicken and more. Try it anywhere you would use a more traditional salsa. The possibilities are endless!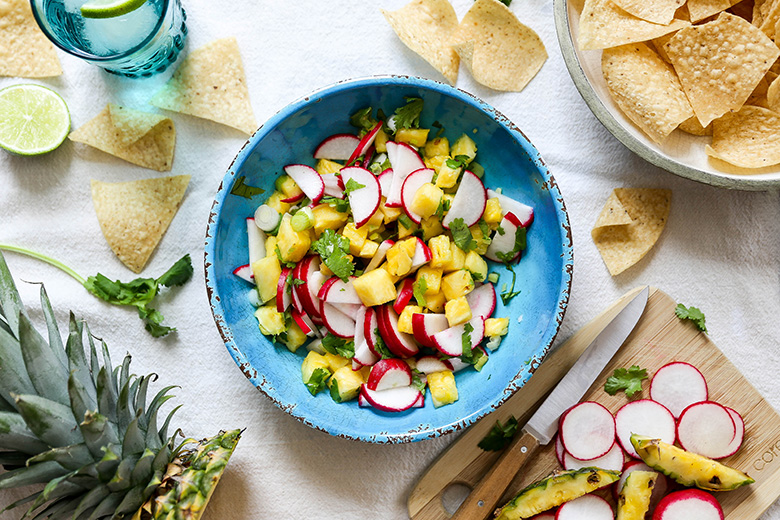 Dandy Ready Radishes make this salsa extra crunchy. And they bring that unmistakable spice and earthy-ness that's unique only to radishes. I chose to pair the radishes with pineapple for this recipe, because I knew the sweetness and juicy-ness of the pineapple would be a great match for the savory radishes. If you're a sucker for savory-sweet flavor combinations, then this salsa is definitely for you!
Want to make this recipe even easier? Then reach for a bag of Dandy Radish Coins or Radish Ministicks and skip the slicing all together. Duda Farm Fresh Foods has radishes available to fit all your needs. Check out their store locator to find out where you can pick some up today.
Cheers,
Liz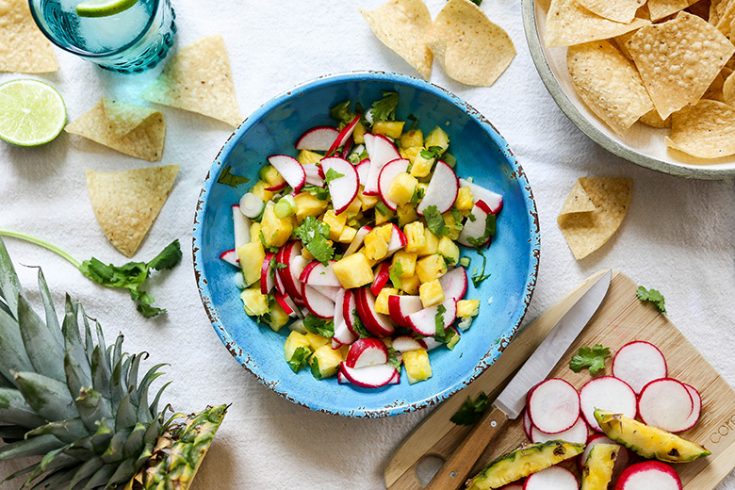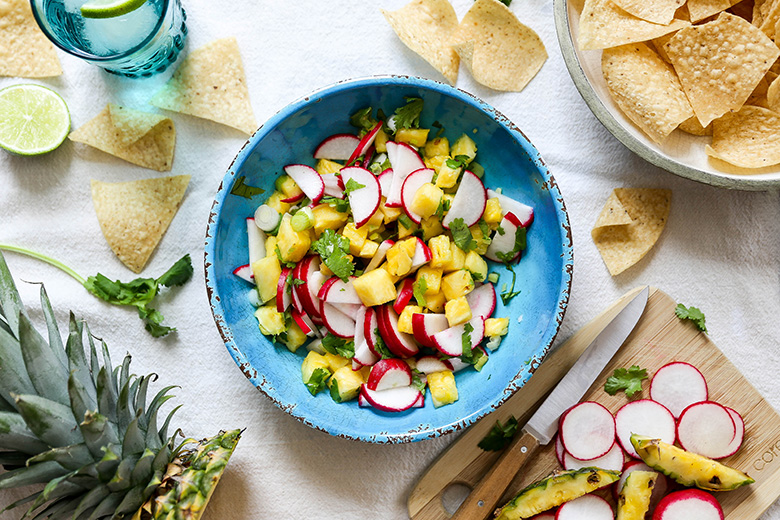 Radish and Pineapple Salsa
Yield: Serves 4-6
Prep Time: 5 minutes
Total Time: 5 minutes
Ingredients
2 cups peeled and diced fresh pineapple
1 cup sliced Dandy Ready Radishes (from about 6-8 radishes)
2 scallions, white and light green portions thinly sliced
3 tablespoons fresh cilantro, roughly chopped
1 tablespoon minced jalapeño pepper
1 tablespoon fresh squeezed lime juice
1/4 tsp. salt
Instructions
Add all the ingredients to a bowl, tossing to combine.
You can serve this salsa immediately. Or cover and refrigerate it for up to 1 day before serving.