This post was originally published here August 4, 2016. I've since adjusted the recipe slightly. And updated the photographs and text to reflect those changes.
It's been REALLY HOT this past week. Which means I haven't had much interest in cooking or baking. I've basically been existing on watermelon, ice cream and caprese salads.
But then I remembered the ease and simplicity of chilled soups. And my motivation to get back into the kitchen was temporarily restored!
But the extreme heat wasn't the only thing that inspired me to make this Chilled Lettuce, Cucumber and Pea Soup with Corn Salsa. I was also inspired by all the beautiful Boston lettuce growing in our hydroponic greenhouse. Boston lettuce leaves are soft, tender and sweet. Which makes them an ideal ingredient for this chilled soup.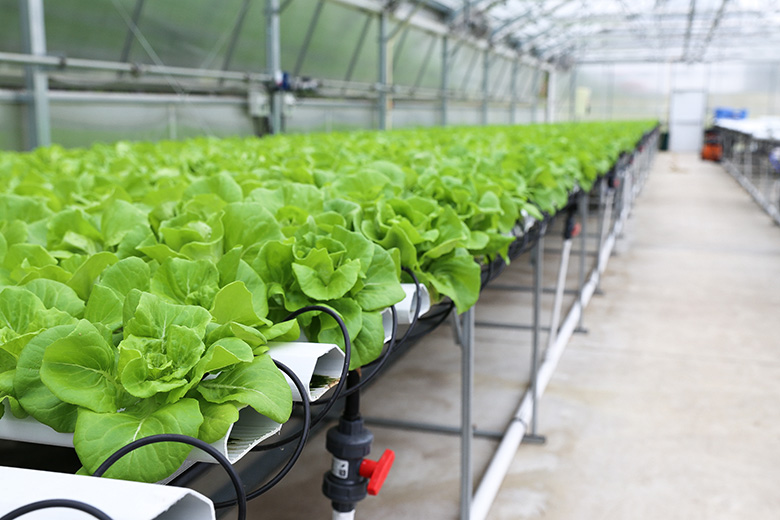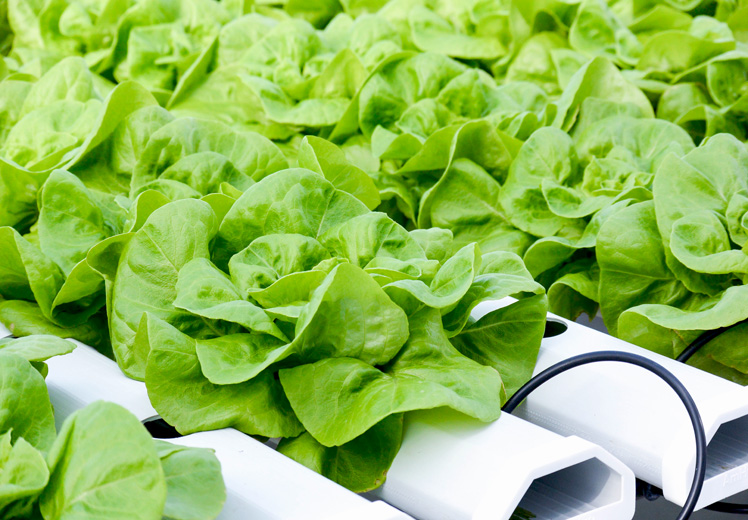 In addition to an entire head of Boston lettuce (you can also look for labels that say "Bibb" or "Butter" lettuce), this chilled soup contains cucumber, peas (I used frozen), scallions, mint, jalapeño pepper and lime juice. Just add everything to your blender and push the button. That's it! But don't be thinking that this Chilled Lettuce, Cucumber and Pea Soup with Corn Salsa is going to be all watery and thin. Nope. It has major body! Because I blend in buttermilk for creaminess, thickness and that unmistakable little bit of "tang". It really elevates this chilled soup to the next level! But if you don't enjoy the flavor of buttermilk, you can substitute it for regular heavy cream.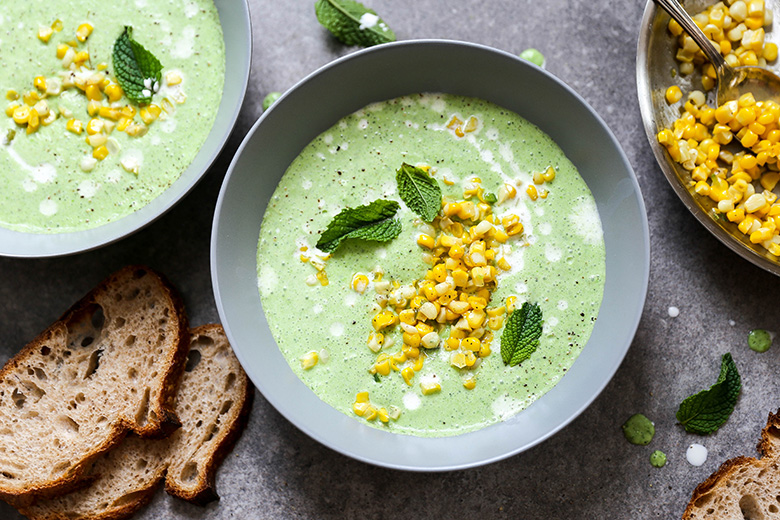 You all know by now that I can't handle naked soups. Especially naked puréed soups. So I made a quick corn salsa with fresh corn kernels, jalapeño pepper and lime juice. This topping adds just the right amount of texture to each bite of this chilled soup. And it makes it extra pretty, too!
If you're going to be enjoying this Chilled Lettuce, Cucumber and Pea Soup with Corn Salsa as a main dish, this recipe makes 2 servings. But I also LOVE the idea of serving small portions of this chilled soup as a starter for a Summertime meal. If you're going to go that route, you can probably get 6-8 servings from this recipe.
Cheers,
Liz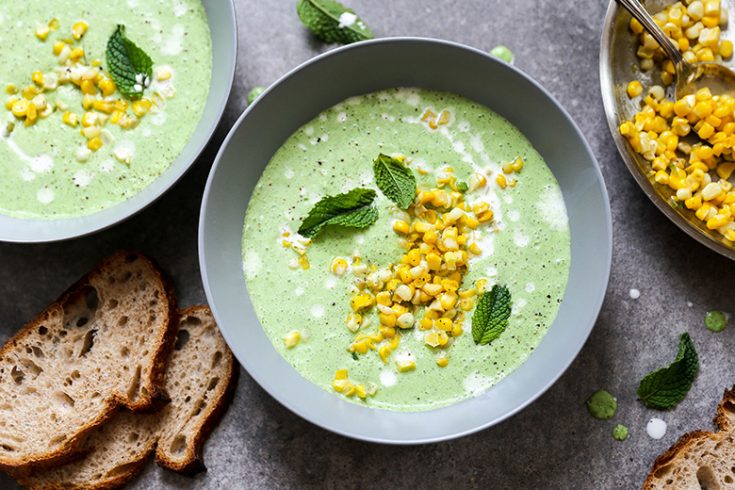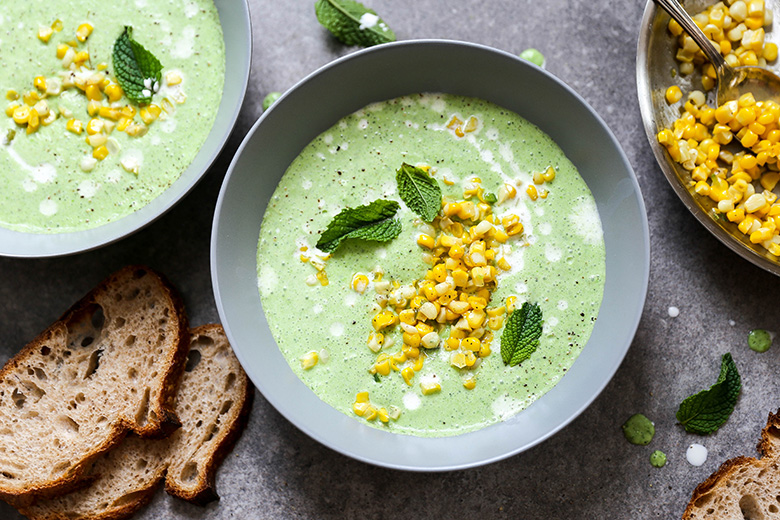 Chilled Lettuce, Cucumber and Pea Soup with Corn Salsa
Yield: Serves 2 as a main, 6-8 as a starter
Prep Time: 5 minutes
Cook Time: 5 minutes
Additional Time: 30 minutes
Total Time: 40 minutes
Ingredients
For the Soup:
1 small-medium head Boston lettuce, leaves separated and torn
1 large cucumber, peeled and chopped
1 cup peas (can be frozen or fresh)
1 cup buttermilk
2 scallions, white and light green portions chopped
1 tablespoon fresh mint leaves
Juice from 1 lime
1 tsp. diced jalapeño pepper
1 tsp. salt
1/2 tsp. black pepper
For the Corn Salsa:
1 tablespoon extra-virgin olive oil
1 ear of corn, kernels sliced off
1 tsp. diced jalapeño pepper
1/2 tablespoon fresh squeezed lime juice
1/4 tsp. salt
1/8 tsp. black pepper
Instructions
Add all the ingredients for the soup to your blender and blend on high until smooth. If there isn't enough liquid, you can add a couple tablespoons of cold water. Transfer the soup to a clean container and place it in your refrigerator to chill for at least 30 minutes before serving.
While the soup chills, make the corn salsa. Warm the olive oil in a small skillet over medium-high heat. Add the corn kernels and diced jalapeño pepper and cook, stirring frequently, for 2-3 minutes. Stir in the lime juice, salt and black pepper. Remove the skillet from the heat and transfer the corn salsa to a small bowl to let it cool.
To serve, divide the chilled soup between serving bowls. Top with some of the corn salsa. If desired, drizzle with additional buttermilk and sprinkle with freshly ground black pepper. Enjoy immediately.