This post was originally published here June 30, 2013. I've since made some changes to the recipe and I've updated the text and images to reflect those changes. I hope you try out these salty-sweet bites this Summer!
So…I guess I'm back???
I hadn't planned to take a break from this space for the entire month of July. It just sort of happened. There was the 4th of July. Then I had several failed recipe attempts. Then I took a few other random day trips here and there. I worked some extra hours at the farm. And now it's August.
This is the longest break I've ever taken from posting. And you know what? Nothing bad happened. Which is always a good lesson for my Type A/overachieving brain to be reminded of.
But I'm here now. And I've brought with me these fun and easy Watermelon Feta Bites with Basil and Hot Honey. Which most definitely qualify as a "non-recipe recipe". But damn, they are blissfully good. So here we go.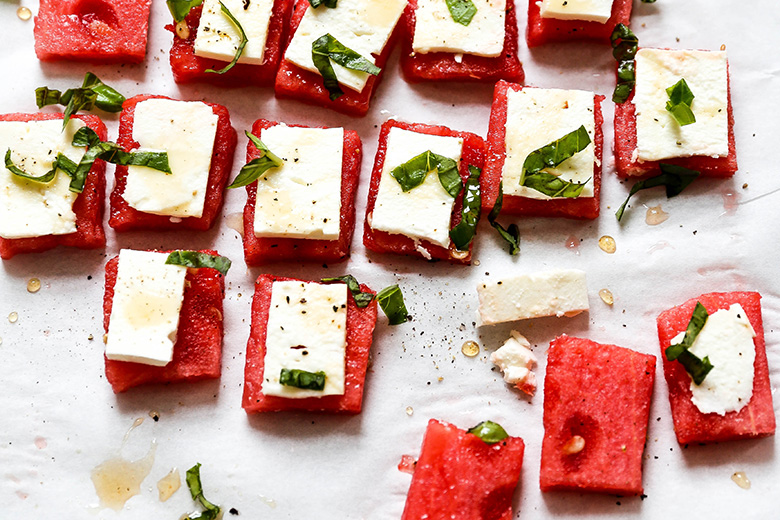 Start by cutting up some watermelon into bite-sized squares, or "shingles" as I like to think of them. Then cut up some feta cheese (obviously start with the block-style feta and not the crumbles) into pieces that are slightly smaller than your watermelon shingles. Stack the watermelon and feta together. Then top the stacks with a drizzle of honey mixed with a couple dashes of your favorite hot sauce (go easy or bold with the hot sauce…it's up to you!), fresh basil and black pepper. And done.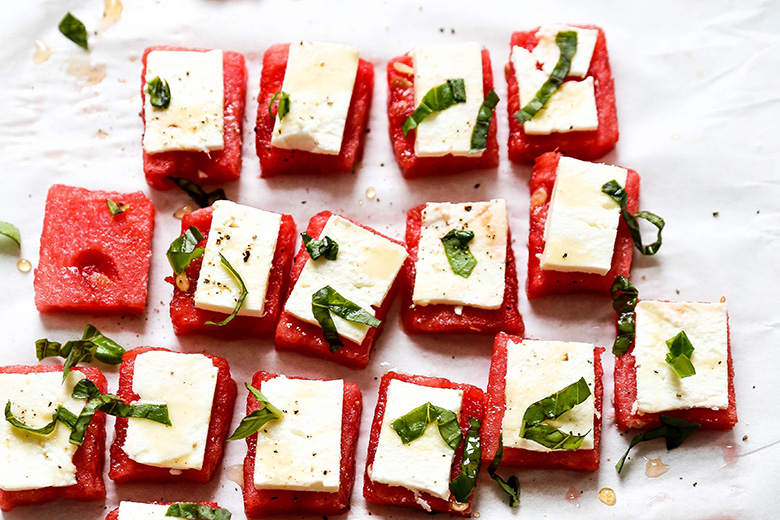 Salty, sweet, spicy, Summery, sexy. I could go on.
So. Are you ready to try these Watermelon Feta Bites with Basil and Hot Honey? If you do, please let me know. I'd love to hear about it!
Cheers,
Liz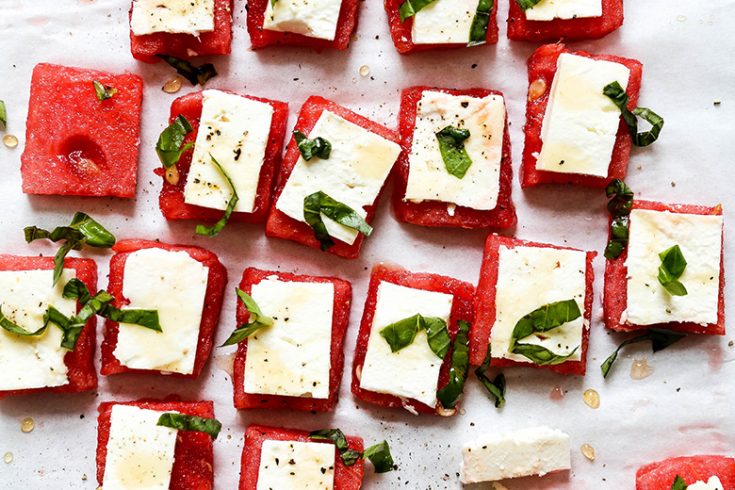 Watermelon Feta Bites with Basil and Hot Honey
Prep Time: 10 minutes
Total Time: 10 minutes
Ingredients
1 tablespoon honey
1-3 dashes of hot sauce
Watermelon, sliced into 1-inch squares
Feta cheese, sliced into 3/4-inch squares
Fresh basil leaves, thinly sliced
Freshly ground black pepper
Instructions
In a small bowl, stir together the honey and hot sauce. Set aside.
Arrange the watermelon on a serving plate. Top each with a square of feta cheese. Then drizzle with some of the hot honey.
Top with basil leaves and freshly ground black pepper.
These bites can be enjoyed immediately. Or refrigerated for a couple hours before serving.