This is an embarrassingly easy non-recipe recipe. But it's SO good. So I have to share it with you!
I'm guessing many of you are familiar with the traditional English dessert "strawberries and cream". It's so simple and unfussy. And it's also one of the most delightful things you can do with fresh Summer strawberries.
My Grilled Strawberries and Cream is a little bit of a twist on this classic combination. And I think you're going to love it!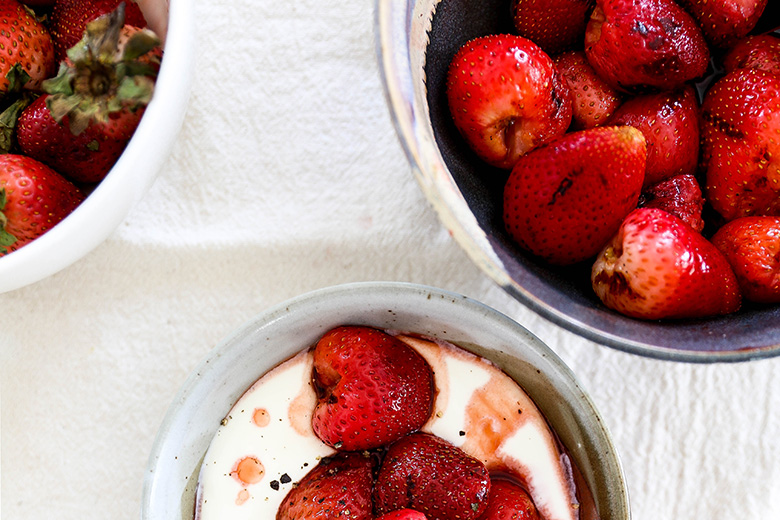 I'm no stranger to grilling fruits, so tossing some strawberries onto the grill was kind of a no-brainer. And keeping them whole makes grilling them very easy. Simply place the whole strawberries directly on the grill grates (the only exception here is if your strawberries are super tiny, then you may want to use a grilling basket keep them from falling through the grates) and then kind of casually roll them around for a few minutes using a pair of tongs. You don't want the strawberries to sit in one place for too long. The goal here isn't to achieve defined grill marks. Rather, we just want the strawberries to be lightly grilled on all sides and somewhat softened.
But before you start, PLEASE make sure you clean your grill grates thoroughly. I've made this mistake in the past and, well, strawberries that taste like hamburgers isn't really the flavor profile we're going for here. So give those grates a good scrape, scrub and/or brush before you embark on this dessert!
When you remove the strawberries from the grill, add them to a bowl and immediately toss them with a little balsamic vinegar, honey and black pepper. The residual heat will intensify the flavors of those ingredients. And the strawberries will start to give off some of their juices. AKA the good stuff!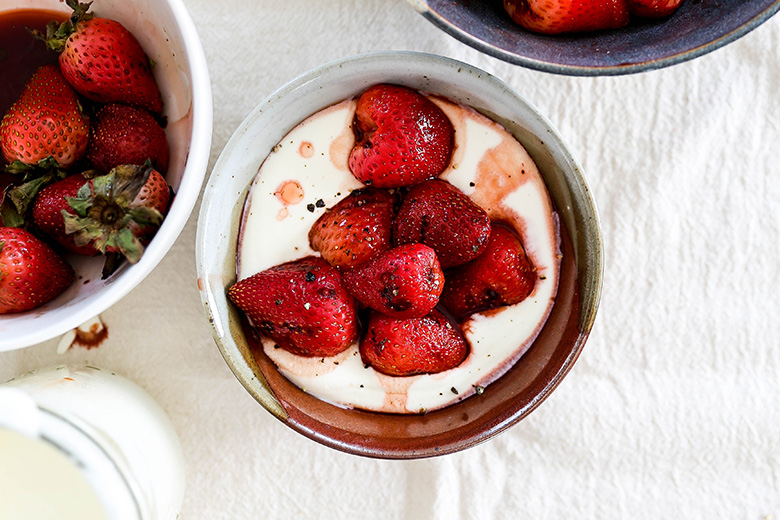 A firm whipped cream with stiff peaks didn't seem like the right pairing for this recipe. So instead, I made an ultra soft "just pillowy enough" whipped cream to hold the grilled strawberries. To do this, I used one of my favorite kitchen hacks for making whipped cream and that is to do it using a mason jar. This method works great to achieve gentle, cloud-like peaks. And it's kind of fun, too! And you don't have to get out any equipment, which is a bonus!
To serve, spoon some of the soft whipped cream into bowls and top with a few of the grilled strawberries and their residual juices. That's it!
If you try my Grilled Strawberries and Cream this Summer (or maybe you make it for Mom this Mother's Day!), please let me know!
Cheers,
Liz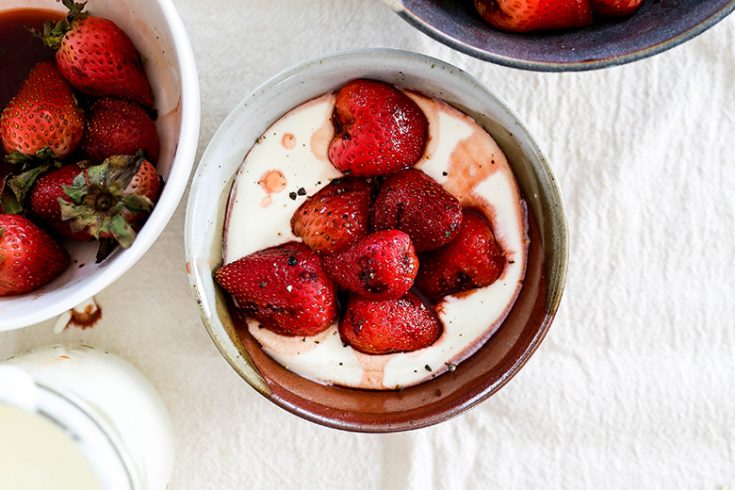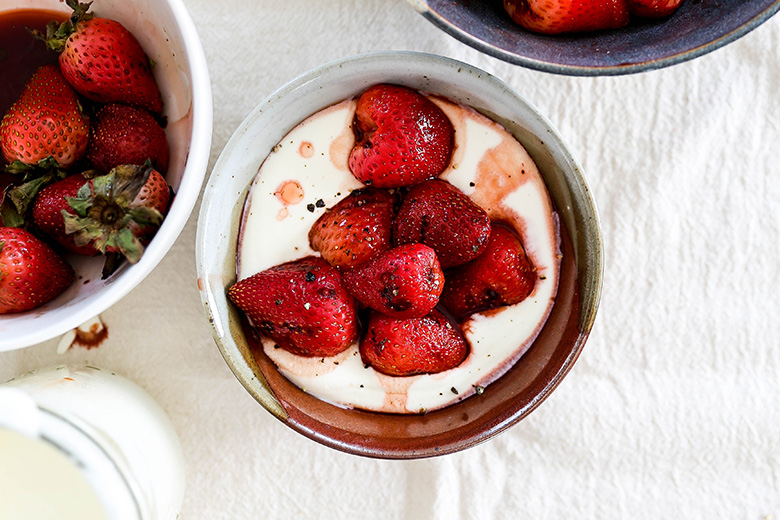 Grilled Strawberries and Cream
Yield: Serves 2-4
Prep Time: 10 minutes
Cook Time: 5 minutes
Total Time: 15 minutes
Ingredients
For the Strawberries:
1 pint strawberries
1 tablespoon balsamic vinegar
1 tablespoon honey
Fresh ground black pepper
For the Soft Whipped Cream:
3/4 cups heavy cream, cold
1 tablespoon powdered sugar
1/4 tsp. vanilla extract
Instructions
Pre-heat your grill to low-medium.
Hull the strawberries and rinse them under cold water. Add them directly to your grill and cook, rotating them frequently with a pair of tongs, until they have started to soften and have a few light grill marks, about 5 minutes. Remove the strawberries from the grill and place them in a medium bowl. While they are still warm, drizzle them with the balsamic vinegar and honey. Add 1-2 grinds of fresh black pepper. Stir gently and set aside to rest for 5 minutes.
Add the heavy cream, powdered sugar and vanilla extract to a 16-ounce mason jar. Screw on the lid and then shake the jar vigorously until the cream has thicken, about 3-4 minutes.
To serve, spoon some of the soft whipped cream into bowl. Top with the strawberries and some of the juices. Enjoy immediately.