This post was originally published here March 25, 2015. I've since updated the text and photographs. If you love the flavors of the tropics, then you definitely need to try out these vegan, gluten-free rice bowls!
These Roasted Plantain and Sweet Potato Rice Bowls are bringing all kinds of big Summer energy straight into my kitchen. Filled with some of my favorite warm weather flavors, like coconut and pineapple, these vegan and gluten-free rice bowls have become the perfect place holder until actual Summer arrives here in New England. And if you've ever lived in New England, you know that could still be a very long time away…
So what's exactly in these hearty Roasted Plantain and Sweet Potato Rice Bowls? The short answer is a little bit of everything!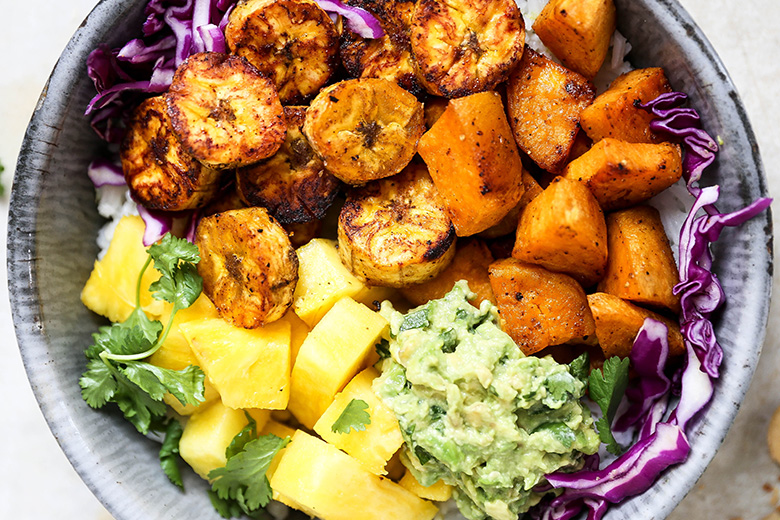 The base for these bowls is white rice that's been cooked in lite coconut milk and finished with fresh lime zest and juice. This is one of my favorite methods for making extra creamy, flavorful rice. And I bet once you taste this coconut-lime rice, you'll never want to make plain rice again. You will need to monitor the rice more closely as it cooks, because the coconut milk is more prone to over boiling and/or scorching. But as long as you don't wander off too far from the stove, you'll be good!
Roasted plantains and sweet potatoes make up the second layer of these bowls. Both are seasoned with the same ingredients and then roasted together in one baking dish. Easy and streamlined!
While plantains and bananas may look very similar and you might be tempted to try peeling a plantain like you would a banana, it's not the best way to tackle them. Because the peel of a plantain is very firm/thick and it can't be easily removed by hand. Believe me. I've tried and failed at this. Instead, use a small paring knife to slice off the ends of the plantain and score the peel lengthwise, creating several strips. Then slip the knife under the strips and pry them back.
These rice bowls wouldn't be complete without ALL THE TOPPINGS. So I finish them off with homemade guacamole (although a few slices of plain avocado would be great, too), some fresh pineapple, a handful of shredded red cabbage and then if I'm really feeling it, some chopped cashews and extra cilantro. Because why not, right?!?!
These Roasted Plantain and Sweet Potato Rice Bowls are a fun and vibrant way to change up your dinner routine. I hope you give them a try!
Cheers,
Liz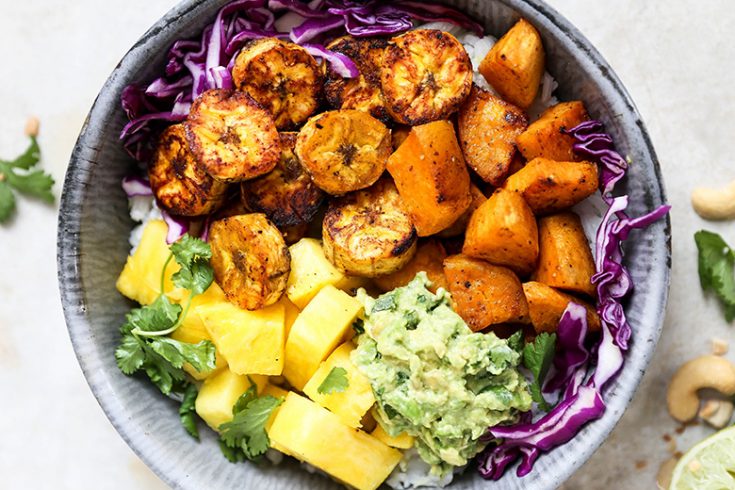 Roasted Plantain and Sweet Potato Rice Bowls
Yield: Serves 2
Prep Time: 15 minutes
Cook Time: 40 minutes
Total Time: 55 minutes
Ingredients
For the Coconut-Lime Rice:
1 (14-ounce) can lite coconut milk
1/4 cup water
1 tablespoon extra-virgin olive oil
1/8 tsp. salt
1 cup basmati or jasmine rice
Zest and juice of 1/2 lime
For the Roasted Plantains and Sweet Potatoes:
1 small-medium sweet potato, peeled and cubed
1 ripe plantain (look for deep yellow peel with black spots), peeled and sliced
1 tablespoon extra-virgin olive oil
1/2 tablespoon agave nectar
1/2 tsp. salt
1/2 tsp. black pepper
1/4 tsp. ground chili powder
1/4 tsp. ground cumin
For the Guacamole:
1 avocado, pitted and flesh scooped out
1 tablespoon fresh cilantro, roughly chopped
Juice of 1/2 lime
1/4 tsp. salt
For Serving:
1 cup cubed fresh pineapple
1/2 cup shredded red cabbage
1 tablespoon fresh cilantro, roughly chopped
1 tablespoon roasted cashews, roughly chopped
Instructions
In a medium saucepan, bring the coconut milk, water, olive oil and salt to a boil. Stir in the rice and turn the heat down to low. Cover and simmer for 15 minutes, or until almost all of the liquid has been absorbed. Lower the heat as needed to maintain a simmer and prevent the rice from scorching on the bottom. After 15 minutes, turn off the heat and keep the lid on the saucepan for 5-7 minutes. Then remove the lid and fluff the rice with a fork. Stir in the lime juice and zest. Cover to keep warm and set aside.
Meanwhile, pre-heat your oven to 425 degrees. Add the chopped sweet potato and sliced plantains to a large baking dish. Drizzle with the olive oil and agave nectar. Sprinkle with the salt, pepper, chili powder and cumin. Toss to coat. Then spread everything out into a single layer, keeping the sweet potatoes and plantains on opposite sides of the baking dish. Transfer to your pre-heated oven and roast for 10 minutes. Then gently stir the sweet potatoes. And use a pair of tongs to carefully flip the plantain slices. Return the baking dish to your oven and roast for an additional 10 minutes. Remove and set aside.
In a small bowl, use a fork to smash together the avocado, cilantro, lime juice and salt. Set aside.
To serve, divide the rice evenly between two bowls. Top with the roasted sweet potatoes, plantains and guacamole. Finish with the cubed pineapple, shredded cabbage, fresh cilantro and chopped cashews. Enjoy immediately.