This post was originally published here January 28, 2015. I've since adjusted the recipe slightly. And I've updated the text and photographs to reflect those changes.
Experimenting with different pizza toppings is one of my favorite ways to play and get creative in the kitchen. Pizza crust makes for a great blank canvas. And since I've never met a pizza that I didn't like, I know going into things that even some of my more questionable combinations will still be devoured by me. Because if there is pizza in front of me, I'm going to eat it.
I guess it's true what they say: there is no such thing as bad pizza.
These Individual Meyer Lemon, Mushroom and Arugula Pizzas are an excellent way to shake up your normal pizza routine. Now I know there is a lot of heated debated about the validity of fruit on pizza, particularly pineapple on pizza, but I'm here to tell you that a few slices of Meyer lemon on your pizza is a total game changer. They add just the right amount of "pop". And they provide the perfect tart contrast to the mild cheeses and savory mushrooms.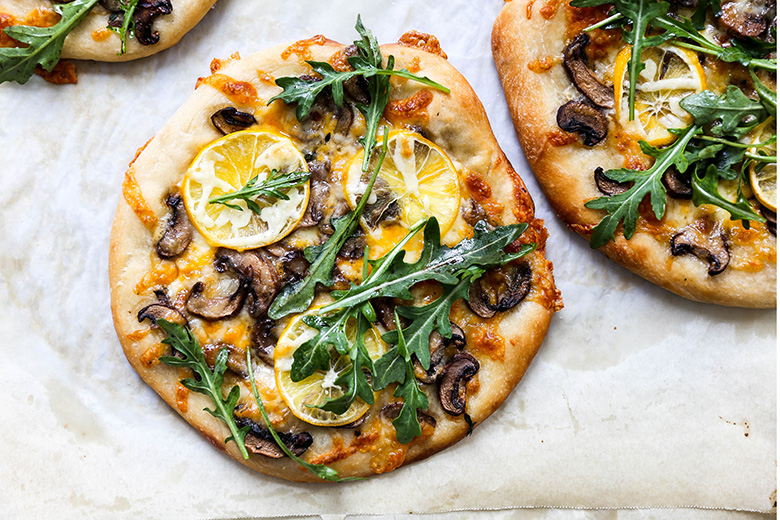 Baking the lemon slices softens the peel and mellows out the "in your face" sourness a bit. But you're still going to want to slice them as thin as you possibly can before adding them to your pizza (if you have a mandoline slicer, this would be a great time to use it). About 2-3 lemon slices per pizza is ideal. Any more than that and the lemon gets a bit overwhelming. There is no need to fill every space/make them overlap.
I like to use a combination of fontina and Gruyère cheeses on these Individual Meyer Lemon, Mushroom and Arugula Pizzas. Both are cow's milk cheeses that have a gentle buttery, nutty flavor. And both are excellent melting cheeses. If, however, you have trouble finding either of these, you can substitute in some shredded provolone, Gouda or Emmental cheeses.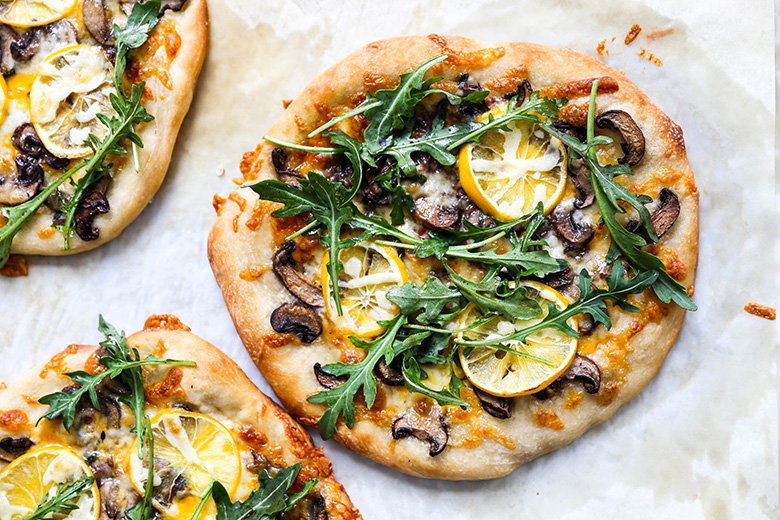 And because I like to get in some extra greens whenever I can, once these pizzas come out of the oven I finish them off with a handful of fresh baby arugula tossed in a little balsamic vinegar and olive oil. It's like a miniature salad on top of a miniature pizza!
Cheers,
Liz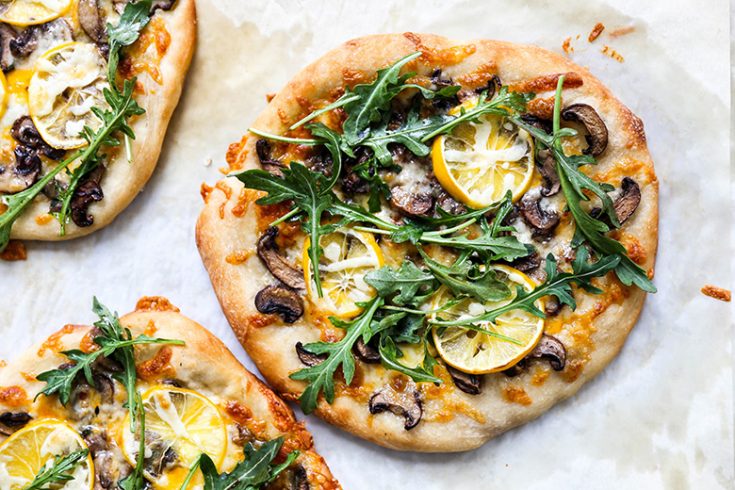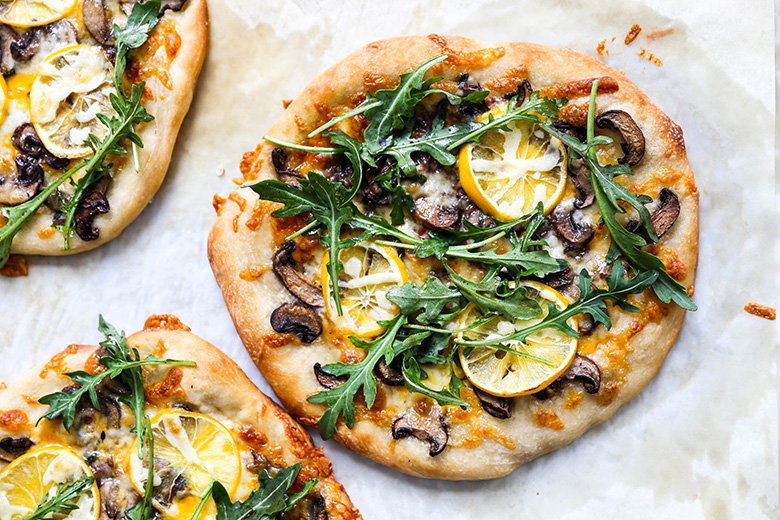 Individual Meyer Lemon, Mushroom and Arugula Pizzas
Yield: Serves 4
Prep Time: 20 minutes
Cook Time: 25 minutes
Total Time: 45 minutes
Ingredients
About 1/4 cup extra virgin olive oil, divided
8 ounces brown mushrooms, wiped clean and sliced
2 tsp. fresh thyme leaves
1/2 tsp. salt
1/2 tsp. black pepper
1/4 tsp. red pepper flakes
1 lb pizza dough (homemade or store bought), brought to room temperature
1 cup shredded fontina cheese
1 cup shredded Gruyère cheese
1 Meyer lemon, thinly sliced and seeds removed
About 2 cups arugula
2 teaspoons balsamic vinegar
Instructions
Pre-heat your oven to 425 degrees. Line two large baking sheets with parchment paper and set them aside.
In a medium skillet over medium-high heat, warm 1 tablespoon of the olive oil. Add the mushrooms and cook, stirring frequently, for 5-7 minutes. Add the thyme leaves, salt, black pepper and red pepper flakes and cook for about 1 minute more. Remove the skillet from the heat and set aside.
Divide the pizza dough into 4 equal-sized balls. Coat your hands with a little bit of the olive oil. Then use your hands to stretch and shape each dough ball into an approximate 6- to 7-inch circle. Place the dough rounds on your prepared baking sheets, placing 2 rounds on each sheet. Brush the surfaces with a thin layer of olive oil. Set aside.
In a small bowl, toss together the fontina and Gruyère cheeses. Sprinkle 1/4 cup of cheese mixture onto each of the dough rounds. Then divide the cooked mushrooms evenly over top. Place about 3 Meyer lemon slices on top of the mushrooms. Then finish with the remaining cheese.
Transfer the baking sheets to your pre-heated oven and bake for 12 minutes. Rotate the pans and bake for an additional 3-5 minutes. The crust should be browned in some places and the cheese fully melted. Remove the baking sheets from your oven and set aside.
In a small bowl, toss the arugula with the balsamic vinegar and about 2 teaspoons of the olive oil. Divide the arugula on top of the pizzas. Serve immediately.