This post was originally published here March 4, 2015. I've since updated the text and photographs.
Oh baby. Oh baby. Oh baby. This recipe is a damn good one. And I'm so excited to be re-sharing it today.
Of course, I think all the recipes here on Floating Kitchen are good (I may be a bit biased). And I certainly would never try to convince you guys to make something that wasn't delicious. But some recipes just stand out more than others. And these Spicy Pineapple Beef Lettuce Wraps are one such recipe.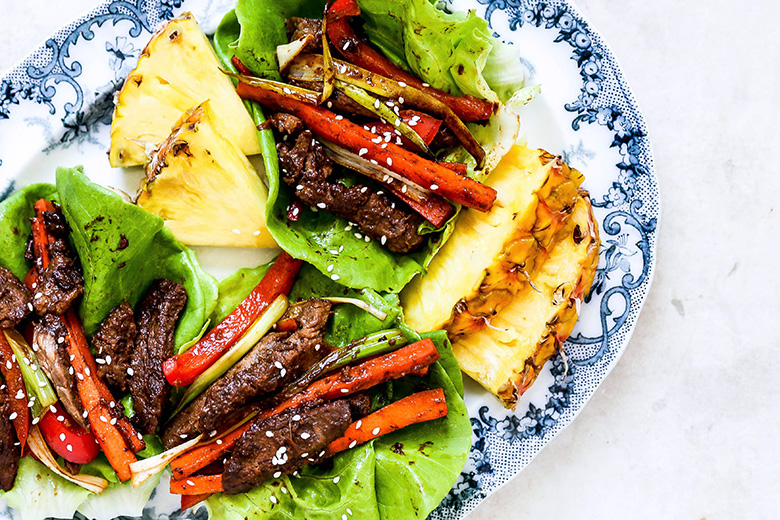 These minimal effort wraps are perfect for a little warm weather gathering. Ideally served up on a big platter or tray. And enjoyed al fresco. They are light and flavorful. And can be eaten with just your hands. So if you're looking for a little Summer dinner inspiration, keep reading.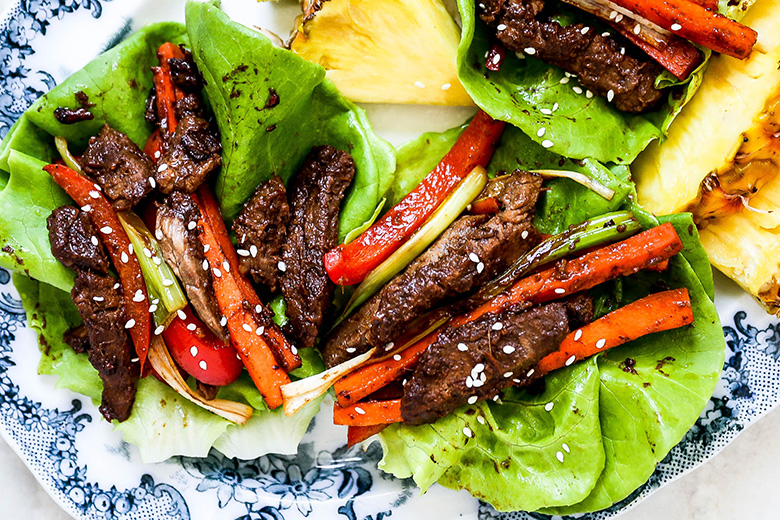 The marinade for the beef is one that I've adapted from Food52. It uses fresh pineapple (blended with the other ingredients in the marinade until a smooth mixture forms), which not only imparts great flavor into the beef, but also helps to tenderize it. For the best results, I highly recommend letting the marinade work its magic for at least a couple of hours. But then after that, you only need about 15 minutes to wrap up making these wraps (get it!). The beef and vegetables cook up quickly (use the largest skillet you have to keep the cooking times short and the vegetables crisp tender). And then all that's left to do is fill up some big, tender lettuce leaves and you're good to go. Easy peasy.
I went light on the toppings (I know, very unlike me!). But you could jazz these up even further with chopped fresh pineapple, herbs, peanuts, etc. Feel free to be a little "extra".
Cheers,
Liz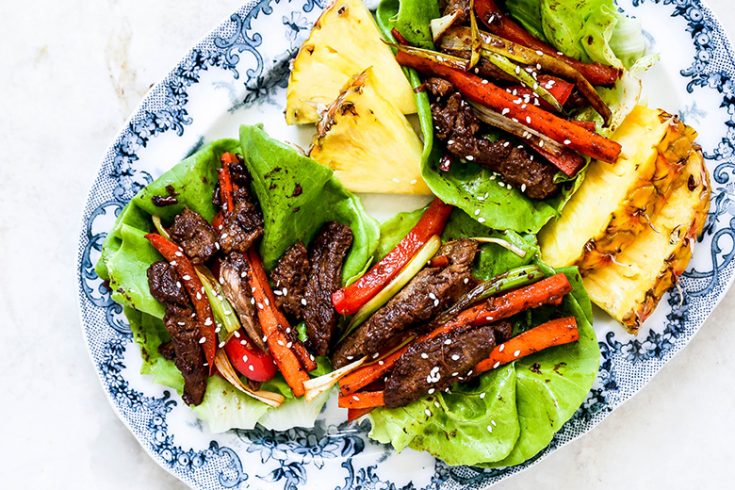 Spicy Pineapple Beef Lettuce Wraps
Yield: About 4 servings
Prep Time: 15 minutes
Cook Time: 15 minutes
Additional Time: 6 hours
Total Time: 6 hours 30 minutes
Ingredients
For the Beef Marinade:
1 cup fresh pineapple, peeled and cubed
1/4 cup soy sauce
1/4 cup molasses
2 tablespoons apple cider vinegar
2 tablespoons Sriracha
1 tablespoon ketchup
4 garlic cloves, peeled
1/2-inch piece fresh ginger, peeled
About 1 lb sirloin steak, sliced into strips
For the Wraps:
2-3 tablespoons vegetable oil
6 scallions, sliced lengthwise into strips
1 red pepper, cored and sliced into strips
1 carrot, peeled and sliced into strips
1-2 heads butter lettuce, leaves separated
Sesame seeds, for garnish
Instructions
Add all the ingredients for the marinade, except for the steak strips, to your blender and blend on high until well combined. Place the steak strips in a large zip-closure bag. Then pour the marinade over the steak strips and seal the bag. Place the bag in your refrigerator for 2-6 hours.
Heat about 1 tablespoon of the vegetable oil in a large skillet over medium-high heat. Add half of the marinated steak strips, letting the excess marinade drip off into the bag before adding the steak to your skillet, and cook, stirring occasionally, until the steak is well browned on the outside and cooked throughout, about 3-5 minutes. Transfer the cooked steak strips to a clean bowl and cover to keep warm. Repeat with the remaining half of the steak strips. Discard the leftover marinade.
Add another tablespoon of vegetable oil to the same skillet and add the sliced scallions, red pepper and carrot. Cook, stirring frequently, until the vegetables are crisp tender, about 2 minutes. Transfer the vegetables to the bowl with the steak strips. Toss gently to combine.
To serve, spoon the steak/vegetable mixture into lettuce leaves. Top with a sprinkle of sesame seeds, if desired. Enjoy immediately.
Notes
Recipe inspired and adapted from Food52.