I read somewhere once that New Englanders grill out more than individuals in any other part of the country. Which seems kind of hard to believe given that we have a relatively short grilling season compared to other areas. And also, Texas. I mean, how are we competing with that? I don't know.
I tried searching for the article to see if I was remembering that fact correctly or not. But instead I just found a bunch of dumb cat pictures and articles about Tom Brady's deflated balls. The internet is so weird sometimes. And oddly, not very helpful.
True or not, I'm doing my part to support this "fact" by grilling all day, every day. So expect lots of grillables coming down the pipeline over the next couple weeks. And if we're being honest, probably all summer long too. Can't stop, won't stop.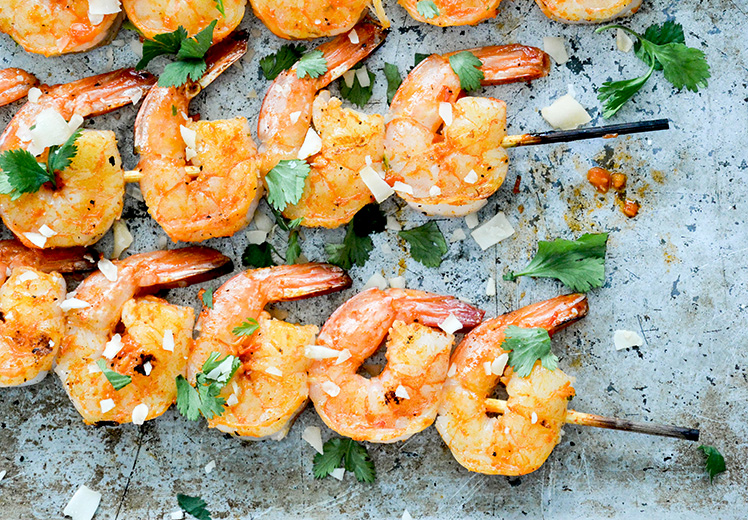 These Coconut-Harissa Grilled Shrimp Skewers have got to be one of the easiest things I've made in a long time. I just marinate the shrimp in some coconut milk and lime for about an hour. Then brush on some harissa and toss the skewers on the grill for a couple minutes. Very little prep work AND a short cooking time = double win.
These shrimp are great served over rice or a salad. Or try sneaking a few into some tortillas. Because tacos are never a bad idea.
Making harissa at home is something I do fairly regularly and I've got a recipe here if you're interested. But store bought versions are great too. And they certainly make these easy shrimp skewers even easier.
Cheers,
Liz
Ingredients
24 large raw shrimp, peeled and deveined (I like tail-on)
1 (14 ounce) can light coconut milk
Zest and juice of 1 lime
Salt
Pepper
About ½ cup harissa
2 tablespoons fresh cilantro, roughly chopped
2 tablespoons toasted coconut flakes
Instructions
Place the shrimp is a large zip-closure bag. Add the coconut milk, lime zest and juice. Seal the bag and let the shrimp marinate in the refrigerator for about 1 hour.
Pre-heat your grill to medium-high. Remove the shrimp from the refrigerator and strain them, discarding the marinating liquid. Thread the shrimp onto bamboo skewers. Season both sides of the shrimp with salt and pepper.
Generously brush one side of the shrimp with some of the harissa. Then place the skewers on your grill, sauce side down. Once the skewers are on the grill, brush the second side with harissa. Cook the shrimp about 2 minutes per side.
Remove the skewers from the grill and transfer them to a clean plate. Sprinkle with the cilantro and toasted coconut flakes. Serve immediately.
https://www.floatingkitchen.net/coconut-harissa-grilled-shrimp-skewers/