The little corner of the internet has been my "home" for two years now. It's a place I'm comfortable with. It's a place where I find joy and inspiration. It's a place filled with delicious food and booze. And most importantly, it's a place filled with friends.
The friendships that I've cultivated through this space are a job perk that I certainly wasn't expecting. I mean, most of my day is spent working alone from the comforts of my kitchen. Not really an avenue I would have guessed for generating close personal relationships.
But I was wrong. And I'm thankful for that.
Sara Cornelius is one such friend. I first discovered Sara and her blog, Cake Over Steak, when her recipe for Blueberry Mojitos came across my computer screen. It stood out to me immediately because I couldn't get over the fact that the first image in her post was an illustration (I urge you to go click on the link and check it out for yourself!). A gorgeous, jump-off-the-page at you illustration! My mind was officially blown. Sara's talent was impressive.
Since that day, Sara and I have become great blogging buddies. We share a love of pizza, bourbon, ice cream, podcasts and Anthropologie. We are obviously spirit animals. And I can't wait until we meet in person (plans are in the works people!).
In the meantime, Sara and I thought it would be fun to do a little blogging project together. So I dreamed up this Papaya-Coconut Popsicle recipe (which is totally vegan, by the way!) and Sara created an illustration of the popsicles, which you can see below.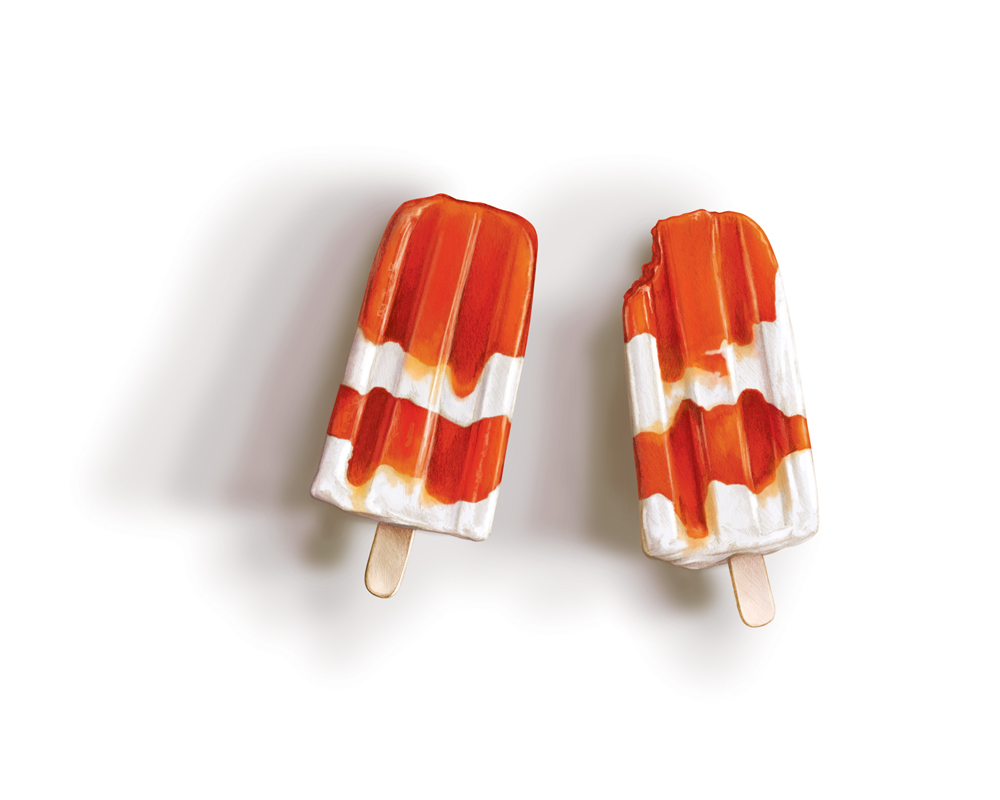 I hope that you are all crushing on Sara's illustration as much as I am because YOU have the chance to win it! That's right. We want one of you to have an 8 X 10 print of Sara's popsicle illustration. Won't it be just darling hanging in your kitchen? I think so. To enter the giveaway, just scroll down past the recipe and use the Rafflecopter widget below. Easy peasy. And be sure to check out Sara's Etsy and Society6 shops to see more of her amazing work! Update: This giveaway has ended and a winner has been chosen. Thanks to all who participated!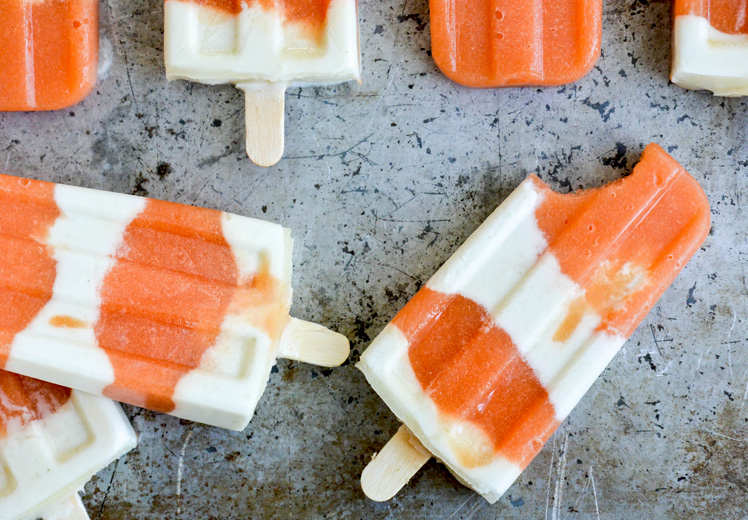 These Papaya-Coconut Popsicles are a great treat for summer. They are tropical, creamy and refreshing. And I'm totally crushing on the color too (I'm obsessed with all things orange!). And they won't screw up your bikini body. Definitely give them a try. Everybody at my house loved them.
The layering takes a few extra minutes of time, but I think the visual effect is worth it.
Cheers,
Liz
Ingredients
For the Papaya Layer
3 cups cubed papaya (from about 1 large papaya)
1/2 cup orange juice
1 tablespoon agave nectar

For the Coconut Layer
1 (14 ounce) can full-fat coconut milk
2 tablespoons agave nectar
Juice and zest from 1/2 a lime
Instructions
Make the papaya layer. Add all of the ingredients for the papaya layer to your blender. Blend on high until smooth. Transfer the mixture to a clean bowl. Rinse out your blender.
Make the coconut layer. Add all of the ingredients for the coconut layer to your blender. Blend on high until smooth. Transfer the mixture to a clean bowl.
Assemble the popsicles. Spoon about 1 1/2 tablespoons of the papaya layer into each of your popsicle molds. Transfer the molds to your freezer for 10-15 minutes to give them time to firm up slightly. Then spoon about 1 1/2 tablespoons of the coconut layer on top of the papaya layer. Transfer the molds to your freezer for another 10-15 minutes. Repeat each layer one more time, filling the molds to the top. Place the popsicle in your freezer and allow the popsicles to partially set (about 1-2 hours) before inserting wooden sticks or dowels. Continue to freeze until completely solid, about 4-6 hours.
Remove the popsicles from their molds before serving. You can run a little warm water over the molds to help loosen the popsicles from their molds.
https://www.floatingkitchen.net/papaya-coconut-popsicles/