Disclosure: I am participating in the 2018 Cookie Campaign with Rodelle as part of their Brand Ambassador program. All opinions are my own.
Cookie. Season. Has. Arrived.
The waves of flour, sugar and butter that swallow up the internet in the days immediately following the Thanksgiving Holiday are highly predictable. They come every year. And they come on fast and strong. Yet this year, I found myself somewhat unprepared as I struggled to come up a cookie recipe(s) that would be new and exciting. My head (or my heart) just wasn't in the game. I was stumped.
I experimented with some biscotti recipes and had a MAJOR fail (like throw everything in the trash kind of fail). Which sent me promptly running for the hills. The "hills" in this particular case, being shortbread. Tried and true. And always delicious. I knew shortbread would help pull me out of my cookie slump. In fact, I think I love shortbread so much that I'm willing to declare it my second favorite type of cookie (classic chocolate chip cookies being my #1 favorite = duh).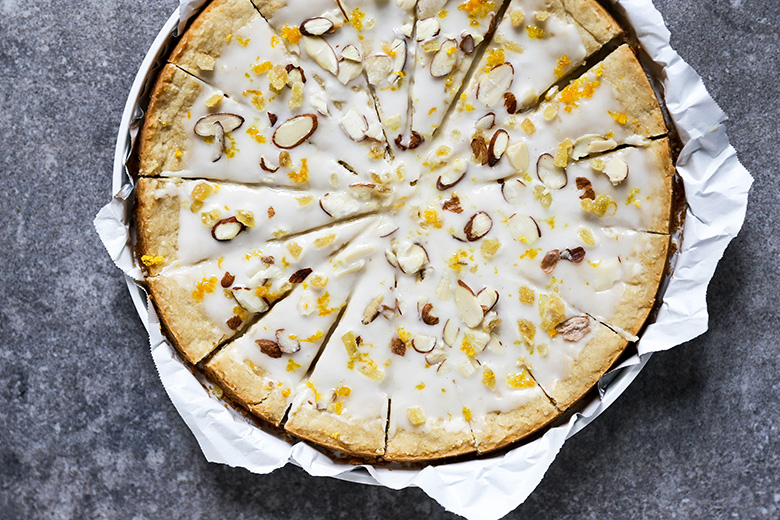 Shortbread dough is simple. You don't need a lot of ingredients. It's very forgiving. And it's a great blank canvas for whatever combination of flavors you want to take a chance on. Today's recipe has bright orange, spicy ginger and fragrant almond.
It feels festive. It looks pretty. And it's easy. Enough said.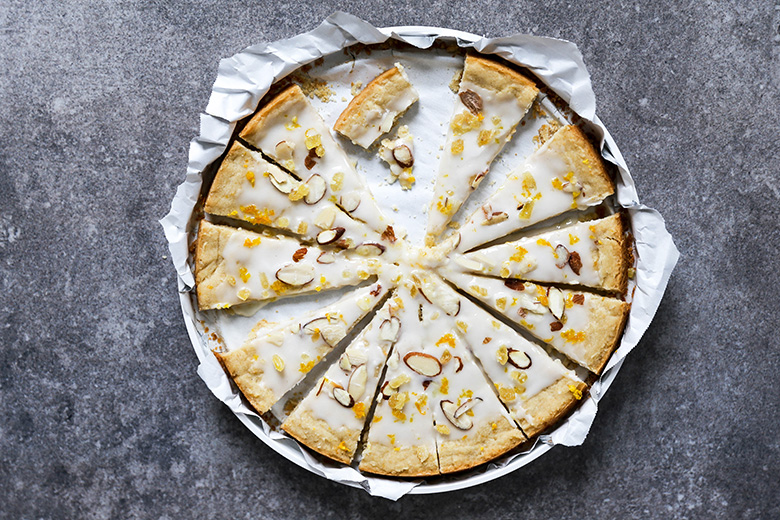 This Orange, Ginger and Almond Shortbread features some of my favorite products from Rodelle (I've been a Brand Ambassador with them for several years), including their signature Pure Vanilla Extract, their Pure Almond Extract and their Organic Ground Ginger. My Holiday baking would not be complete without Rodelle. Simply put, they help make everything taste better.
Each year, Rodelle hosts a Holiday Cookie Campaign. Which is every bit as awesome as it sounds: basically a month of cookie recipes from some of your favorite food bloggers. What's not to love about that!?!? You can find the links to all the cookie recipes from this year (and previous years!) on their official Holiday Cookie Campaign webpage. So go check it out and get your bake on!
Cheers,
Liz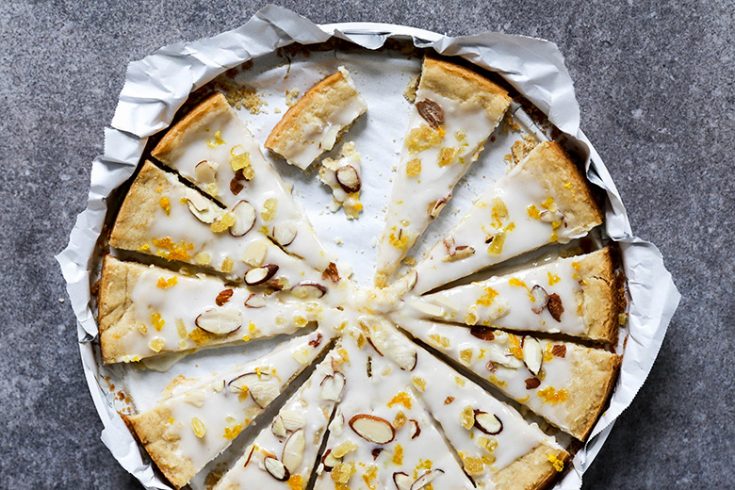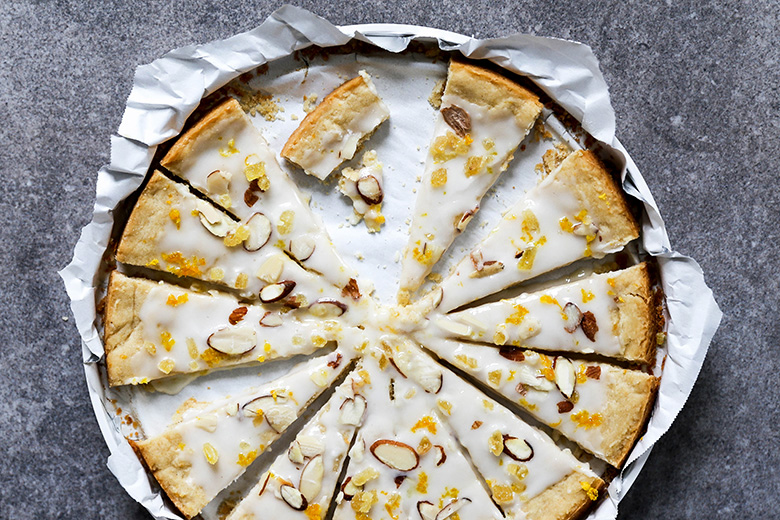 Orange, Ginger and Almond Shortbread
Yield: Makes 16 cookies
Prep Time: 1 hour 30 minutes
Cook Time: 20 minutes
Total Time: 1 hour 50 minutes
Ingredients
For the Shortbread:
1/2 cup (8 tablespoons) unsalted butter, cubed and at room temperature
1/3 cup powdered sugar
1 tablespoon orange zest
1/2 tsp. Rodelle Pure Vanilla Extract
1/2 tsp. Rodelle Pure Almond Extract
1 cup all-purpose flour
1/2 tsp. Rodelle Organic Ground Ginger
1/2 tsp. salt
For the Glaze and Toppings:
1 cup powdered sugar
2 tablespoons fresh squeezed orange juice
2 tablespoons sliced almonds
2 tablespoons minced candied ginger
1 tablespoon orange zest
Instructions
Line the bottom of a 9-inch springform pan with parchment paper. Then lightly grease the sides about 1-inch up from the bottom. Set aside.
In the bowl of your food processor with the blade attachment, pulse together the butter, powdered sugar, orange zest and extracts until smooth and combined. Add the flour, ginger and salt and pulse to combine.
Remove the dough from your food processor and press it evenly into the bottom of your prepared springform pan. The dough will be tacky. You can use the underside of a glass or a measuring cup to help you smooth/flatten the surface. Or I like to use a folded piece of parchment paper between my hand and the dough to prevent it from sticking. Place the pan in your refrigerator for 1 hour to chill the dough.
Pre-heat your oven to 350 degrees.
Remove the pan from your refrigerator and use a fork to prick the surface of the dough all over, spacing them about 1-inch apart. Transfer the pan to your pre-heated oven and bake for 16-18 minutes, until the edges of the shortbread are light brown/golden. The center will still be pale, but it should be firm to the touch.
Remove the pan from your oven and place it on a wire rack to cool for 5 minutes. Then release and remove the sides of the springform pan and use the parchment paper to slide the shortbread onto a cutting board. Immediately cut the shortbread into 16 wedges. Let the wedges cool completely.
While the shortbread wedges cool, whisk the powdered sugar and orange juice together in a small bowl until smooth. Then with a spatula, spread a thin layer of the glaze over the wedges, leaving at small portion of the crust visible around the outside border. Garnish with the sliced almonds, minced candied ginger and orange zest. Then let the glaze set for about 15 minutes.
Re-trace the cut marks and serve.