It feels WAY too early to start posting Christmas recipes. But, well, I guess I'm just going to go for it. Because I simply cannot keep the recipe for these scrumptious homemade chocolate truffles from you any longer. They are life changing. And here at Floating Kitchen, we're (= me) all about changing lives.
So. First things first. Yes, as the name implies these truffles contain goat cheese. I too was initially skeptical. But you guys, they are so good. The truffle filling is smooth and creamy and just a *teeny tiny* bit tangy. Kind of like cheesecake. It doesn't actually taste like cheese, per se. It just tastes amazing! You know what I mean? So don't be scared off. Keep reading and give these Chocolate and Cranberry Goat Cheese Truffles a try this Holiday season!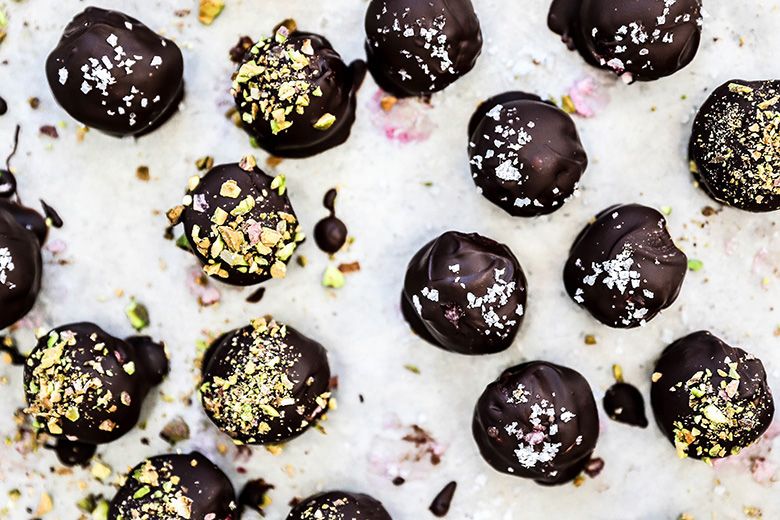 The base recipe for these goat cheese truffles came to me from a former co-worker (back when I was a scientist!), probably around the year 2009. I still have the original index card on which I transcribed her list of ingredients and instructions, complete now with my chocolate fingerprints and a multitude of other miscellaneous smudges. This recipe has seen a lot of love over the years. And the original index card has the battle scars to prove it.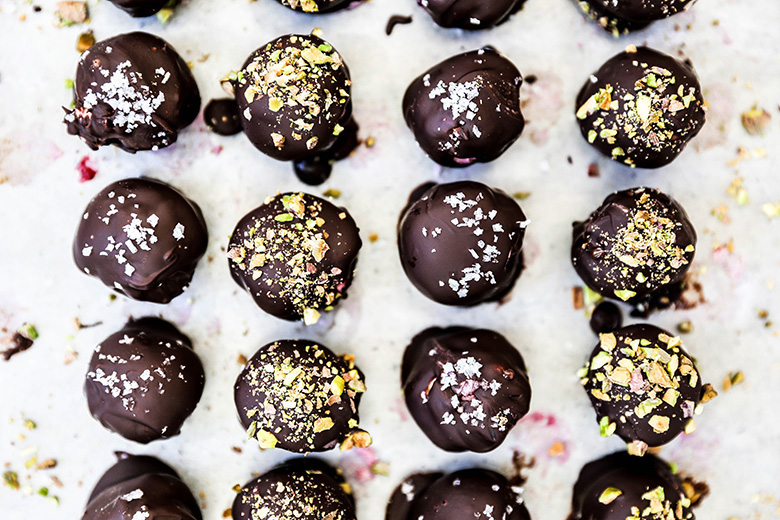 I get requests for these bite-sized treats from my family and friends all the time. And it's a request that I'm more than happy to fulfill. Because these truffles are way less labor and time intensive than most other desserts that I know how to make. So please don't let the idea of tackling homemade confections intimidate you. I'm here to tell you that you can do it! You don't need any special ingredients or fancy equipment to make them. And trust me when I say that no one will care if they don't all come out looking identical. In fact, I love that they don't appear to be "cookie cutter". You can instantly tell that they are homemade. And made with love.
The filling is super simple. You literally just blend the six ingredients together in a bowl (make sure the cheeses and butter are very soft to start!) with your hand mixer. Then chill it, roll it, chill it, dip it. Ha! Say that five times fast!
You have to get your hands dirty for the rolling part. But hey, it's worth it.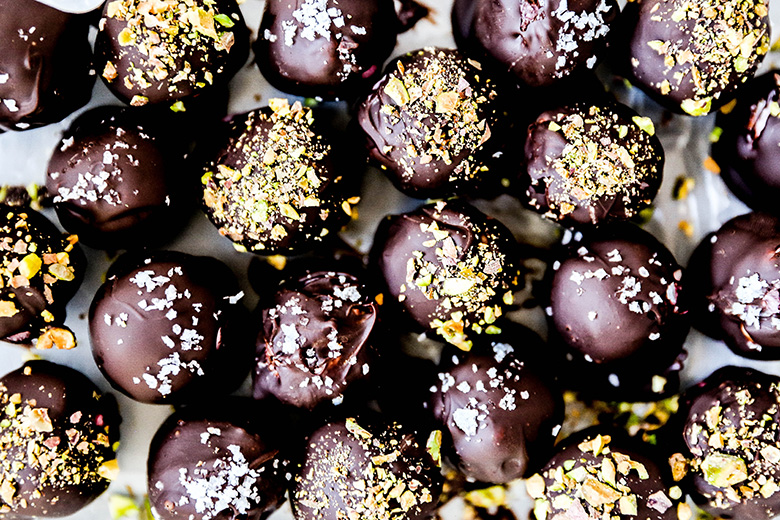 I know pastry chefs everywhere are probably going to be silently screaming over this next statement, but I don't even bother tempering my chocolate or melting it in a double boiler anymore. I know, I know. Don't hate. But since I've started skipping this step, I've never had a problem. I just use a very small, heavy bottom saucepan. And I go low and slow over the heat. Oh and I always buy good quality chocolate bars to start with. Lindt and Ghirardelli are my go-to choices.
The original recipe for these truffles doesn't include cranberry sauce (and you could certainly leave it out, if you prefer), but I thought it was a nice festive touch for Christmas. And I love how well the flavors of cranberry and chocolate pair together. I also thought you might still have some leftover cranberry sauce kicking around from Thanksgiving. So double win. You can garnish these truffles with your favorite toppings. In these particular photographs, I've used chopped pistachios and sea salt. But any chopped nuts will work well. You can also try shredded coconut, chopped candied ginger, crushed cookies, bee pollen, a drizzle of melted white chocolate, etc. The possibilities are fairly endless.
These Chocolate and Cranberry Goat Cheese Truffles will certainly jazz up your Holiday dessert spread. And they make excellent gifts, too. If you try them out, be sure to let me know. I would love to hear about it!
Cheers,
Liz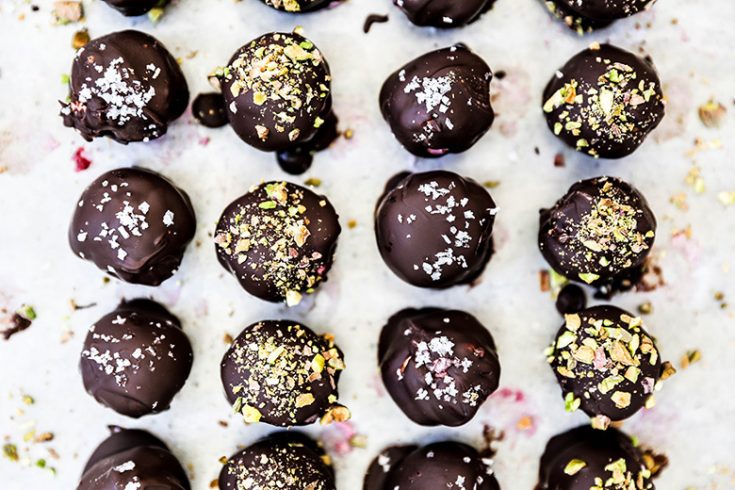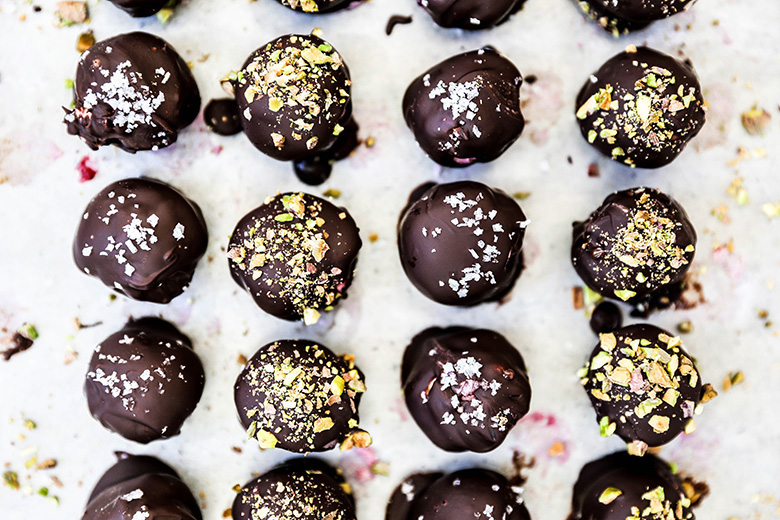 Chocolate and Cranberry Goat Cheese Truffles
Yield: About 2 dozen truffles
Prep Time: 3 hours
Cook Time: 10 minutes
Total Time: 3 hours 10 minutes
Ingredients
4 ounces goat cheese, softened at room temperature
4 ounces mascarpone cheese, softened at room temperature
2 ounces unsalted butter, softened at room temperature
1/4 cup powdered sugar
1/2 tsp. vanilla extract
3 tablespoons cranberry sauce
8 ounces dark chocolate, chopped
Instructions
Add the goat cheese, mascarpone cheese and butter to a medium bowl. Using your hand mixer, beat the ingredients together until well combined. Add the powdered sugar and vanilla extract and beat until completely smooth. Then using a spatula, stir in the cranberry sauce. Cover the truffle filling and refrigerate it until it's well chilled, about 1-2 hours.
Line a rimmed baking sheet with wax paper. Using your hands, form/roll approximately teaspoon sized amounts of the truffle filling into small balls. The warmth from your hands will help you to shape the filling, but don't over-handle it to the point where it gets soft. As you make the balls, place them on your wax paper-lined baking sheet. Once you're done, transfer the baking sheet to your freezer for 20-30 minutes to chill the balls.
Gently melt the chopped chocolate in a small saucepan over low-medium heat, stirring frequently. Remove from the heat.
Working with one ball at a time, place it in the melted chocolate and quickly roll it around to coat it on all sides. Then lift it from the chocolate using a fork, letting the excess chocolate drip off, and place it back on your wax paper-lined baking sheet. If you want to garnish the truffles with any toppings (chopped nuts, sea salt, etc.), you'll want to sprinkle it on immediately before the chocolate coating hardens.
Continue dipping the balls in the melted chocolate until they are all coated. If the chocolate starts to get thick/stiff during this process, you can re-warm it over low-medium heat.
Transfer the baking sheet to your refrigerator for 20-30 minutes to fully set the chocolate and firm up the filling.
The truffles can be stored in an airtight container in your refrigerator for 3-4 days.