This post was originally published here on November 30, 2013. I've since updated the text and photographs in hopes of enticing you to try this easy vegetarian side dish!
Woohoo! Only a couple more sleeps to go before Thanksgiving! I've got my spreadsheet all filled in (not a joke) and I'm feeling ready for the big day!
I'm cool, calm and collected.
Now that's a joke, in case you were wondering.
In the off chance that you're still looking for one final quick and easy side dish, I'm here today with this Carrot Mash with Orange and Mint. It's a bit of an unassuming recipe. But let me tell you, it's a crowd pleaser.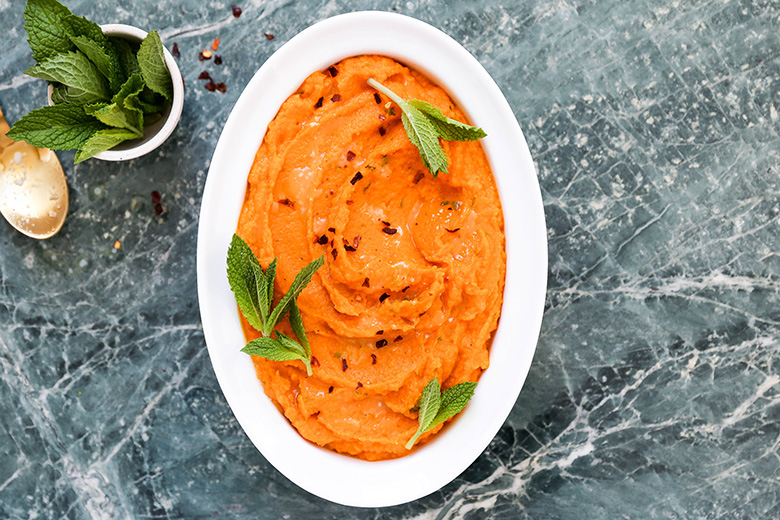 I first ran across this recipe way back in 2013 in Fine Cooking magazine. And honestly, it seemed kind of like a snooze-fest. Puréed carrots? Meh. But I tried it anyways and well, it was anything but boring. It instantly became a hit at my Thanksgiving table. And I've been making it almost every year since then.
This Carrot Mash with Orange and Mint pushes all the right buttons. Fresh, creamy, savory, sweet and EASY! And let me tell you, "easy" is the key word right now. You can make this dish 2-3 days in advance, then just re-heat it before serving. If you're hosting for Thanksgiving, then you know how crucial it is to have make-ahead recipes in your arsenal. Consider this the newest tool in your toolbox.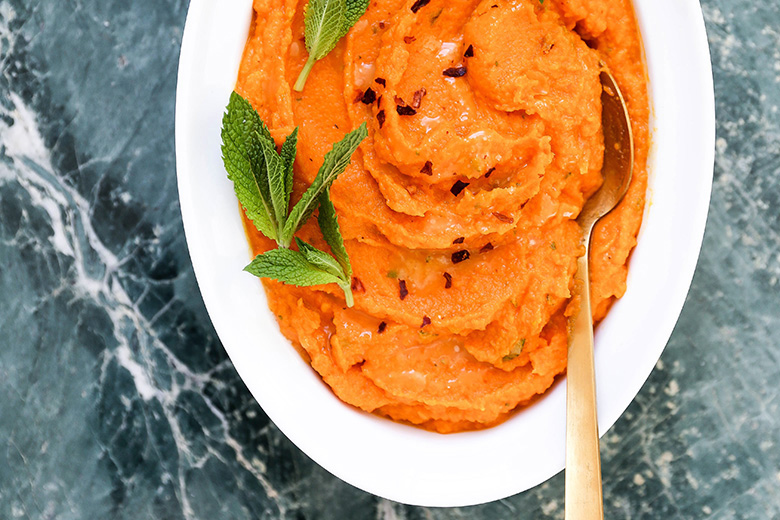 Oh and if you're attending a Thanksgiving dinner at someone else's house and they've put you in charge of bringing a vegetable side dish, well, this one just so happens to travel easily. Hint, hint.
Cheers,
Liz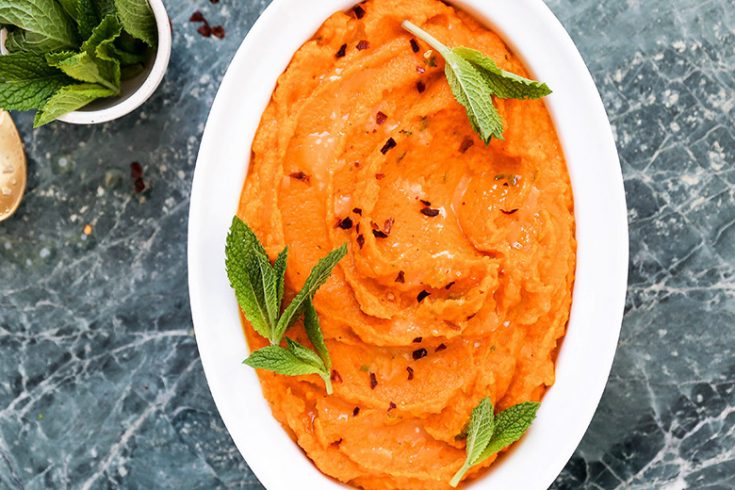 Carrot Mash with Orange and Mint
Yield: 10-12 servings
Prep Time: 15 minutes
Cook Time: 30 minutes
Total Time: 45 minutes
Ingredients
4 lbs carrots, peeled, trimmed and cut into 1-inch pieces
4 tablespoons unsalted butter, cubed
1/4 cup extra-virgin olive oil
1/4 cup heavy cream
3 tablespoons fresh mint leaves, finely chopped
2 tsp. finely grated orange zest
1 1/2 tsp. salt
1 tsp. black pepper
Instructions
Add the chopped carrots to a large pot and cover with cold water. Bring to a boil over medium-high heat, then turn down the heat to maintain a simmer. Cook the carrots, uncovered, for 25-30 minutes or until the carrots are very soft and easily pierced with a fork. Drain and set aside to cool slightly.
Using the same pot, melt the butter over low heat. Turn off the heat and stir in the olive oil, heavy cream, mint, orange zest, salt and black pepper. Set aside.
Transfer the cooled carrots to your food processor fitted with the blade attachment and process until smooth, working in batches and stopping to scrape down the sides of the bowl as necessary. Then stir the pureed carrots into the melted butter mixture. Taste and adjust for salt and black pepper. Gently re-warm, if necessary.
Transfer the carrot mash to a serving dish. Garnish with fresh mint, red pepper flakes and an extra drizzle of butter, if desired. Enjoy immediately.
Leftovers can be stored in an airtight container in your refrigerator for 3-4 days.