Disclosure: I'm so grateful to have received a copy of Jessica Merchant's latest cookbook, The Pretty Dish: More than 150 Everyday Recipes & 50 Beauty DIYs to Nourish Your Body Inside and Out. I hope you all enjoy this little sneak peek!
Unless you've been living under a rock for the past several years, it's very likely that you've heard of (and come to love) Jessica Merchant from her wildly successful blog, How Sweet Eats. And today, I'm super excited to be talking about her latest cookbook, The Pretty Dish: More than 150 Everyday Recipes & 50 Beauty DIYs to Nourish Your Body Inside and Out.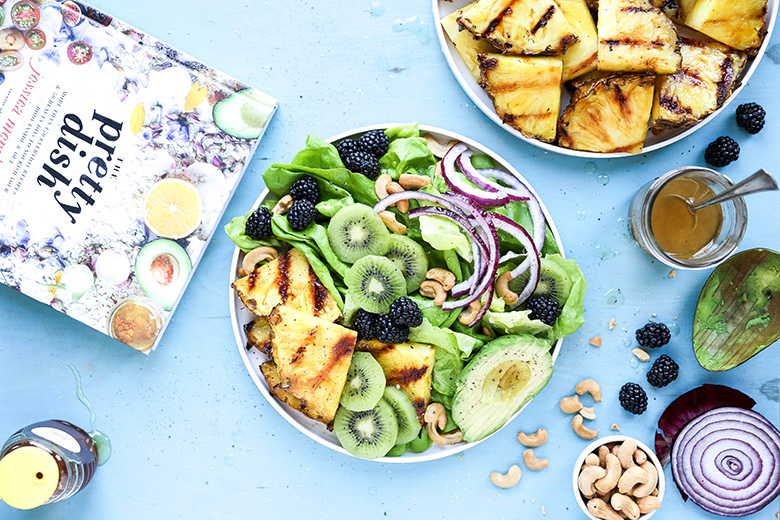 Jessica was one of my first blogging crushes. So getting the chance to meet her a couple of years ago at a blogging retreat was a huge thrill for me. And do you know what made the whole experience even better? She was exactly as I thought she would be (and thus, true to how she portrays herself on her blog). She was kind, funny, vibrant, emotional (in a good way, you know?) and generous. And of course, crazy talented, creative and obsessed with food.
She met all my expectation. And more.
Jessica's newest cookbook is a complete extension of her blog. It's filled with delicious, over-the-top recipes that will make you say "why didn't I think of that?". And this time around, she's even included recipes for her favorite beauty DIYs and playlists for some of her favorite jams. It's totally "her" in every way possible. And if you haven't purchased your copy yet, you should go get on that STAT.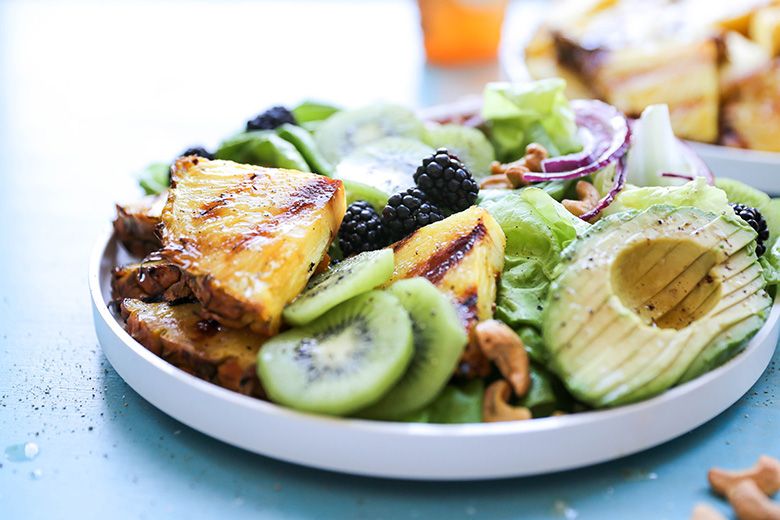 Today, I'm sharing her recipe for Charred Pineapple Salad. Which, hello, is going to be my new favorite salad for the WHOLE Summer. Grilled pineapple, fresh kiwi, tender butter lettuce, creamy avocado, salty cashews and a dressing that seems "drink-able". What's not to love about all that? I made a few minor adaptations, including adding blackberries (just cleaning out the crisper drawer, you know) and I changed some of the proportions to increase the serving size. But other than that, this salad is all Jessica.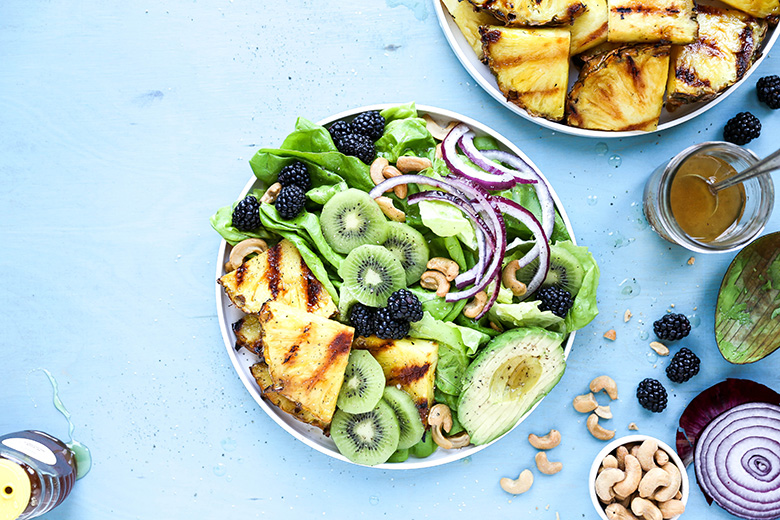 The only other thing to note is I used orange juice in the dressing, because the only pineapple juice I could find was in a quart-sized container. And I didn't need all that hanging around my refrigerator for the foreseeable future. Either choice would be great.
Cheers,
Liz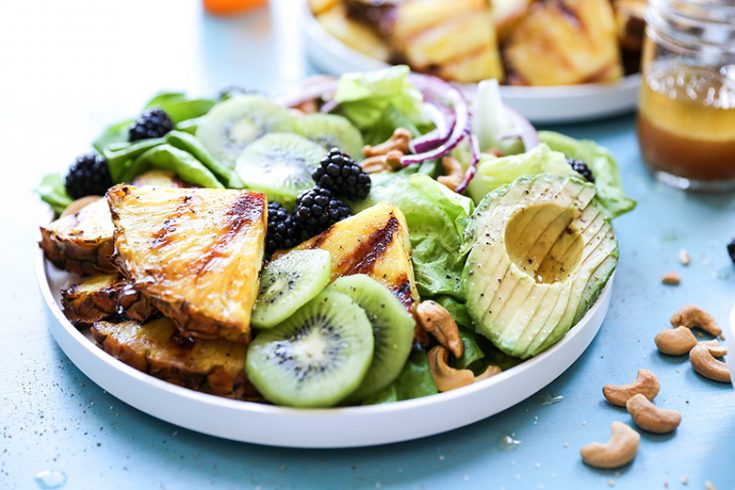 Charred Pineapple Salad
Yield: 4 servings

Prep Time: 15 minutes

Cook Time: 5 minutes

Total Time: 20 minutes
Ingredients
For the Salad:
1 pineapple, trimmed, sliced and cut into wedges
2 tablespoons honey
2 tablespoons canola or vegetable oil
Sea salt
8 cups butter lettuce, torn
4 kiwi fruit, peeled and sliced
2 avocados, pitted and thinly sliced
1/2 red onion, peeled and thinly sliced
1/2 cup fresh blackberries
1/2 cup roasted and salted cashews, roughly chopped
For the Dressing:
1/4 cup red wine vinegar
3 tablespoons pineapple or orange juice
1 teaspoon honey
1 garlic clove, peeled and minced
1/4 tsp. salt
1/4 tsp. black pepper
1/2 cup extra-virgin olive oil
Instructions
Pre-heat your grill to high.
Drizzle the pineapple wedges on both sides with the honey and oil. Place the pineapple wedges directly on your pre-heated grill grates and cook them for 2-3 minutes per side, or until they are golden and charred in a few places. Remove and transfer them to a clean plate. Then sprinkle them with a couple pinches of sea salt. Set aside.
Meanwhile, make the dressing. In a small bowl, whisk together the red wine vinegar, juice, honey, minced garlic, salt and black pepper. Then slowly stream in the olive oil while you continue to whisk. Set aside.
To serve, divide the lettuce between plates. Top with the grilled pineapple wedges, sliced kiwi, avocado, red onion, blackberries and cashews. Drizzle with some of the dressing. Season with salt and black pepper, if desired. Serve immediately.
SaveSave
SaveSave
SaveSave
SaveSave
SaveSave
SaveSave
SaveSave
SaveSave
SaveSave