Well, would you look at what we have here today. A savory recipe!
My blog posts have definitely been a bit heavy on the sugar these past couple of weeks. But can you blame me? It was my Birthday. Then it was Popsicle Week. And we just HAD to celebrate both of those occasions with something sweet. But don't worry, I've still been enjoying all the wonderful Summer veggies behind the scenes here at Floating Kitchen. And today, I finally get to bring you one of the savory creations that I've been cooking up: Grilled Zucchini with Browned Butter Bread Crumbs.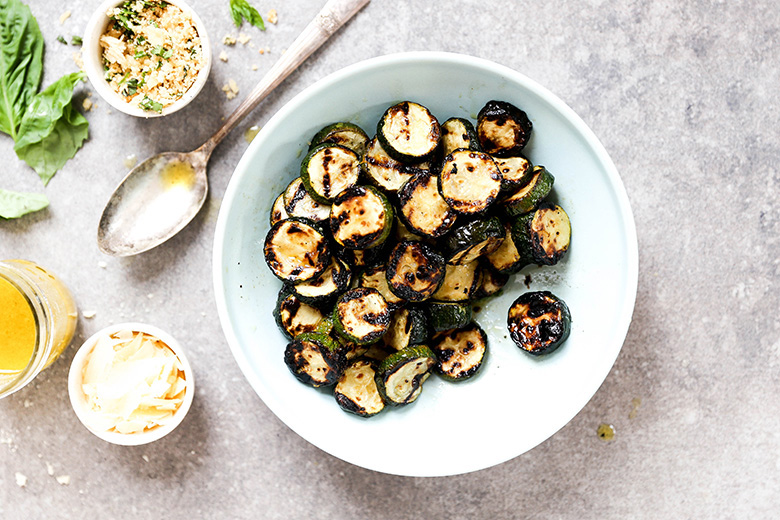 This is a life changing zucchini recipe. It's one of those fabulously simple recipes that's greater than the sum of it's parts. In fact, after I took my first bite, I declared this the best zucchini I had ever made. Seriously, it's that good.
Zucchini is a Summer staple. And for those you that have it in your garden, you know how quickly it can get out of hand. So I'm always looking for new ways to use it in my kitchen. And while I do love zucchini, I must admit that it doesn't taste like that much all on it's own. But that's exactly what makes it the perfect blank canvas for all sorts of flavor profiles!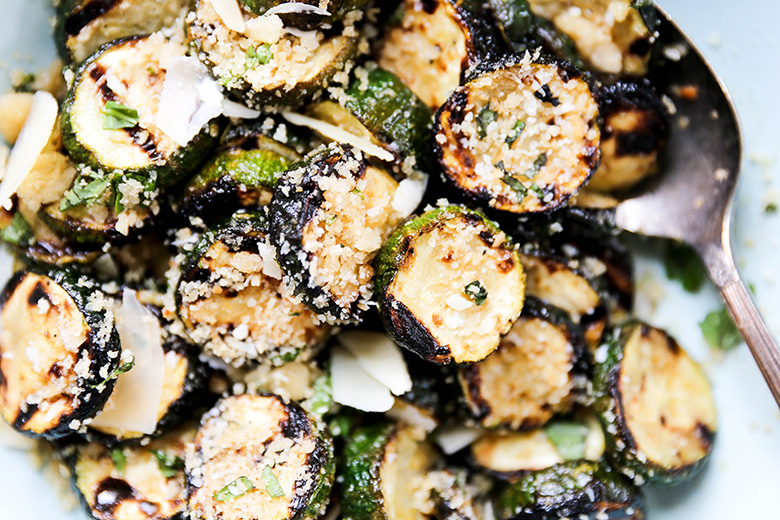 In this recipe, the star of the show is the browned butter bread crumbs. OMG you guys. They are amazing. You're going to want to sprinkle these nutty, crispy bits over every vegetable you make from now on. They make the zucchini feel decadent, instead of like a diet food (which I feel like it's been excessively branded as since the creation of zoodles).
I like to slice the zucchini into coins before marinating and grilling. But you could do wedges or long strips, if you prefer. The shape doesn't matter. You just need to get this buttery, cheesy, zingy zucchini into your life ASAP!
Cheers,
Liz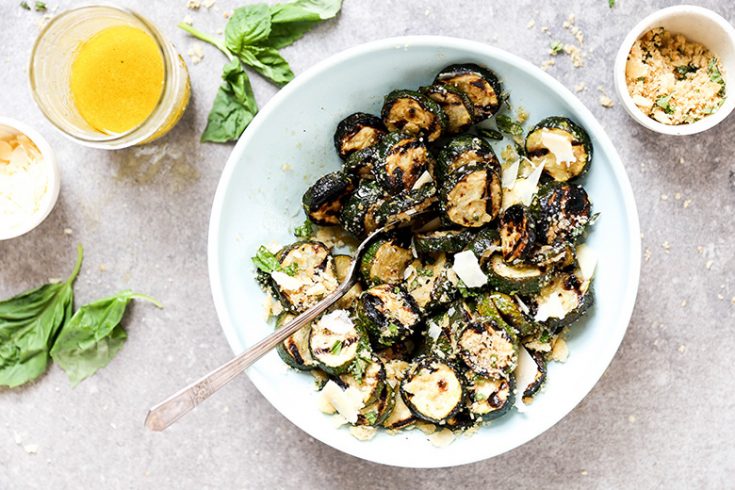 Grilled Zucchini with Browned Butter Bread Crumbs
Yield: 4-6 servings

Prep Time: 10 minutes

Cook Time: 10 minutes

Total Time: 20 minutes
Ingredients
For the Zucchini:
1/3 cup extra-virgin olive oil
1/4 cup fresh squeezed lemon juice
1 tsp. agave nectar (can substitute honey)
1 tsp. Dijon mustard
1 tsp. salt
1/2 tsp. black pepper
2 – 2 1/2 lbs zucchini, trimmed and sliced into rounds
For the Breadcrumbs:
2 tablespoons unsalted butter
1 cup course bread crumbs
2-3 tablespoons minced fresh basil
For Serving:
Instructions
Pre-heat your grill to medium-high.
In a medium bowl, whisk together the olive oil, lemon juice, agave nectar, Dijon mustard, salt and black pepper. Set aside.
Add the zucchini rounds to a large bowl. Drizzle about half of the dressing over the zucchini rounds, tossing them until they are well coated on all sides. Then place the zucchini rounds directly on your grill grates and cook for 3-4 minutes per side, or until softened and charred in some places. Transfer the grilled zucchini to a clean bowl and set aside.
Meanwhile, melt the butter in a medium skillet over medium-high heat and cook it until it starts to turn brown and smell nutty. Add the bread crumbs, stirring to coat them in the butter, and cook until toasted, about 2-3 minutes. Remove the skillet from the heat. Stir in the fresh basil.
To serve, top the grilled zucchini with the bread crumbs, shaved Parmesan cheese and an additional drizzle of the dressing, if desired. Serve immediately.
SaveSave
SaveSave
SaveSave
SaveSave
SaveSave