My asparagus consumption has hit an all-time high this Spring. Mainly because of a panzanella salad recipe that I discovered while rummaging through the Smitten Kitchen archives. I never shy away from a Big F*cking Salad. And this one had both asparagus and white beans (my favorite bean!) in the ingredient list, so it immediately caught my attention.
I made it a few times as instructed. Then I started adding/changing things here and there. Like I tend to do. And eventually I ended up with an even bigger BFS that I'm deeply in love with.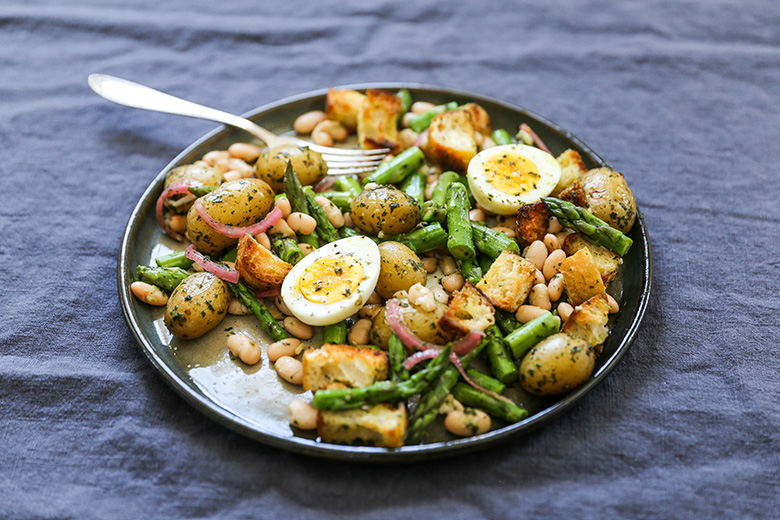 This Spring Pistou Panzanella Salad with Asparagus, Potatoes and White Beans has a few different components. But I've tried to streamline them as much as possible to make things quicker and easier. And you'll also notice in the recipe that I instruct you to keep using the same saucepan and large bowl throughout the recipe. I'm all about trying to keep that dish count down. You're welcome!
The first step in this recipe is making the pistou. A pistou is a cold sauce that's similar to a pesto, but without the nuts. I make mine in the food processor. Then I place it in the refrigerator while I prepare the remaining ingredients. You can even make the pistou up to a day in advance, if you wish.
Next, I get the bread cubes seasoned and toasted in the oven. I recommend using some type of rustic French or Italian loaf for this recipe. But if all you have is sandwich bread, that can work in a pinch. Once the bread cubes are golden brown and crispy, I splash them with a little bit of olive oil, lemon juice and vinegar. I promise this dressing won't make the bread cubes all soft and mushy. It just makes them a little more flavorful!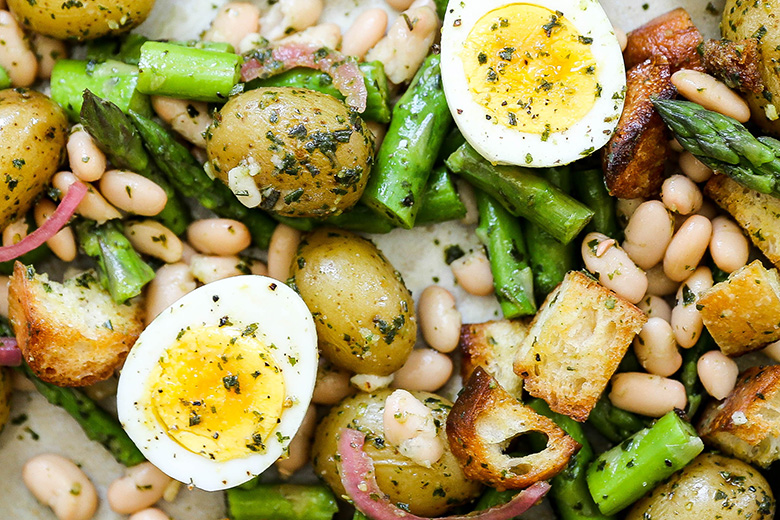 Next, I boil some small potatoes on the stovetop until they are tender. Then I use the same saucepan and cooking water to quickly cook the chopped asparagus. And don't skip plunging the asparagus in a bowl of ice water after cooking. That will help to preserve the beautiful green color.
I toss the potatoes, asparagus and bread cubes with about 2-3 tablespoons of the pistou. If you want to add more pistou then the recipe suggests, feel free. If not, you'll likely have some leftover which you can use for another dish. This herby pistou is great stirred into scrambled eggs, spread on a turkey sandwich, etc.
Lastly, I fold in the white beans (I used Great Northern beans here) and some pickled red onions. I have been using this quick pickled red onion recipe from Cookie and Kate for years now and I highly recommend it. It's both easy and tasty. I almost always have a jar of them in my refrigerator ready to go. But some finely diced raw red onions can be substituted for the pickled red onions in this salad, if you're in a hurry. I finish each plate with a hard boiled egg (another item that I always have in my refrigerator) for some added protein. I think the trio of asparagus, boiled potatoes and eggs is kind of a Spring classic. So I wanted to be sure to represent all three of them here!
This Spring Pistou Panzanella Salad with Asparagus, Potatoes and White Beans falls into the "main meal" category for me. It serves 2 for dinner (or for a hearty lunch). But if you wanted to turn it into more of a side dish, it can be easily divided into four servings. It's particularly yummy served alongside either grilled salmon or chicken.
And ta da! That's it!
I hope you try out my latest BFS. And if you do, please let me know if you love it as much as I do!
Cheers,
Liz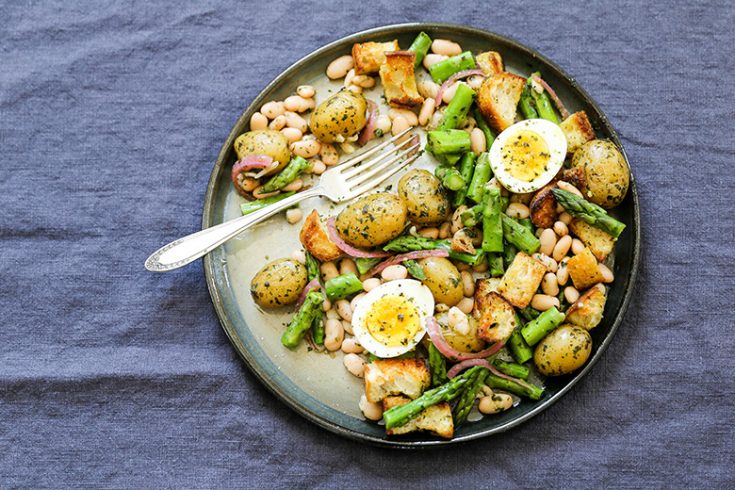 Spring Pistou Panzanella Salad with Asparagus, Potatoes and White Beans
Yield: Serves 2-4
Prep Time: 15 minutes
Cook Time: 30 minutes
Total Time: 45 minutes
Ingredients
For the Pistou:
1 cup fresh basil leaves, lightly packed
2 tablespoons fresh rosemary
2 garlic cloves, peeled and chopped
1/4 tsp. salt
1/4 tsp. black pepper
About 1/4 cup extra-virgin olive oil
For the Bread:
2 cups cubed bread
3 tablespoons extra-virgin olive oil, divided
1/4 tsp. salt
1/4 tsp. black pepper
1 tablespoon red wine vinegar
1 tablespoon fresh squeezed lemon juice
For the Salad:
1/2 lb small yellow or red skinned potatoes
1/2 lb asparagus spears, trimmed and cut into 1-inch pieces
1 (14-ounce) can white beans, rinsed and drained
About 2 tablespoons pickled red onions
2-4 hard boiled eggs, peeled and halved
Salt
Black pepper
Instructions
In your food processor with the blade attachment, pulse together the basil, rosemary, garlic, salt and pepper. Slowly stream in the olive oil and process until everything is finely chopped. The pistou will be thinner than a pesto. Transfer the pistou to a clean container. Cover it and place it in your refrigerator until you're ready to use it.
Pre-heat your oven to 425 degrees. In a large bowl, toss the bread cubes with 2 tablespoons of the olive oil and the salt and black pepper. Spread the bread cubes out onto a rimmed baking sheet and bake in your pre-heated oven for 10 minutes, or until golden brown and dry to the touch. Remove and let cool slightly. In a small bowl stir together the red wine vinegar, lemon juice and the remaining tablespoon of olive oil. Drizzle this over the cooled bread cubes, tossing to coat. Set aside.
Place the potatoes in a medium saucepan and add enough cold water to cover them by 1-2 inches. Bring the water to a boil over medium-high heat and then add a generous pinch of salt. Adjust the heat to maintain a low boil and cook the potatoes, uncovered, for about 15 minutes, or until the potatoes can be easily pierced with a paring knife. Remove the potatoes from the water using a slotted spoon and place them in the same bowl you used to coat the bread cubes. While the potatoes are still warm, drizzle about a tablespoon of the pistou over them and toss gently to coat.
Return the water in your saucepan to a boil. Add the chopped asparagus and cook for 2 minutes. Remove the asparagus from the water using a slotted spoon and immediately add it to a bowl of ice water to stop the cooking process. Once cooled, drain the asparagus and add it to the potatoes along with the bread cubes and another 1-2 tablespoons of the pistou. Toss to combine. Then stir in the white beans and pickled red onions.
Divide the salad between serving plates. Add the eggs and season with salt and black pepper. Enjoy immediately.