This post was originally published here April 20, 2015. I've since changed the recipe slightly. And I've updated the text and photographs to reflect those changes. These little potato bites are perfect as an appetizer or side dish.
This is the first year in many years that I'm not sharing a unique, celebratory margarita recipe for Cinco de Mayo.
I know. I'm lame. Sorry.
But I come to you today with a humble peace offering: Smashed Potatoes with Spicy Guacamole. These crispy little potato bites topped with homemade guacamole may not be as fun or sexy as a margarita. But they are delicious in their own way. And they shouldn't be overlooked. Put a tray of these Smashed Potatoes with Spicy Guacamole out at a small gathering, or serve them as a side dish to all your grillables this Summer, and watch them disappear!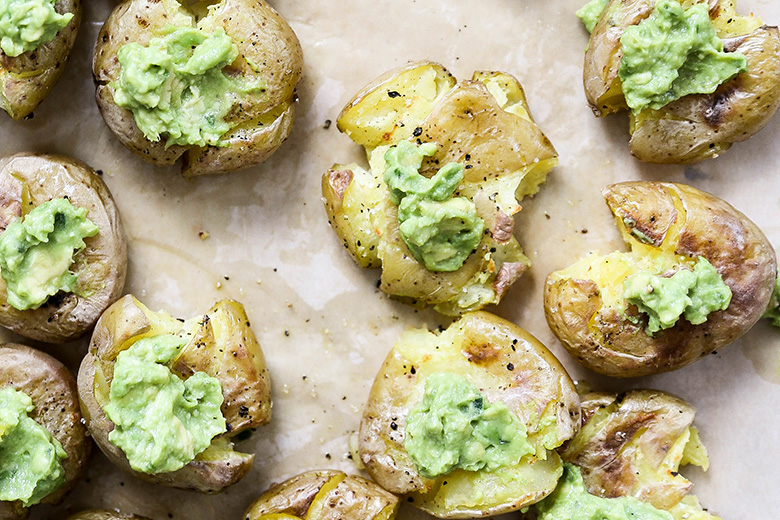 Making these smashed potatoes is super simple. Start by cooking your potatoes in salted water until they are tender and can be easily pierced with a small knife. Choose potatoes that are all approximately the same size to ensure they are all done at the same time. Next, drain the potatoes and let them cool slightly. Then smash them! I like to use the bottom of a glass/mug for this. But you can also use a sturdy spatula or the bottom of a measuring cup. Smash the potatoes just until their skins start to break around the edges, but no more than that. If you get too carried away with the smashing, the potatoes won't be able to hold their shape. And we want them to stay together so they are easy to pop onto your plate and/or into your mouth!
Once you've smashed all the potatoes, brush them with olive oil and season them with salt and black pepper. Then place them under your broiler to get the skins crispy and brown.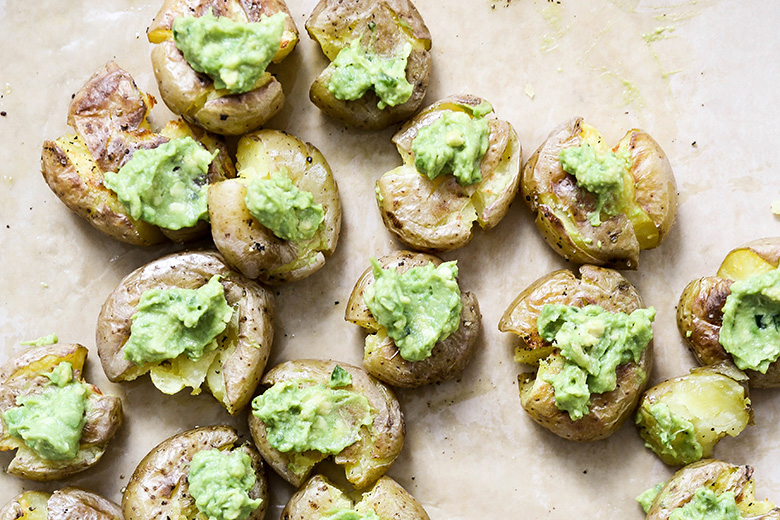 While the potatoes are cooking, mix up the ingredients for the homemade guacamole. I would start with a tablespoon of the diced jalapeño pepper, taste and then add more if you want it hotter. Jalapeños can be tricky, so it's always good to start slow!
To serve, place a dollop of the spicy guacamole on top of each smashed potato. And then try not to eat them all at once! Consider yourself warned!
Cheers,
Liz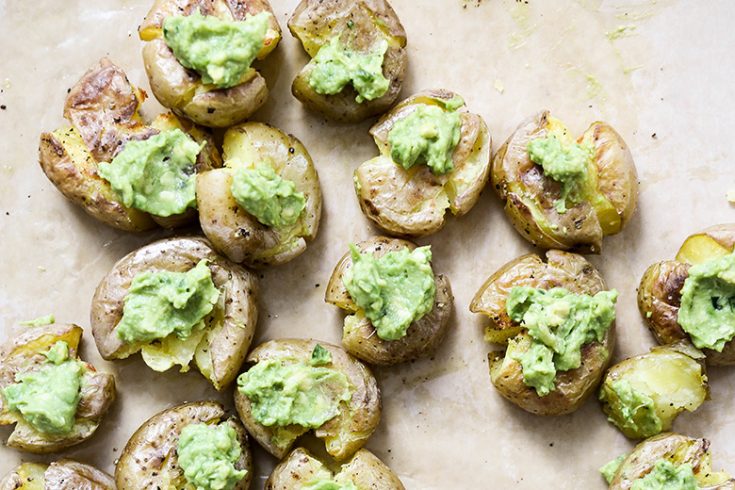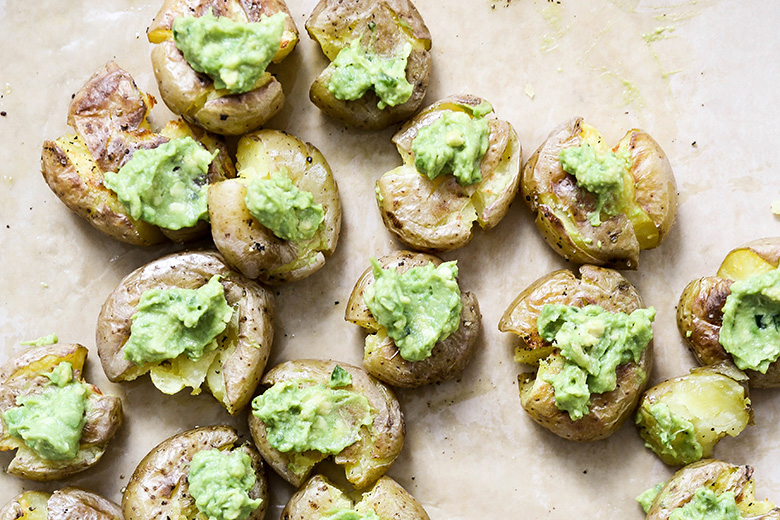 Smashed Potatoes with Spicy Guacamole
Yield: Serves 6-8
Prep Time: 10 minutes
Cook Time: 25 minutes
Total Time: 35 minutes
Ingredients
For the Potatoes:
2 lbs small yellow or red skinned potatoes
Extra-virgin olive oil
Salt
Black pepper
For the Spicy Guacamole:
1 avocado, pitted and flesh scooped out
1-2 tablespoons finely diced jalapeño pepper
Juice from 1/2 lime
1/4 tsp. salt
Instructions
Place the potatoes in a large pot and add enough cold water to cover them by about 1-2 inches. Bring the water a boil over medium-high heat and then add a generous pinch of salt. Adjust the heat to maintain a low boil and cook the potatoes, uncovered, for about 15-20 minutes, or until the potatoes can be easily pierced with a small paring knife. Drain the potatoes and set them aside until they are cool enough to handle.
Pre-heat your broiler to high and adjust your oven rack so it's within a couple inches of your broiler.
Spread the potatoes out onto a baking sheet. Using the flat bottom of a sturdy glass/mug, press down on each potato to smash them until the skin has started to break around the edges. Be careful not to break them up too much or they won't be able to hold their shape.
Brush the smashed potatoes with olive oil and season them with salt and black pepper. Slide the baking sheet under your broiler and broil the potatoes until they start to get crispy and browned in a few places. Watch them closely so they don't burn. This should only take a couple of minutes. Remove the baking sheet from your oven and set it aside.
Meanwhile, in a small bowl use a fork to smash together the avocado, diced jalapeño pepper, lime juice and salt. Set aside.
To serve, transfer the smashed potatoes to a serving dish. Top each one with a spoonful of the guacamole. Enjoy immediately.