I shared a recipe for a small-ish pumpkin pie cheesecake this past November and I was thrilled to see that it was such homerun for so many of you over the Holiday season. So thank you for making it and sharing your pictures and stories with me. It makes me so happy to know that you all loved it!
And since it was such a big hit, I decided to do it again! But this time, with Spring and Summer in mind.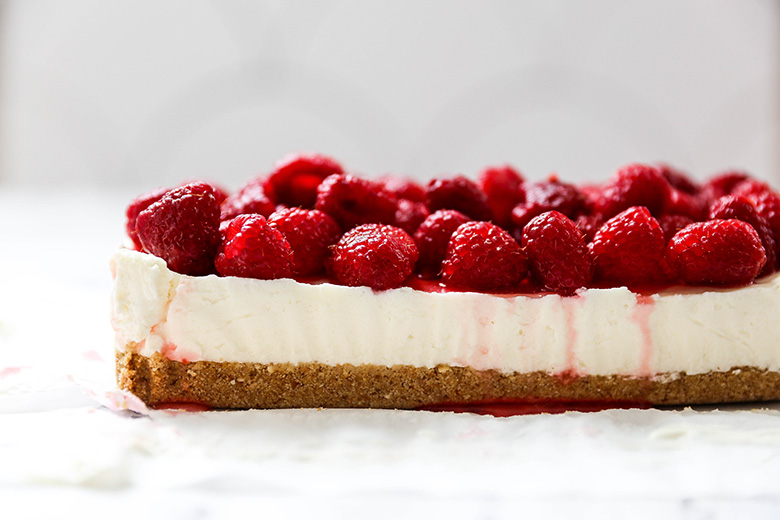 I've been working on this Small Batch No-Bake White Chocolate and Lavender Cheesecake with Raspberries for a few weeks now. I wanted to have the recipe out before Easter, but it took me several attempts to get it exactly right. No-bake cheesecakes can be challenging because if the proportions aren't right, you'll end up with cheesecake soup when you slice into it. I wanted the filling to be light, but still firm enough to slice. Thankfully, I eventually nailed it! And although not in time for Easter, it is here just in time for Mother's Day. And I think this fruity, floral, creamy dessert would be ideal for Mom!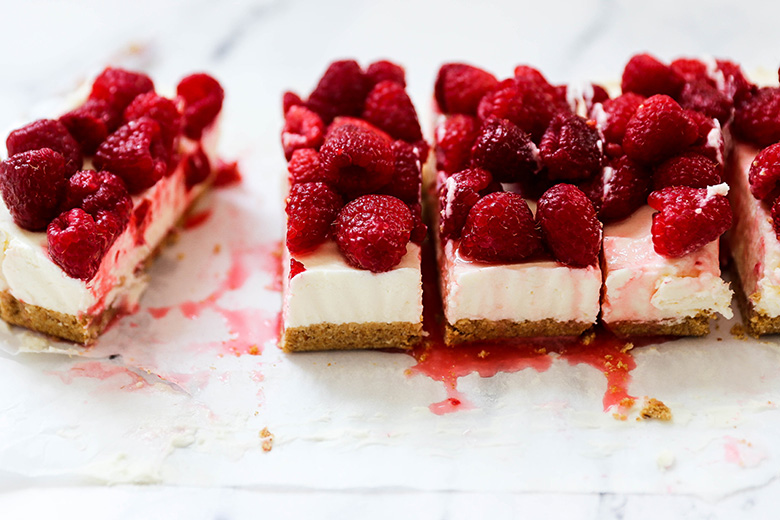 There are two key steps in this recipe that require a significant amount of inactive prep time, so make sure you read through the instructions carefully and plan ahead for that time. The first is after you infuse the heavy cream with the culinary lavender. You'll need to completely chill the heavy cream (about 4 hours) in your refrigerator so that it can be whipped and folded into the cheesecake filling. The second is after the cheesecake is fully assembled. It should be refrigerated for at least 6 hours so it can become firm enough to slice.
I know this seems like a lot of waiting (it's worth it though, I promise!), but what all this downtown really means is that this is the perfect make-ahead dessert for any occasion. It's easy to prepare everything the day before. The only step you'll want to save until just before serving is making and adding the raspberry topping.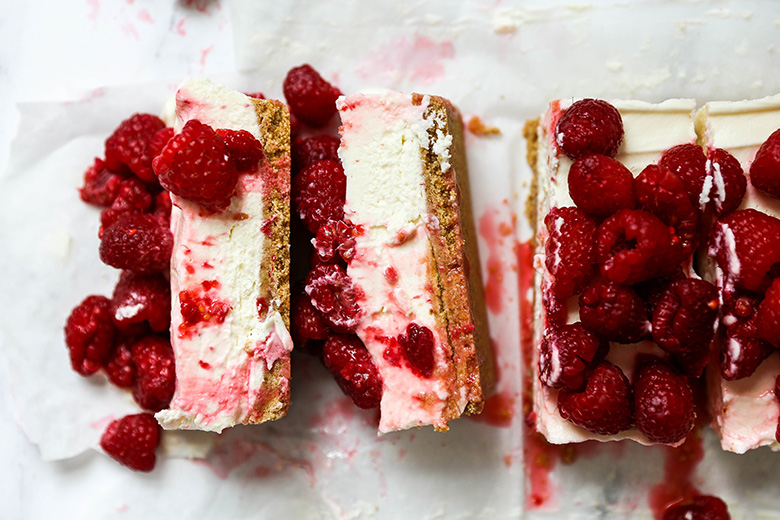 This Small Batch No-Bake White Chocolate and Lavender Cheesecake with Raspberries is made in a standard loaf pan and I think dividing it into 5 slices is perfect. But you could stretch it to 6 slices if you need an extra.
Cheers,
Liz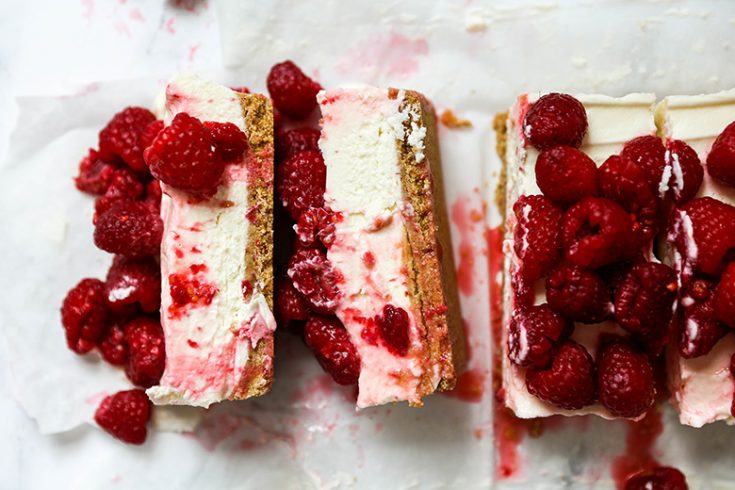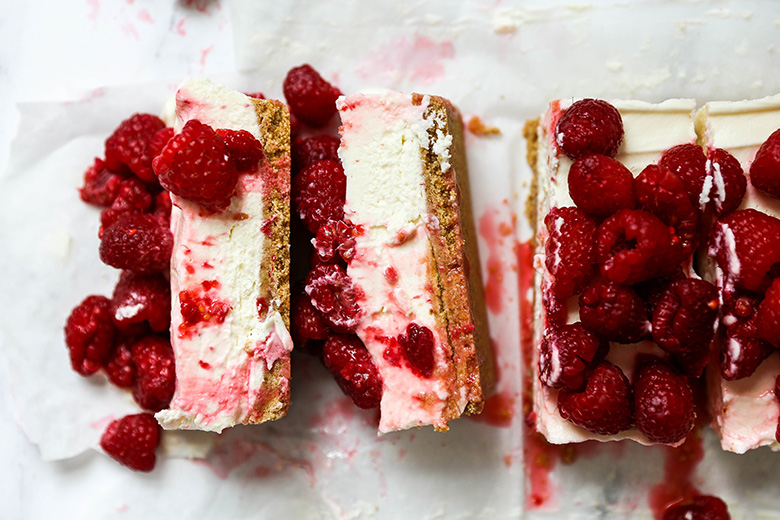 Small Batch No-Bake White Chocolate and Lavender Cheesecake with Raspberries
Yield: Serves 5
Prep Time: 1 hour
Cook Time: 10 minutes
Additional Time: 10 hours
Total Time: 11 hours 10 minutes
Ingredients
For the Graham Cracker Crust:
1 cup graham cracker crumbs (from about 8 full-sized sheets)
3 tablespoons butter, melted
1/8 tsp. salt
For the White Chocolate Cheesecake Filling:
3/4 cups heavy cream
1 tsp. dried culinary lavender
4 ounces white chocolate, chopped
8 ounces full-fat cream cheese, softened at room temperature
2 tablespoons powdered sugar
1/8 tsp. salt
For the Raspberry Topping:
About 8 ounces fresh raspberries
2 tablespoons fresh squeezed lemon juice
1 tablespoon granulated sugar
Instructions
Gently warm the heavy cream and dried lavender in a small saucepan over low-medium heat. Once the heavy cream is warmed through and the lavender smells fragrant, remove the saucepan from the heat. Do not let the heavy cream come to a simmer.
Let the heavy cream/lavender mixture cool to room temperature. Then cover the saucepan with plastic wrap and place it in your refrigerator to chill completely, about 4 hours.
Line a standard 8 1/2 X 4 1/2 X 2 1/2-inch loaf pan with parchment paper, leaving about an inch hanging over the sides.
Add all the ingredients for the crust to a medium bowl. Stir them together with a fork until the crumbs are moistened. Then dump the crust into your prepared loaf pan and press it down firmly and evenly into the bottom of the pan. Set aside.
Strain the chilled heavy cream through a fine mesh sieve, collecting and discarding the dried lavender.
In a small saucepan over low-medium heat, gently heat the chopped white chocolate with about 2 tablespoons of the strained heavy cream. Stir continuously so the chocolate doesn't burn. Once the chocolate is fully melted and smooth, remove the saucepan from the heat and set it aside to cool.
Add the remaining strained heavy cream to the bowl of your stand mixer fitted with the whisk attachment. Whisk on high until stiff peaks form. Then transfer the whipped cream to a clean bowl and set it aside.
Switch to the paddle attachment and beat the cream cheese, powdered sugar and salt until the cream cheese is completely smooth. With your mixer on low speed, slowly add in the melted white chocolate, stopping to scrape down the sides of the bowl as necessary. Beat until fully combined. Then with a spatula, gently fold in the whipped cream.
Scrape the cheesecake filling into your prepared loaf pan over the graham cracker crust, spreading it out evenly. Cover the loaf pan with a piece of plastic wrap and place it in your refrigerator to completely chill, at least 6 hours or up to overnight.
Before serving, toss the raspberries in a medium bowl with the lemon juice and granulated sugar. Then spoon over the cheesecake. Lift the cheesecake out from its loaf pan using the overhanging parchment paper. Cut into slices and serve.