This post was originally published here October 10, 2014. I've since adjusted the recipe to fit in a standard loaf pan. And I've updated the text and photographs to reflect those changes. This is a great dessert recipe to make if you're hosting a smaller Holiday gathering. I hope you try it!
Pumpkin desserts will never be my favorite. I'm definitely more partial to something with chocolate. Or even these ooey-gooey blondies! But I also feel like I can't let the weeks leading up to Thanksgiving go without any sort of pumpkin-flavored treat. So today, I'm sharing this Small Batch Pumpkin Pie Cheesecake with Bourbon Whipped Cream!
I realize my above introduction isn't a ringing endorsement for this recipe. But I really am excited about how this cheesecake came out. And I would never share anything with you here on the blog that I didn't love (I hope you already knew that!). I guess I'm just saying that pumpkin will never be my first choice if there are other dessert options available. But this cheesecake was nothing short of impressive. And I know you'll love it, too!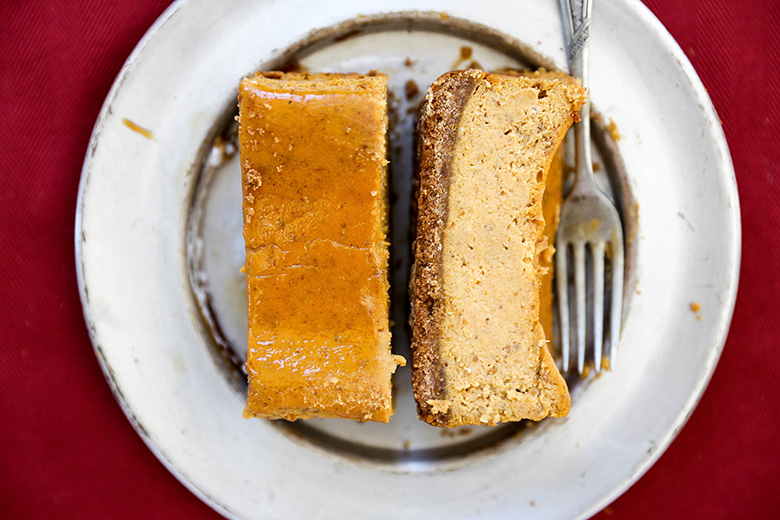 My Holiday celebrations will be much smaller this year. And I'm guessing many of you are facing a similar situation. So I wanted to make a dessert recipe that wouldn't be overwhelmingly gigantic. I took an old recipe from the archives and changed up some of the proportions and the baking pan. And the result is this Small Batch Pumpkin Pie Cheesecake with Bourbon Whipped Cream. Which I recommend cutting it into five substantial slices. But you could certainly make each slice a tiny bit smaller and stretch it to feed six, if necessary.
This dessert has a graham cracker crust, a thick layer of cheesecake filling and a dollop of homemade whipped cream (with bourbon!) nestled right on top to finish it off. I also like to drizzle the slices with salted caramel sauce (I used this recipe minus the pecans), but that's extra only if you're feeling it.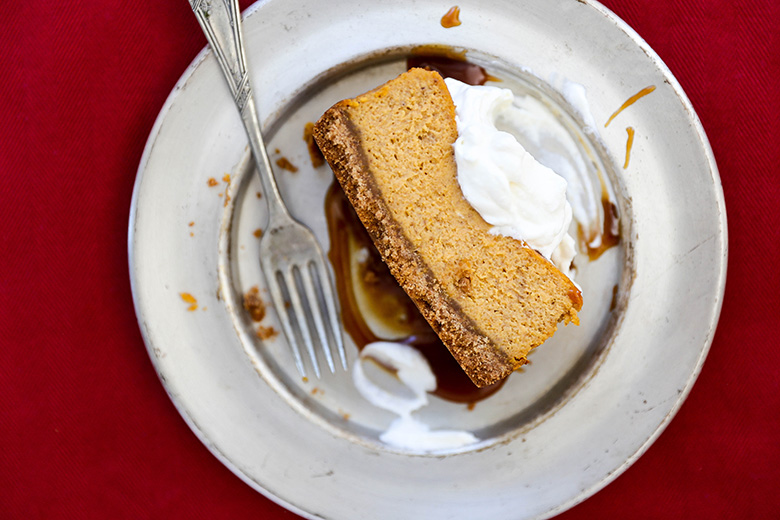 The key to making the cheesecake filling smooth and luscious is you MUST use room temperature cream cheese and eggs in this recipe. Attempting to beat together the filling using chilled ingredients will leave you with lumps that will seemingly never go away. And that's no fun. So please make sure you don't overlook this step. And also be aware that you'll need to chill the finished cheesecake for a couple hours before slicing into it. Which really means that this is a great make-ahead dessert for the Holidays!
The cheesecake filling uses both pumpkin purée and pumpkin pie spice mix (which I also add to the graham cracker crust) to ensure the pumpkin flavor doesn't get lost among the other ingredients. You can purchase pumpkin pie spice mix from the grocery store. Or you can make your own by coming 3 tablespoons ground cinnamon, 2 teaspoons each ground nutmeg and ginger and 1 teaspoon each ground cloves and allspice. I typically like to do this and keep my homemade mix in a small container to use throughout the Fall and Winter baking season.
Cheers,
Liz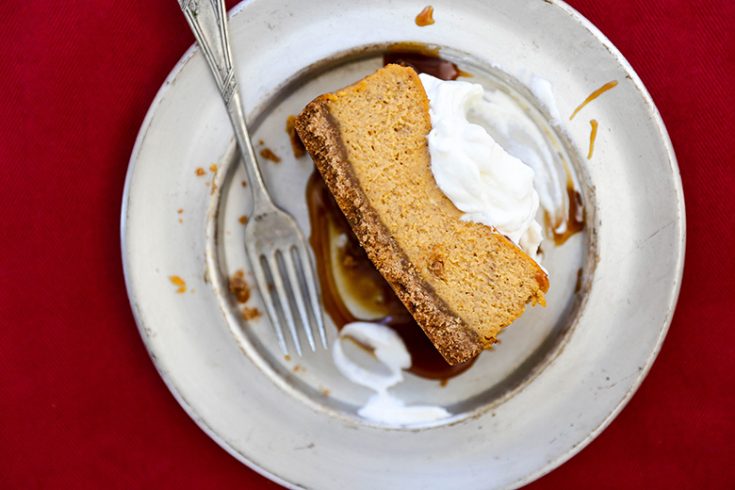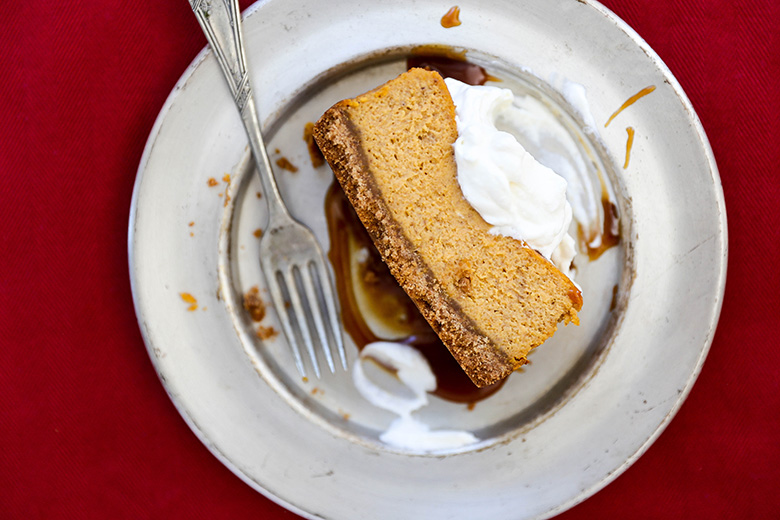 Small Batch Pumpkin Pie Cheesecake with Bourbon Whipped Cream
Yield: Serves 5
Prep Time: 20 minutes
Cook Time: 1 hour 15 minutes
Additional Time: 2 hours
Total Time: 3 hours 35 minutes
Ingredients
For the Crust:
1 cup graham cracker crumbs (from about 8 full-sized sheets)
3 tablespoons butter, melted
1/2 tsp. pumpkin pie spice mix
For the Cheesecake Filling:
8 ounces full-fat cream cheese, softened at room temperature
1/2 cup packed brown sugar
1 cup pumpkin purée
3 eggs, at room temperature
1 tsp. pumpkin pie spice mix
1/4 tsp. salt
For the Bourbon Whipped Cream:
1 cup heavy whipping cream, cold
2 tablespoons powdered sugar
1 tablespoon bourbon
Instructions
Place the oven rack in the lower third of your oven. Pre-heat your oven to 325 degrees. Line a standard 8 1/2 X 4 1/2 X 2 1/2-inch loaf pan with parchment paper, leaving about an inch hanging over the sides. Set aside.
Add all the ingredients for the crust to a medium bowl. Stir them together with a fork until the crumbs are moistened. Dump the crust into your prepared loaf pan and press it down firmly and evenly into the bottom of the pan. Transfer the loaf pan to your pre-heated oven and bake for 15 minutes. Remove and set aside.
Meanwhile, in the bowl of your stand mixer fitted with the paddle attachment, beat the cream cheese and brown sugar until completely smooth. Add the pumpkin purée, eggs, spice mix and salt and beat until fully combined and smooth, stopping to scrape down the sides of the bowl as necessary.
Pour the cheesecake filling over your prepared crust and transfer the loaf pan to your pre-heated oven. Bake for 45-50 minutes, or until the surface is set but there is still just the slightest jiggle left in the very center of the cheesecake. Remove the loaf pan from your oven and set it on a wire rack to cool to room temperature. Then place the loaf pan in your refrigerator to completely chill and set the cheesecake, about 2 hours. The cheesecake can be made and stored in your refrigerator 1-2 days in advance.
To make the whipped cream, first place the bowl of your mixer and the whisk attachment in your freezer for about 5 minutes to chill them. Then remove them from the freezer and immediately add the heavy cream and powdered sugar and start whisking on medium-high speed. Once the heavy cream starts to thicken, increase the speed to high and continue whisking until medium peaks form. Add the bourbon and whisk until it's incorporated. Cover and refrigerate.
To serve, lift the cheesecake out from its loaf pan using the overhanging parchment paper. Cut the cheesecake into 5 slices. Place the slices on serving plates and top with whipped cream.