I've noticed that cranberry sauce is often treated like an afterthought. Which I suppose is the reason why the canned stuff is popular with so many people. But I've never felt that way about it. I absolutely ADORE cranberry sauce. And I get excited about the arrival of cranberries every single year!
Since I'm easily the person in my family who expresses the deepest love and appreciation for cranberry sauce, it's always fallen on me to make it. Which is a task I'm happy to do. I've made this Ginger Cranberry Sauce with Riesling the last two years in a row. But for this Holiday season, I wanted to change things up a bit. So with some inspiration from this recipe from Food & Wine, I created this Roasted Cranberry Grape Compote.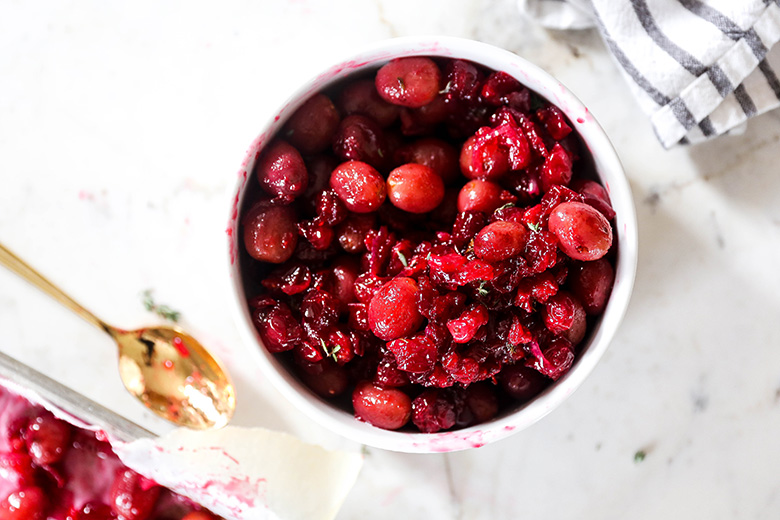 I knew before even digging into this recipe that I would love it. Because I'm a big fan of roasted grapes. I like adding them to my salads. And they make for a crowd-pleasing appetizer when paired with creamy goat cheese and toasted bread. And now, I can say that I love them with cranberries! Roasting grapes makes them sweet, soft and juicy. So it makes perfect sense that they would pair really well with tart cranberries. Not sure why I didn't think of this combination sooner!
This Roasted Cranberry Grape Compote is one of the easiest recipes you'll make this Holiday season. Simply add all the ingredients to a rimmed baking sheet and slide it into your oven for 20 minutes. That's literally it. You'll want to stir the ingredients at the halfway point (don't freak out if it looks like a lot of liquid has been released at this point). But that's the only little bit of babysitting that this recipe requires.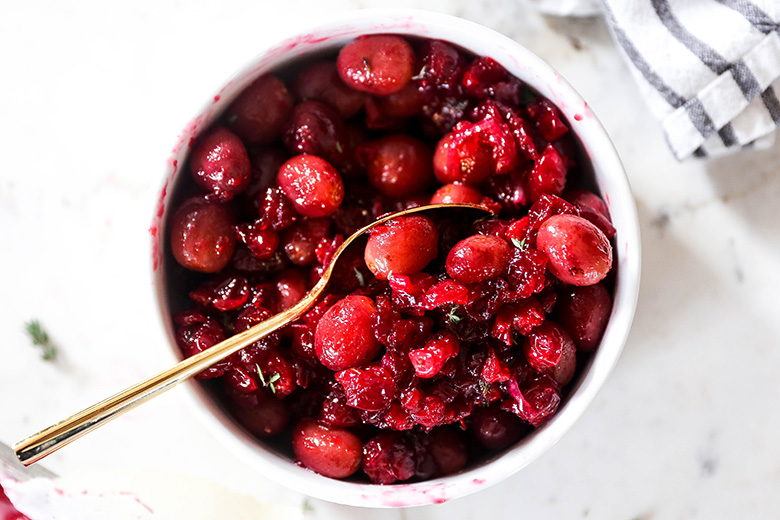 Want to make things even easier for yourself? You can prepare this Roasted Cranberry Grape Compote 2-3 days ahead of when you plan to serve it. Any recipe that can be made in advance is a major bonus around the Holidays!
The shallots may seem out of place here, but they add a worthy, albeit subtle, savory undertone to this compote. So don't skip them!
On a sweetness scale, I'd say this Roasted Cranberry Grape Compote is right smack in the middle. It's not obnoxiously sweet, like some cranberry sauce recipes tend to be. But I wouldn't say it's tart either. So if you wanted to try and scale back on the sugar, I think reducing it by a couple tablespoons would work out just fine.
Cheers,
Liz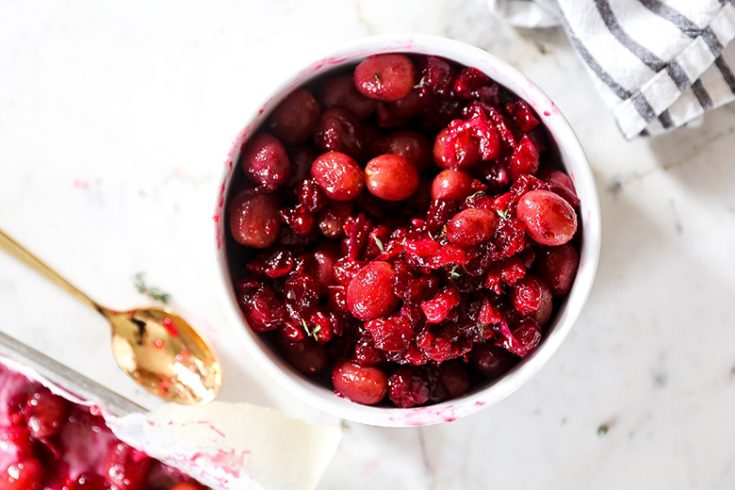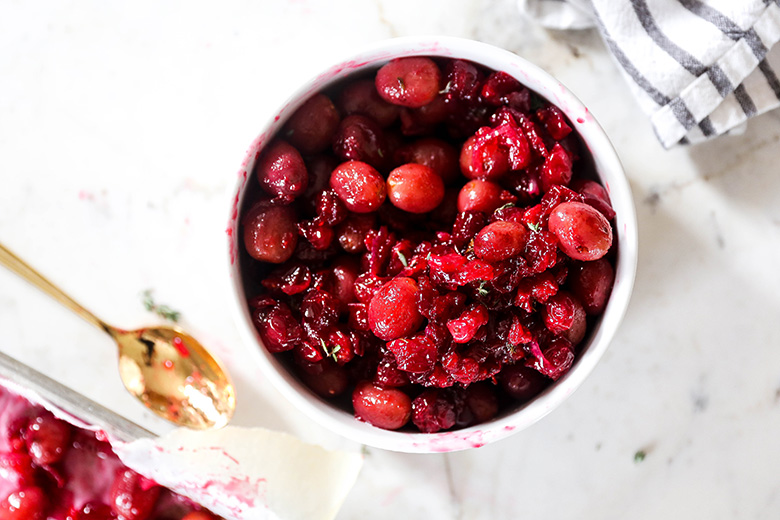 Roasted Cranberry Grape Compote
Yield: 6-8 servings
Prep Time: 5 minutes
Cook Time: 20 minutes
Total Time: 25 minutes
Ingredients
3 cups fresh cranberries, thawed if frozen
2 cups red grapes
1/2 cup diced shallots
1/2 cup granulated sugar
Juice and zest from 1 lemon
1 tablespoon fresh thyme leaves
Instructions
Pre-heat your oven to 425 degrees. Line a large rimmed baking sheet with parchment paper and set it aside.
Add all the ingredients to a medium bowl and stir to coat. Spread the mixture out onto your prepared baking sheet. Then transfer the baking sheet to your pre-heated oven and roast for 20 minutes, stirring once halfway through. The cranberries will have burst, but the grapes should still be mostly intact.
Remove the baking sheet from your oven. Let the compote cool slightly before transferring it a serving dish. The compote can be served slightly warm, room temperature or chilled.
Leftovers can be stored in an airtight container in your refrigerator for 2-3 days.