This post was originally published here December 5, 2014. I've since updated the text and photographs. This is a fun Holiday twist on traditional caramel sauce that's delicious on all your cakes, cookies, ice creams and more!
I'm getting close to feeling baked out. And Christmas is still 2 weeks away!
So this is my "recovery post". Because I needed to hit the pause button on the all the baked goods for a hot second.
There is no dough to mix in this recipe. No cut-outs to stamp. And no decorating to obsess over. Instead, the only requirements are one heavy-duty saucepan and about 10 minutes of time. And with that, you're well on your way to enjoying this luscious homemade Eggnog Caramel Sauce!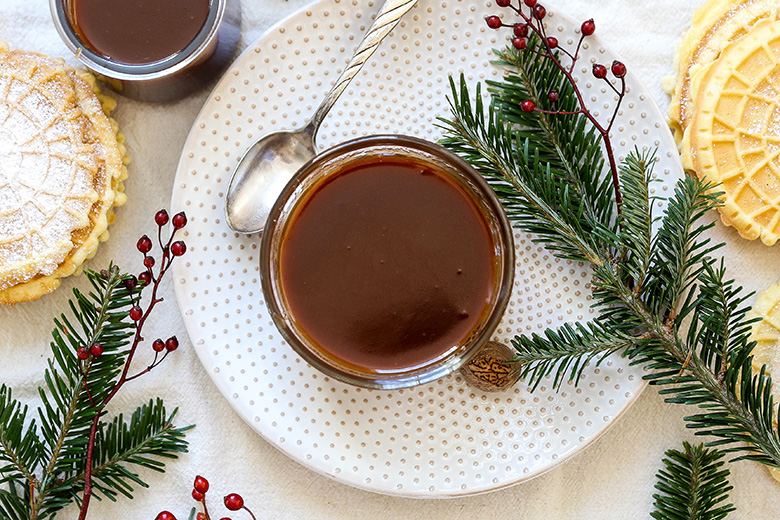 If you've made caramel sauce before, then you'll notice that this Eggnog Caramel Sauce isn't much of a stretch from some of the more traditional recipes. I've swapped out the usual heavy cream for full-fat eggnog. And I've added in a few extra spices to give the eggnog flavor more of a boost. It's an easy, festive way to change up your regular caramel sauce for the Holidays. And I love it on ALL THE THINGS. Cookies, cakes, ice cream, etc. This Eggnog Caramel Sauce can go wherever you want it to go!
And you might be sensing a theme here from some of my other recent posts, but this Eggnog Caramel Sauce also makes an awesome edible gift. The recipe can be easily doubled, if necessary, and packaged into small mason jars for gifting. Think hostess gifts, teachers, neighbors and more!
My best tip for making homemade caramel sauce is this: don't walk away from the stove. Because once the sugar and water mixture starts to take on a hint of color, it will progress to the deeper caramel-colored stage very quickly. And in just another minute after that, you'll be going from good to bad (i.e. burned and smoking). So stay close by, unless you want to be calling the fire department!
What's your favorite way to use caramel sauce? You know I have a soft spot for it on ice cream!
Cheers,
Liz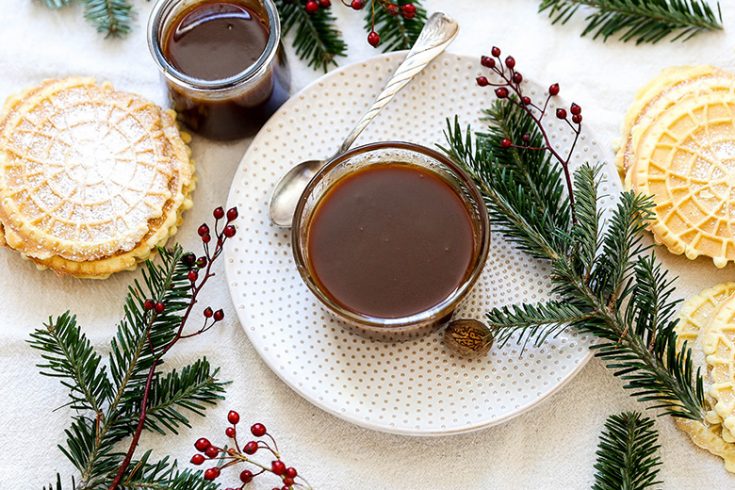 Eggnog Caramel Sauce
Yield: Makes about 1 cup
Prep Time: 5 minutes
Cook Time: 10 minutes
Additional Time: 5 minutes
Total Time: 20 minutes
Ingredients
1 cup granulated sugar
1/2 cup water
6 tablespoons unsalted butter, cubed and at room temperature
1/4 tsp. salt
1/8 tsp. ground cloves
1/8 tsp. ground nutmeg
1/2 cup full-fat eggnog, at room temperature
Instructions
Spread the sugar out into the bottom of a heavy bottom saucepan. Slowly pour the water over the sugar and gently swirl the saucepan to moisten the sugar evenly. Then place the saucepan over medium-high heat and bring the mixture to a boil. Allow the mixture to cook until it turns a deep caramel color, about 7-10 minutes. It will bubble quite vigorously during this time, but try to avoid stirring, if possible. If it's not cooking evenly, you can gently swirl the saucepan to help mix/move the mixture around to prevent scorching on the bottom of the saucepan.
Once the mixture is a deep caramel color, quickly remove the saucepan from the heat. Whisk in the butter, salt, cloves and nutmeg. Then slowly stream in the eggnog, whisking constantly until fully combined and the caramel sauce is smooth.
Let the caramel sauce cool in the saucepan for about 5 minutes. Then carefully pour it into re-sealable containers or jars.
The caramel sauce can be stored in your refrigerator for several weeks.