This post was originally published here December 11, 2013. I've since updated the text and photographs. These cookies stay fresh for up to one week, which makes them a great treat for a cookie exchange!
These Almond Thumbprint Cookies with Dark Chocolate have been on my must-make list for the Holidays for almost a decade now. They are a delicious combination of nutty, buttery, salty and sweet flavors. And the dough doesn't require any chilling, so you don't need a day of advanced planning to enjoy them.
Also, they are a rather sturdy little cookie. I've shipped them many times and I'm happy to report they've always arrived intact. And still as delicious as they day I baked them! These cookies will stay fresh for up to a week. And maybe even longer…but mine never seem to last that long.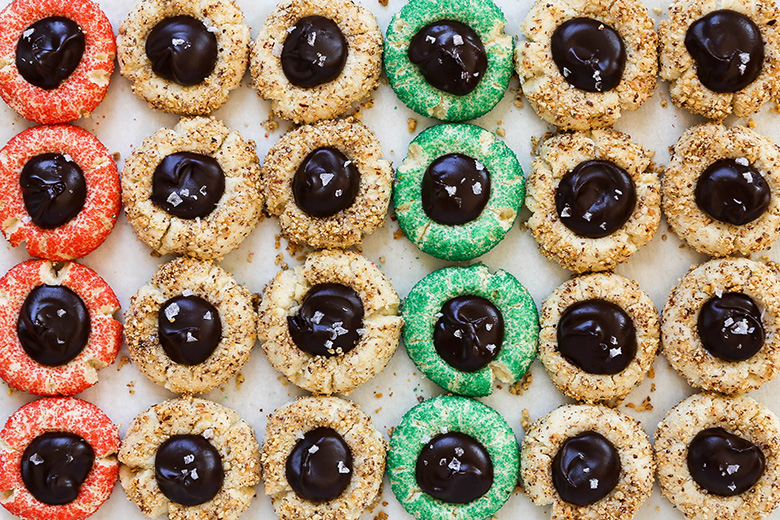 Making thumbprint cookies is pretty much exactly as the names implies. Start by rolling your cookie dough into balls, then press your thumb (you can also use the back of a spoon, a wine cork, etc.) into the center of each ball to make an indent. This will be the cozy little space for our dark chocolate to eventually reside. Be careful not to press too hard or too far into the cookie dough balls, because that is what will cause the edges of the cookies to crack. Some cracking is inevitable (and I've found that I can usually just pinch the dough back together to mend the crack), but too much and the cookies will lose their structure.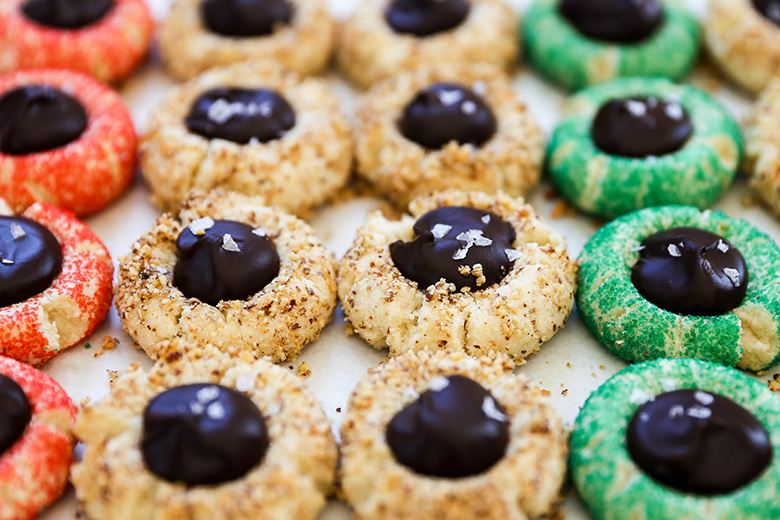 The cookies will puff up slightly during baking, making the initial indentation you made less pronounced. One trick I've learned over the years to address this issue is to gently press down on the still hot cookies to help "deflate" the indentation as they come out of the oven. The cookies will be soft and very hot at this stage, so tread lightly. This is a great place to use a spoon. Or I like to dip my thumb in cold water to help keep it cool.
I'm all about any little trick that makes more space for the dark chocolate center!
Since these thumbprint cookies are almond-flavored, I like to coat them in finely chopped almonds to really bring the almond flavor home even more (and the crunchy almonds add some great texture). But it's also fun to coat them in festive colored decorating sugars, too. A mix of both almond and sugar coating makes for a pretty cookie tray!
Cheers,
Liz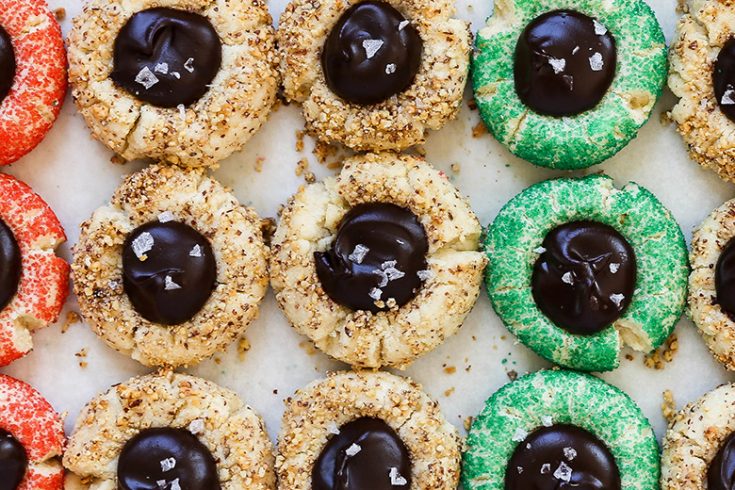 Almond Thumbprint Cookies with Dark Chocolate and Sea Salt
Yield: Makes 3 dozen cookies
Prep Time: 20 minutes
Cook Time: 20 minutes
Additional Time: 1 hour
Total Time: 1 hour 40 minutes
Ingredients
For the Cookies:
1 3/4 cups all-purpose flour
1 1/2 cups almond flour
1 cup (16 tablespoons) unsalted butter, softened at room temperature
1/2 cup granulated sugar
Finely grated lemon zest from 1 lemon
1 tsp. vanilla extract
1 tsp. almond extract
About 1 cup finely chopped roasted and salted almonds
For the Chocolate Filling:
1/4 cup (4 tablespoons) unsalted butter
8 ounces semi-sweet or dark chocolate, chopped
1 tablespoon light corn syrup
1/4 tsp. salt
Flaky sea salt
Instructions
Pre-heat your oven to 350 degrees. Line your baking sheets with parchment paper and set aside.
In a medium bowl, whisk together the all-purpose flour and almond flour. Set aside.
In your stand mixer fitted with the paddle attachment, beat the butter, sugar and lemon zest on medium-high speed until light and fluffy, about 3 minutes. Stop to scrape down the sides and bottom of the bowl. Then add the vanilla and almond extracts and beat until combined.
With your mixer on low speed, add the flour mixture in thirds, stopping to scrape down the sides and bottom of the bowl as necessary. Beat just until the flour is incorporated and no more white streaks remain. Do not over mix.
Add the finely chopped almonds to a plate or shallow bowl and set aside.
Scoop all the cookie dough out and roll it into balls, using about 1 tablespoon of dough per ball. Then roll each ball in the finely chopped almonds, making sure it's coated on all sides. Place the coated balls on your parchment paper-lined baking sheets, spacing them about 1 1/2-inches apart from each other.
Using your thumb or the back of a spoon, make an indentation in the center of each ball. Some cracking around the edges is unavoidable, but pressing gently and making sure to go no more than halfway through the ball will reduce this.
Transfer the baking sheets to your pre-heated oven and bake the cookies for 15 minutes, rotating the baking sheets halfway through. Remove the baking sheets from your oven. The cookies will have puffed up during baking. While they are still warm, gently press down on the center of each cookie where you made the initial indentation to deflate it slightly. You can use the back of a spoon or dip your thumb in cool water if you want to do this by hand. Let the cookies cool for 5 minutes on their baking sheets before transferring them to a wire rack to continue cooling.
Once the cookies have cooled, make the chocolate filling. In a small saucepan over low-medium heat, melt the butter. Then add the chopped chocolate, corn syrup and 1/4 tsp. of salt. Stir continuously until everything is melted and smooth. Remove the saucepan from the heat and let the chocolate filling cool for 5 minutes. Then using a spoon, fill each cookie with some of the chocolate filling. Sprinkle with a small pinch of flaky sea salt.
The chocolate filling will be set in about 1 hour. Once it's set, the cookies can be transferred to an airtight container and stored at room temperature for about 1 week.