I am absolutely giddy over this snack mix recipe. A few weeks ago I had the idea for a sugar cookie snack mix that had actual sugar cookies in it. And wasn't simply just flavored to taste like sugar cookies. And well, I made it happen. And now it's here!
This Sugar Cookie Christmas Snack Mix is the most fun and festive treat you can make this December. You're going to want to keep a big batch of it on hand all month long for when those unexpected house guests stop by. Or if you're having Christmas movie night by the fire. Or even to package up in cellophane and hand out as an edible gift. You won't run out of ways to enjoy this Sugar Cookie Christmas Snack Mix. I really hope you try it!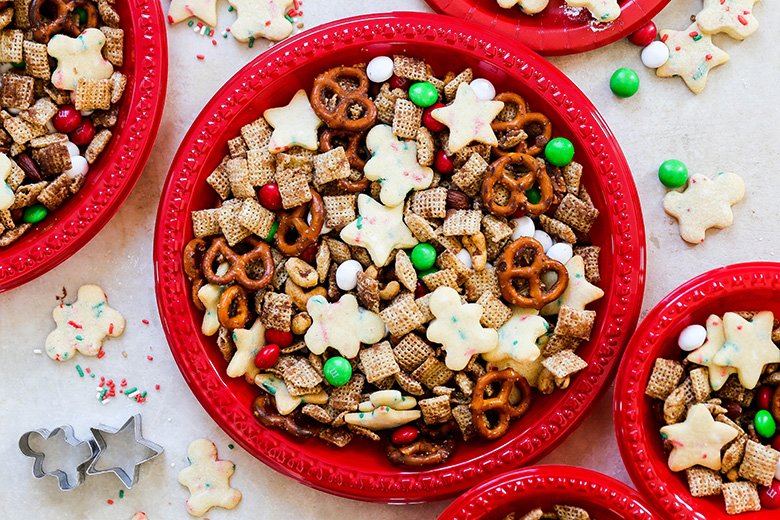 At first glance, this recipe seems long. I know. I feel that. But that's because I've included all the instructions for making the mini sugar cookies, in addition to making the snack mix itself. So there are really two separate parts here, which is why is seems lengthy. The sugar cookie recipe is one I've been making with my Mom since I was a kid. I'm not sure where the recipe originally comes from, but it's easy and it yields cut-outs that hold their shape relatively well. That being said, if you have a favorite sugar cookie recipe, feel free to use it here instead. The goal is just to make a bunch of mini cookies!
The sugar cookie recipe will yield about 6 dozen mini cookies. Which is a lot. And more than you'll need for the snack mix. So after making a bunch of the mini cookies, you might want to switch to your larger cookie cutters to save yourself the trouble. I was going a little nutty by the end of making that many tiny cookies!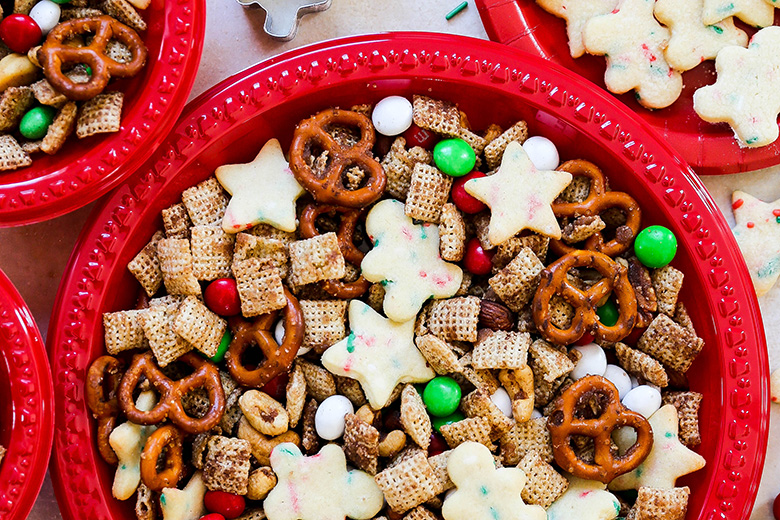 And if you don't have a set of mini cookie cutters, don't sweat it. You can simply roll/shape the dough out into a rectangle and then use a sharp knife, pizza wheel or pastry wheel to cut out little squares. It will still be very cute and tasty!
The base for the Sugar Cookie Christmas Snack Mix is Rice Chex cereal. But feel free to use Corn or Wheat Chex, if you prefer. Or mix them up! I also add in pretzel twists and salted mixed nuts. All very standard snack mix ingredients. For the chocolate pieces, I like the Mint Chocolate Holiday M&M's that you can find in the stores these days. But any flavor would be great. Next time I might go more classic with some peanut M&M's!
Happy snacking!
Cheers,
Liz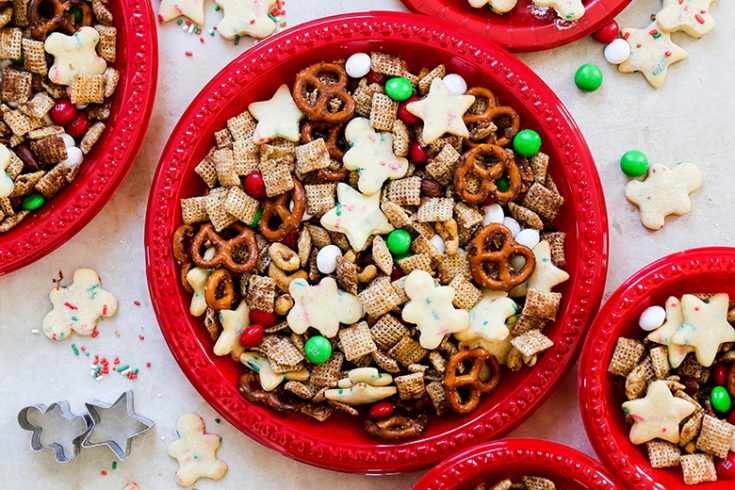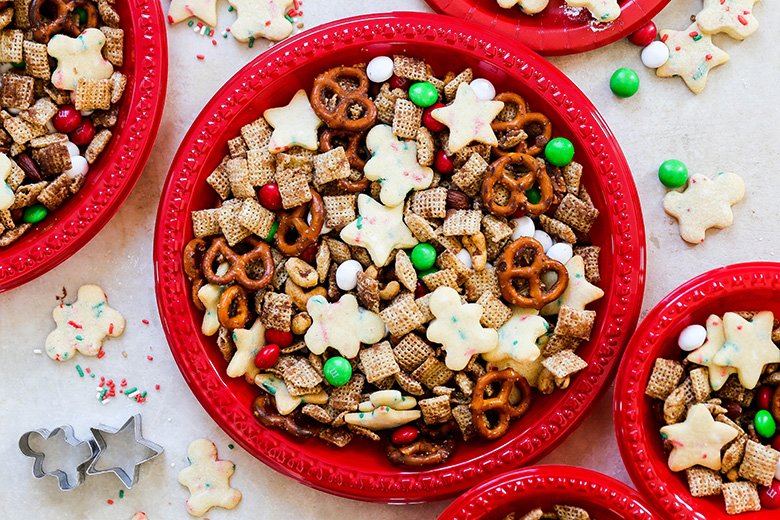 Sugar Cookie Christmas Snack Mix
Yield: Makes about 12 cups
Prep Time: 1 hour
Cook Time: 20 minutes
Additional Time: 1 hour 30 minutes
Total Time: 2 hours 50 minutes
Ingredients
For the Sugar Cookies:
6 tablespoons shortening
1/2 cup granulated sugar
1 egg, at room temperature
1/2 tsp. vanilla extract
1 1/4 cups all-purpose flour
1/2 tsp. baking powder
1/2 tsp. salt
3 tablespoons sprinkles (I used red, green and white)
For the Snack Mix:
6 cups Rice Chex cereal
2 cups salted mini pretzel twists
1 cup salted mixed nuts
1/2 cup butter
1/2 cup granulated sugar
1 1/2 tablespoons ground cinnamon
1 (9.20-ounce) bag Mint Chocolate Holiday M&M's
About 3 dozen mini sugar cookies
Instructions
In the bowl of your stand mixer fitted with the paddle attachment, beat together the shortening, sugar, egg and vanilla extract on medium-high speed until light and fluffy, about 2-3 minutes. Scrape down the sides and bottom of the bowl.
Sift the flour, baking powder and salt together into a sepearte bowl. Then slowly add these dry ingredients to your mixer, beating on low-medium speed. Beat just until no more white streaks remain, stopping to scrape down the sides and bottom of the bowl as necessary. Add the sprinkles and beat until they are just incorporated into the dough. Cover the bowl with plastic wrap and place it in your refrigerator to chill the dough for 1 hour.
Pre-heat your oven to 400 degrees.
Place the chilled dough between two pieces of parchment paper that have been lightly dusted with flour. Roll the dough to approximately 1/4-inch thickness. Then cut out shapes using mini cookie cutters. If the dough is sticking, dust your cookie cutters with a little bit of flour.
Transfer the cut-outs to ungreased baking sheet(s), spacing them about 1/2-inch apart (they won't rise much). Place the baking sheet in your refrigerator to keep the cut-outs chilled while you continue re-forming/re-rolling the dough scraps and making the remaining cut-outs, adding them to your baking sheet(s) as you go.
Take your baking sheet(s) directly from your refrigerator and place them in your pre-heated oven. Bake the cookies for about 6 minutes, until they are just starting to turn light brown around the edges. Because of their small size they will bake quickly, so start checking them for doneness after about 4 minutes.
Let the cookies cool on their baking sheet(s) for about 2 minutes. Then use a spatula to transfer them to a wire rack to continue cooling. Once fully cooled, the cookies can be stored in an airtight container at room temperature for 1-2 weeks.
To make the snack mix, add the cereal, pretzels and nuts to a large microwave-safe bowl. Set aside.
In a medium microwave-safe bowl, heat the butter in your microwave for 30 second increments until it's fully melted. Stir the sugar and cinnamon into the melted butter. Then pour this butter mixture over the cereal mixture, tossing gently to coat.
Add the large bowl with the coated cereal mixture to your microwave and heat for 1 minute. Carefully remove the bowl and give everything a stir. Then microwave it for an additional 1 minute, stirring again afterwards.
Dump the coated cereal mixture out onto a large rimmed baking sheet and let it cool to room temperature. Once cooled, add the M&M's and sugar cookies. Stir gently to combine.
The snack mix can be served immediately. Or transferred to an airtight container or zip-closure bag and stored at room temperature for up to a week.