Disclosure: This post is sponsored on behalf of Maison Louis Jadot Wines via One2One Network. All opinions are my own. Thanks for supporting brands that support Floating Kitchen!
Elaborate, formal dinner parties tend to be one of two things: (1) stressful for those hosting or (2) boring for those attending.
I hesitate to write that, at the risk of sounding overly negative. But I think we can all agree that I'm mostly right.
So in recent years, I've ditched the notion of fancy get-togethers in favor of more casual, relaxed entertaining scenarios. With the exception of a few times a year ( i.e. = Thanksgiving), I tend to keep my gatherings low key, with a few simple food and drink options. And I let friends come and go as they please, free from the restrictions of a hard and fast time dictating when we all must sit down at the table together to dine. It just seems to work out better for everyone this way.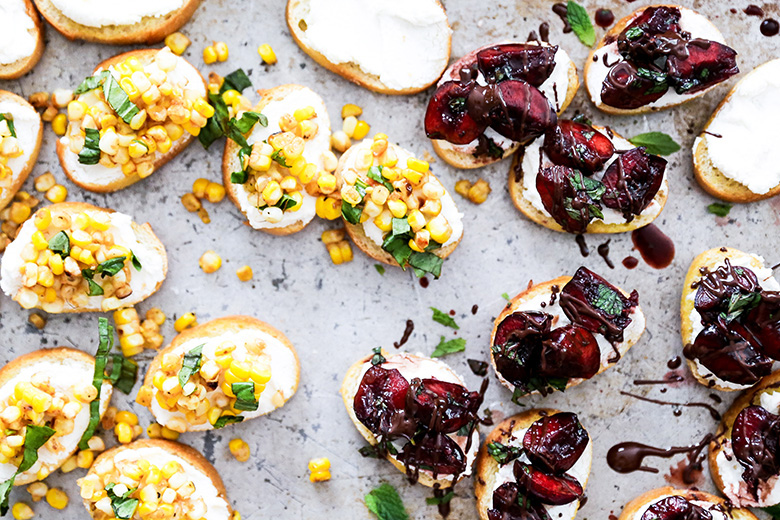 Bruschetta has always been one of my favorite foods to serve at casual gatherings. It's versatile, with a seemingly endless number of savory and sweet options. It's easy to make. And above all else, it's a total crowd pleaser. I don't know many people that will turn down a little toasty piece of bread piled high with fresh, seasonal ingredients. I would (and have on many occasions) happily make an entire meal out of bruschetta alone!
These two Summer Bruschetta recipes highlight everything that I'm obsessed with right now. I used a slightly sweetened whipped goat cheese as the base for both recipes. Then I went either savory, with a combination of corn, adobo sauce and basil. Or sweet, with a combination of fresh cherries, balsamic vinegar, mint and a drizzle of chocolate. I served both versions at a little outdoor garden party I had this past week, and they were a big hit with all my friends. In fact, people had a hard time choosing which one was their favorite!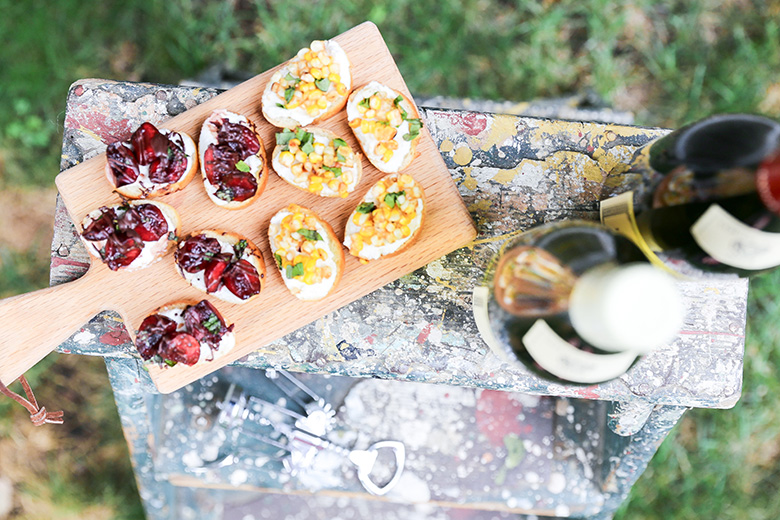 To complete my garden soiree, I paired my Summer Bruschetta with a couple of Maison Louis Jadot Wines. The clean, fresh flavors of their Mâcon-Villages Chardonnay went perfectly with the savory corn bruschetta that I created. While their plump, juicy Beaujolais-Villages nicely played up the flavors in my sweet cherry bruschetta.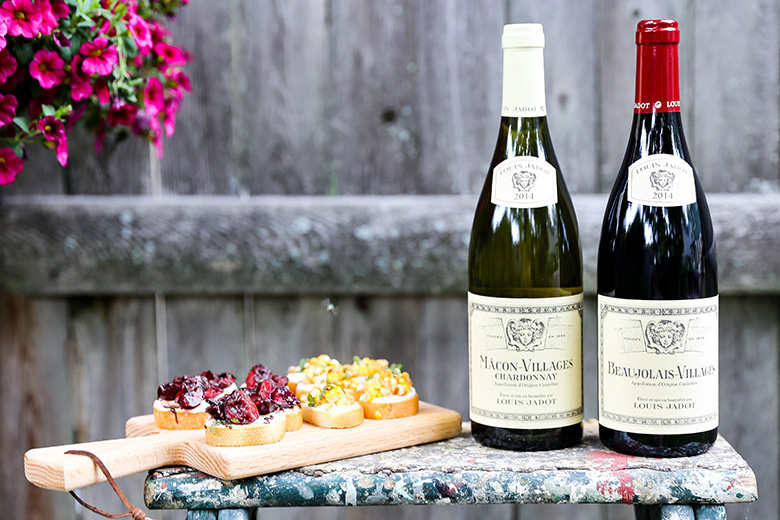 Maison Louis Jadot Wine is the #1 brand of French wine in the United States. Their wines are versatile, pairing well with so many of my favorite foods. And they are available at a great price point. It's a wine that I'm happy to have in my home and serve to my family and friends!
Cheers,
Liz
Ingredients
For the Bruschetta Base
1 rustic French baguette
About 2-3 tablespoons extra-virgin olive oil
8 ounces goat cheese, softened at room temperature
2 tablespoons heavy cream
1 tablespoon honey

For the Corn Topping
2 ears of corn, cooked and kernels sliced off
2 tablespoons fresh basil leaves, thinly sliced
1 tsp. adobo sauce (from a can of chipotle peppers in adobo)
1/4 tsp. salt
1/4 tsp. black pepper

For the Cherry Topping
1 cup pitted and quartered cherries
1 tablespoon balsamic vinegar
1 tablespoon fresh mint leaves, thinly sliced
1 ounce melted dark chocolate
Instructions
Make the bruschetta base. Pre-heat your oven to 400 degrees. Slice the French baguette into 1/2-inch slices. Brush both sides of the bread with a little olive oil. Then place the sliced bread on a rimmed baking sheet and bake in your pre-heated oven for 5 minutes. Remove from the oven and set aside. Meanwhile, with your stand or hand mixer, whip together the goat cheese, heavy cream and honey until smooth. Then spread a thin layer of this goat cheese mixture onto one side of the toasted bread. Set aside.
Make savory bruschetta. Combine all of the ingredients for the corn topping in a medium bowl. Top about half of the bread with this corn mixture.
Make the sweet bruschetta. Combine the cherries, balsamic vinegar and mint in a medium bowl. Top the remaining half of the bread with this cherry mixture. Then drizzle a small amount of melted dark chocolate on top.
Serve immediately.
https://www.floatingkitchen.net/summer-bruschetta-two-ways/