If you're looking for a quick and easy appetizer for the Holidays, then look no further than these Goat Cheese and Cranberry Puff Pastry Bites! These savory-sweet bites would be an amazing appetizer for Thanksgiving, Christmas or New Years Eve. They only have 6 ingredients. And they are totally low fuss!
The first ingredient you need for this recipe is store-bought puff pastry. AKA my go-to for the easiest, tastiest and flakiest appetizers! I always keep puff pastry in my freezer. It's a great item to have on hand for last minute kitchen projects. My best tip when working with puff pastry is to try and keep it as cold possible. So work quickly, if you can. And remember to chill it for at least 30 minutes before the final assembly and baking.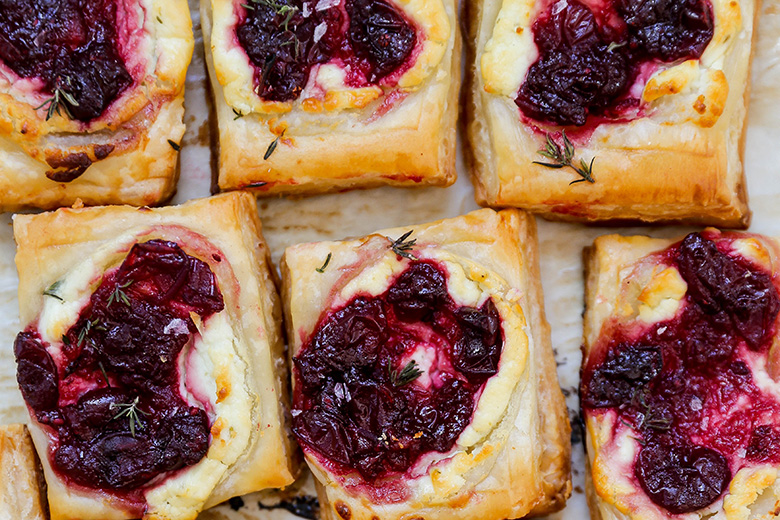 The next ingredient is goat cheese. Make sure to buy the log-style goat cheese, not crumbles. You can keep things simple and use plain goat cheese. But a version with honey or herbs would be excellent here and add even more flavor! You want the goat cheese to be at room temperature so it's easy to spread and doesn't tear the puff pastry.
And finally, the cranberry sauce. You'll need about 1/3 cup of cranberry sauce for this recipe. If you have leftover cranberry sauce from a dinner or another recipe, this would be a great place to use it up! I used the leftover cranberry sauce that I had from this recent post and it worked out great. Or, if you need something to snack on post-Thanksgiving (I'm always kind of "aimless" in the days right after Thanksgiving), this would be a fun recipe to try.
Part of the appeal of these Goat Cheese and Cranberry Puff Pastry Bites their rustic, imperfect appearance. So don't be overly precious when you're assembling them. They will be cute (and devoured by your guests!) even if they are a bit misshapen!
Cheers,
Liz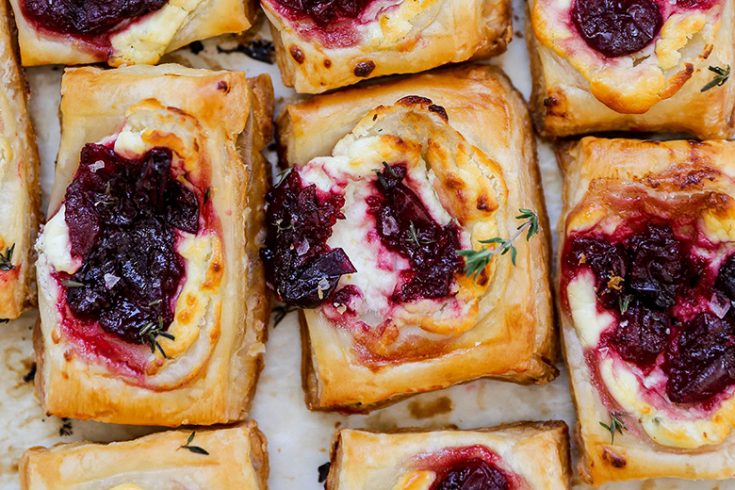 Goat Cheese and Cranberry Puff Pastry Bites
Yield: Makes 1 dozen
Prep Time: 10 minutes
Cook Time: 20 minutes
Additional Time: 30 minutes
Total Time: 1 hour
Ingredients
All-purpose flour, for dusting
1 sheet puff pastry, thawed according to the package instructions
4 ounces goat cheese (log-style, not crumbles), softened at room temperature
1 tablespoon milk
1 egg, beaten
About 1/3 cup cranberry sauce
Fresh thyme leaves
Instructions
Lay a sheet of parchment paper out on your counter and dust it lightly with flour. Unfold the puff pastry and place it on top of the parchment paper. Then dust the top of the puff pastry with flour. Use a rolling pin to roll the puff pastry into a rectangle that's approximately 9 X 13 inches. Then cut the puff pastry into 12 smaller squares/rectangles.
Transfer the puff pastry pieces to a parchment paper-lined baking sheet (I usually just slide the parchment paper with the puff pastry pieces over to my baking sheet) . Using a small knife, score a 1/4-inch border around the edge of each piece, being careful not to slice all the way through to the bottom Then prick a few holes in the center with the tines of a fork. Set aside.
In a small bowl, stir together the goat cheese and milk until smooth. Spoon about a tablespoon into the center of each puff pastry piece and spread it inside the border. Don't worry about making it perfect. Transfer the baking sheet to your refrigerator to chill the puff pastry pieces for 30 minutes.
Meanwhile, pre-heat your oven to 425 degrees.
Gently brush some of the beaten egg around the edges of the chilled puff pastry pieces. Spoon about a teaspoon of cranberry sauce on top of the goat cheese and spread it out slightly. Then sprinkle with a few thyme leaves.
Transfer the baking sheet to your pre-heated oven and bake for 15-20 minutes, or until the puff pastry pieces are puffed and golden brown.
Remove from your oven and let the puff pastry pieces cool on their baking sheet for 2-3 minutes. Then transfer to a serving plate. These are best enjoyed warm.