This post was originally published here November 2, 2015. I've since updated the text and photographs. This is a great appetizer for the Holidays. I hope you try it!
I really didn't know how I'd feel about Thanksgiving this year. We're not having our usual celebration with family and friends. Instead, it will be just me and my parents enjoying a simpler menu that only includes our absolute favorite Thanksgiving dishes.
I initially anticipated that I'd feel sad about missing out on the typical festivities that surround my most beloved Holiday. But as the day gets closer, I find that I'm still excited about it. That spark of joy that comes from preparing and sharing a meal, even if it's just with my Mom and Dad this year, hasn't gone away. And I'm grateful to have something to look forward to in the coming weeks.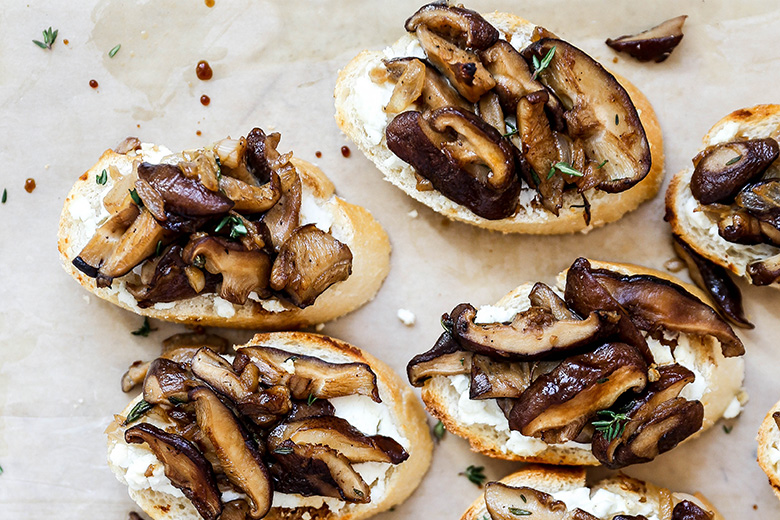 These Mushroom and Goat Cheese Crostini have made an appearance at several of my previous Thanksgiving dinners. They are a great alternative to putting out a full and elaborate cheeseboard, which can be a lot of snacking for just a couple people. Not that I'm one to turn down snacks. But I don't want to go completely overboard before the main event. I still want to give the side dishes and desserts my full attention!
To make these Mushroom and Goat Cheese Crostini, first cook the mushrooms and shallots in a skillet until they are nicely browned and softened. Then add in the garlic, thyme, salt and pepper and cook until fragrant. Finally, stir in a splash of balsamic vinegar and heavy cream. The balsamic vinegar intensifies the umami quality of the mushrooms. And the heavy cream smooths everything out and adds richness.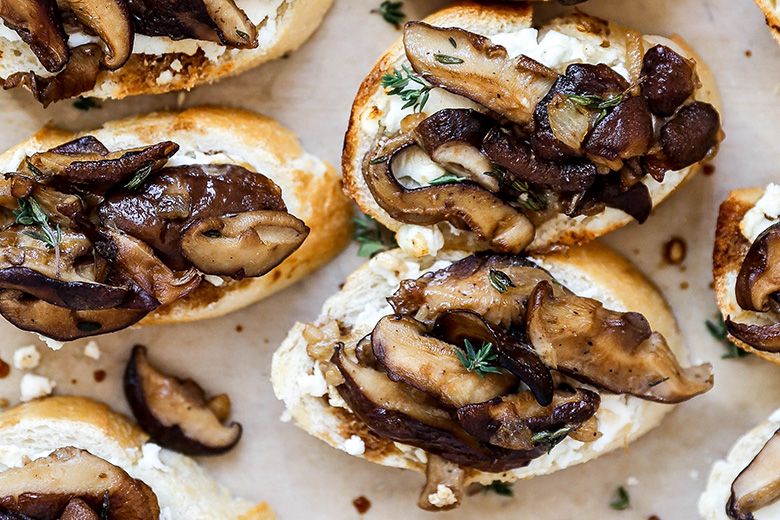 When you're ready to assemble the crostini, spread a thin layer of softened goat cheese onto your baguette slices, top the goat cheese with some of the mushroom mixture, then place the crostini under your broiler until they are warmed through and just starting to get a little crisp around the edges. I highly recommend serving these crostini warm. But they are still mighty tasty at room temperature. So don't get overly stressed about timing everything perfectly.
These savory bites aren't just a great Holiday appetizer. I also like to serve them with soup or salad to help round out a weeknight meal. They only take a few minutes to pull together. And you can easily reduce the recipe by half, if needed.
Cheers,
Liz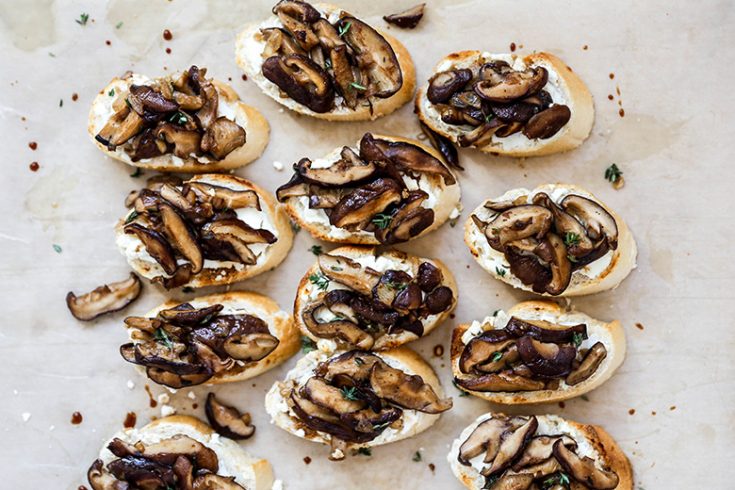 Mushroom and Goat Cheese Crostini
Yield: Serves about 8
Prep Time: 5 minutes
Cook Time: 15 minutes
Total Time: 20 minutes
Ingredients
For the Mushroom Topping:
About 1/4 cup extra-virgin olive oil, divided
8 ounces shitake mushrooms, sliced
8 ounces cremini mushrooms, sliced
1/2 cup diced shallots
2 garlic cloves, peeled and minced
2 tsp. fresh thyme leaves
1/2 tsp. salt
1/4 tsp. pepper
1 tablespoon balsamic vinegar
2 tablespoons heavy cream
For Assembly:
1 French baguette, sliced on the diagonal
6 ounces goat cheese, softened at room temperature
Balsamic vinegar
Fresh thyme leaves
Instructions
Warm about 3 tablespoons of the olive oil in a large skillet over medium heat. Add the mushroom and shallots and cook, stirring occasionally, for 6-8 minutes. If your skillet is getting dry during this time, you can add in an additional 1-2 tablespoons of olive oil. Add the garlic, thyme leaves, salt and pepper and cook for an additional 2-3 minutes, stirring occasionally. Stir in the balsamic vinegar. Then remove the skillet from the heat and stir in the heavy cream.
Meanwhile, pre-heat your broiler.
Spread the goat cheese onto the baguette slices and place them on a baking sheet. Top each slice with about a tablespoon of the mushroom mixture. Then place the baking sheet under your pre-heated broiler and broil the crostini for 2-3 minutes, or until the mushrooms sizzle and the bread starts to turn brown around the edges.
Remove the baking sheet from your oven. Transfer the crostini to a serving plate. Drizzle each crostini with a little balsamic vinegar and sprinkle with few fresh thyme leaves, if desired. Serve warm.