See. I wasn't exaggerating when I said I was going to be hitting the throttle on the apple recipes. It's been full blown apple mania around these parts lately. And I've loved every single minute of it.
This Apple Crisp with Ginger and Dark Chocolate marks my FOURTH apple recipe this season. And I think I can confidently say that I've saved the best for last.
Did you miss the other apple recipes? Go here, here and here to check them all out!
But I think I'm done with apples for now. The ride was fun while it lasted. But it's time to move on. I haven't decided what I'll become obsessed with next. Maybe cranberries? I'm open to suggestions. So if you have something you REALLY want to see here on the blog over the course of the next couple months, just let me know. I'm always happy to have your input!
But before that happens, let's talk about this fantastic Fall dessert!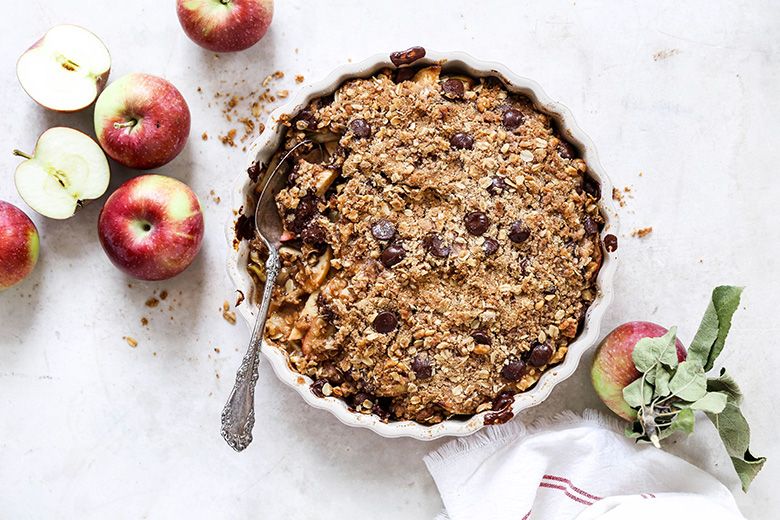 I've always sided more with Team Crisp than Team Pie. I love the texture from their crumbly, craggy toppings. I love that crisps are generally more fruit-focused than pastry-focused. And I love how quick and easy they are to prepare. Truth be told, I don't always have the time or energy available to dedicate myself to making a double crusted pie from scratch. It can be lot of work. And somedays (= every day), I just want dessert as fast as humanly possible. So Team Crisp gets my vote.
This version has a couple easy additions that I think you're going to love: ginger and dark chocolate. Two ingredients that go so well not only with each other, but also with apples. It's kind of a no-brainer actually. And in hindsight, it seems almost silly that I hadn't baked up this specific combination sooner.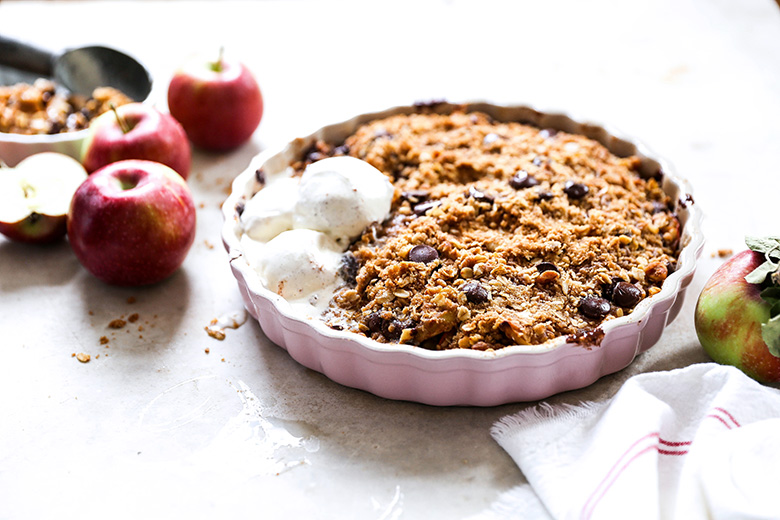 There is ground ginger in the crisp topping. As well as fresh minced ginger in the filling. And I used dark chocolate chips (I like Ghirardelli 60% Cacao Premium Baking Chips) in the topping. Which mostly hold their shape during baking, but as soon as you drag a spoon through them they collapse into delicious puddles of decadence. Yes, please.
It's not too soon to start thinking about your Thanksgiving menu. And I may be biased, but I think this Apple Crisp with Ginger and Dark Chocolate would be the perfect addition!
Cheers,
Liz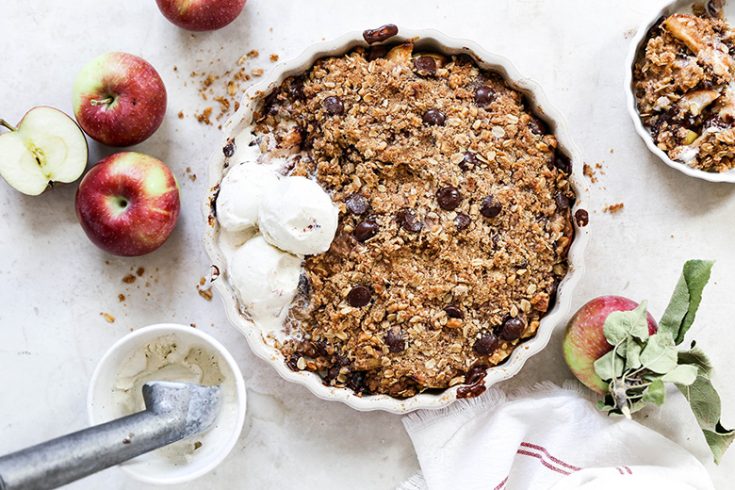 Apple Crisp with Ginger and Dark Chocolate
Yield: Serves 6-8
Prep Time: 15 minutes
Cook Time: 30 minutes
Additional Time: 15 minutes
Total Time: 1 hour
Ingredients
For the Crisp Topping:
3/4 cups all-purpose flour
1/2 cup brown sugar, packed
1 1/2 tsp. ground cinnamon
1/2 tsp. ground ginger
1/4 tsp. salt
1/2 cup (8 tablespoons) unsalted butter, cubed and chilled
3/4 cups old fashioned oats
1/3 cup walnuts
1/2 cup dark chocolate chips
For the Apple Filling:
7-8 cups sliced apples (from about 6-8 apples)
1/2 cup brown sugar, packed
2 tablespoons all-purpose flour
2 tablespoons freshly grated ginger
1 tablespoon fresh squeezed lemon juice
1/2 tsp. salt
1/4 tsp. ground cinnamon
Instructions
Pre-heat your oven to 425 degrees.
To make the topping, first add the flour, brown sugar, spices, salt and butter to the bowl of your food processor fitted with the blade attachment. Pulse together until a loose crumb forms. Then add the oats and walnuts and pulse 3-5 times more, or just until everything is combined. Transfer the topping to a clean bowl and stir in the chocolate chips. Then place it in your refrigerator to chill while you prepare the filling.
To make the filling, add all the ingredients to a medium bowl. Use your hands to toss the ingredients together, making sure the apple slices are well coated. Then transfer the filling to an ovenproof dish. You can use almost any medium-sized dish, such as a large pie plate (shown in these photographs), an 8 X 8-inch baking pan or a 2-quart casserole dish.
Spread the topping out evenly over the filling. Cover the dish loosely with a piece of aluminum foil. Then transfer the dish to your pre-heated oven to bake for 20 minutes. The dish will be very full at this point (everything will shrink down as it cooks), so you can also place a piece of aluminum foil underneath the dish to catch any potential spills.
After 20 minutes, remove the foil from the top of the dish then continue baking the crisp for an additional 10 minutes. The topping should be browned and the filling should be bubbling on the sides.
Remove the crisp from the oven and set it aside to cool for at least 15 minutes before serving.
Leftovers can be stored in an airtight container in your refrigerator for 2-3 days.