This post was originally published here August 17, 2013. I've since updated the text and photographs. I hope you try out this easy Summer fruit crisp!
OK. I think I'm officially declaring myself a "crisp person".
Full disclosure: I was never really fully onboard with the idea of crisps (or cobblers, buckles, slumps, crumbles, etc.) as legitimate dessert options. At my core, I'm just a simple ice cream and chocolate cake kind of gal. So in the past, I never would have opted for a fruit crisp. Especially if there were better, more decadent options available to me.
But now, I'm converted. All thanks to this Peach-Blackberry Crisp.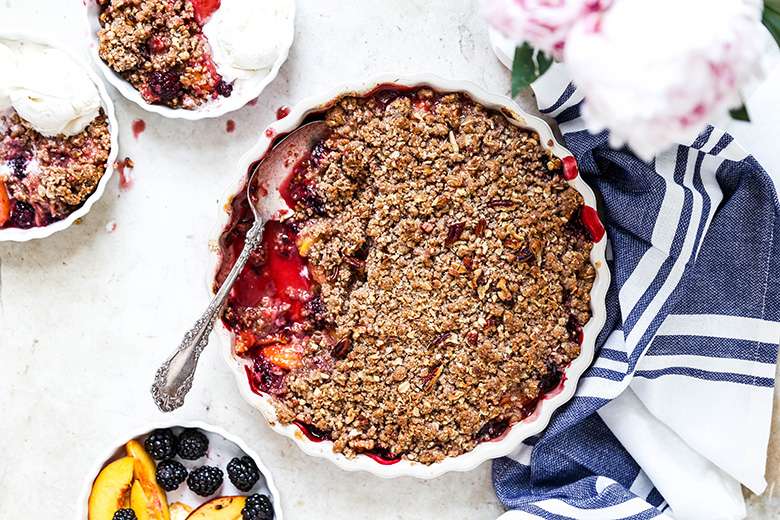 I literally couldn't stop eating this Peach-Blackberry Crisp. The juicy fruit. The crunchy, almost seemingly wholesome topping. I was SO down for it. I even kept saying out loud "this is REALLY good!". Almost as if I was shocked that I felt that way and I needed to further convince myself. As if saying it out load was somehow making it more likely to be true.
But you'll be glad to know that this crisp is in fact "REALLY good". I confirmed it with a few lucky friends who got to help me polish off this dessert. And everyone was in full agreement.
Also, I can't stress enough how EASY this recipe is to make. You can have all the prep work done in about 10 minutes. And the crisp only requires 20-25 minutes to fully bake. Overall, it's much less labor and time intensive than making a pie. Which personally, I find an ideal situation for Summer. It's hot. And I've got things to do. I certainly don't want to be stuck sweltering in my kitchen. No thank you.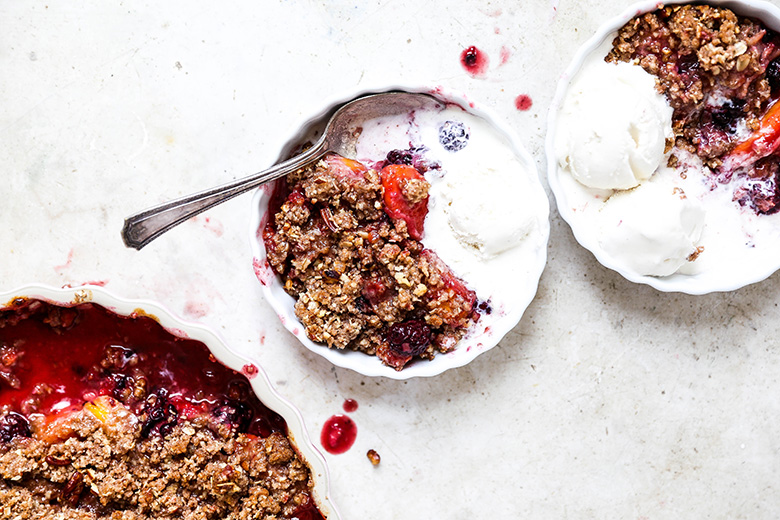 If you take a peak at the ingredient list, you may notice something that seems out of place: half a grated Granny Smith apple. This is a trick I learned years ago from America's Test Kitchen. The natural pectins, a carbohydrate that acts like a thickener, found in the apple will help prevent the crisp from getting overly runny. And the apple itself is essentially undetectable in the finished dessert. Give it a try next time you're baking a fruit-based dessert!
Cheers,
Liz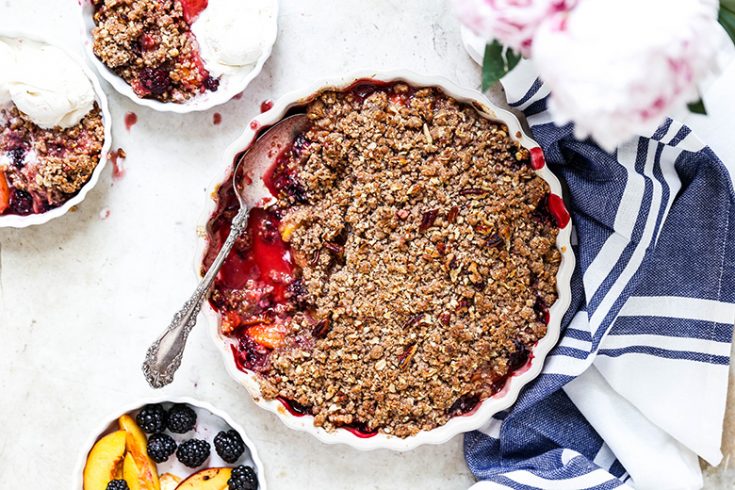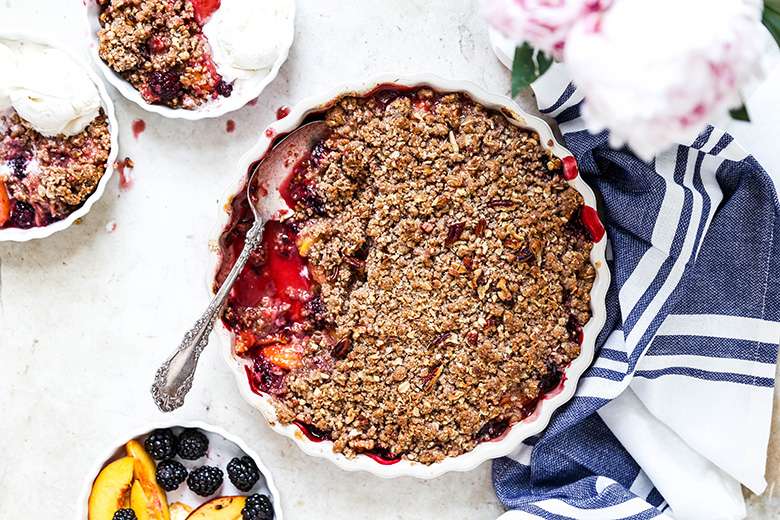 Peach-Blackberry Crisp
Yield: Serves 6-8
Prep Time: 10 minutes
Cook Time: 25 minutes
Total Time: 35 minutes
Ingredients
For the Crisp Topping:
3/4 cups all-purpose flour
1/2 cup brown sugar, packed
2 tsp. ground cinnamon
1/4 tsp. salt
1/2 cup (8 tablespoons) unsalted butter, cubed and chilled
3/4 cups old fashioned oats
1/3 cup pecans
For the Peach-Blackberry Filling:
4 cups peeled and sliced fresh peaches (from about 5 peaches)
1 1/2 cups fresh blackberries
1/2 Granny Smith apple, peeled and grated
1/2 cup brown sugar, packed
2 tablespoons all-purpose flour
1 tablespoon fresh squeezed lemon juice
1/2 tsp. salt
1/4 tsp. ground cinnamon
Instructions
Pre-heat your oven to 425 degrees.
To make the topping, first add the flour, brown sugar, cinnamon, salt and butter to the bowl of your food processor fitted with the blade attachment. Pulse together until a loose crumb forms. Then add the oats and pecans and pulse 3-5 times more, or just until everything is combined. Set aside.
To make the filling, add all the ingredients to a medium bowl. Toss gently to combine. Then transfer the filling to an ovenproof dish. You can use almost any medium-sized dish, such as a large pie plate (shown in these photographs), an 8 X 8-inch baking pan or a 2-quart casserole dish.
Spread the topping out evenly over the filling. Then transfer the dish to your pre-heated oven and bake the crisp for 20-25 minutes, or until the topping is browned and the filling is bubbling on the sides.
Remove the crisp from the oven and set it aside to cool for at least 15 minutes before serving.
Leftovers can be stored in an airtight container in your refrigerator for 2-3 days.