This post was originally published here June 24, 2015. I've since updated the text and photographs. I hope you try out this sweet and savory Summer salad!
Phew. I'm in major need of a reset after this 4th of July weekend. I somehow managed to go to FOUR parties (toting these boozy watermelon wedges along with me, of course!) over the course of the Holiday weekend. Which is about three more parties than I would normally attend .
I'm just over here living that introvert life, you know?
So today, I'm craving my regular routine: gym, tan, laundry.
Kidding of course. But actually, it's not that far off from the truth.
SALAD, gym, tan, laundry. That's what on tap for today.
Those Jersey Shore kids were really onto something.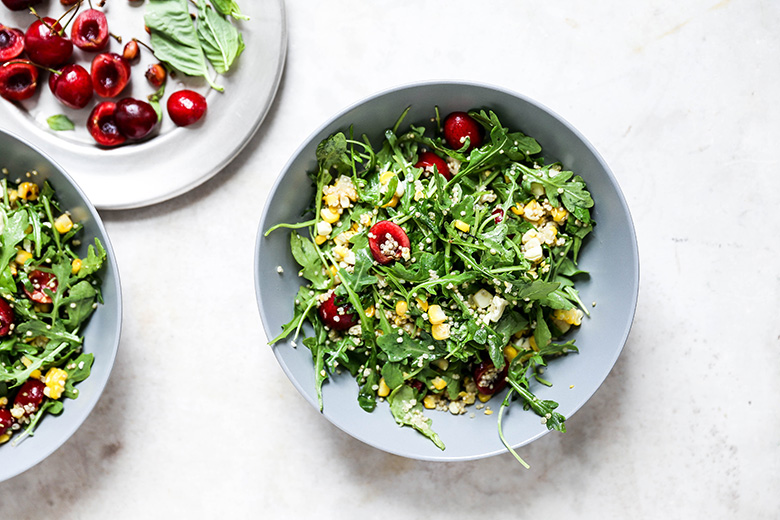 This Cherry, Corn and Arugula Salad with Quinoa and Blue Cheese is one of my go-to salad recipes for mid- to late-Summer. Once I start reliably finding fresh cherries and corn on the cob at the grocery stores, this dish easily happens at least once or twice a week. I love how simple it is to make. And of course, I'm always a sucker for any recipe that brings together both savory and sweet flavors.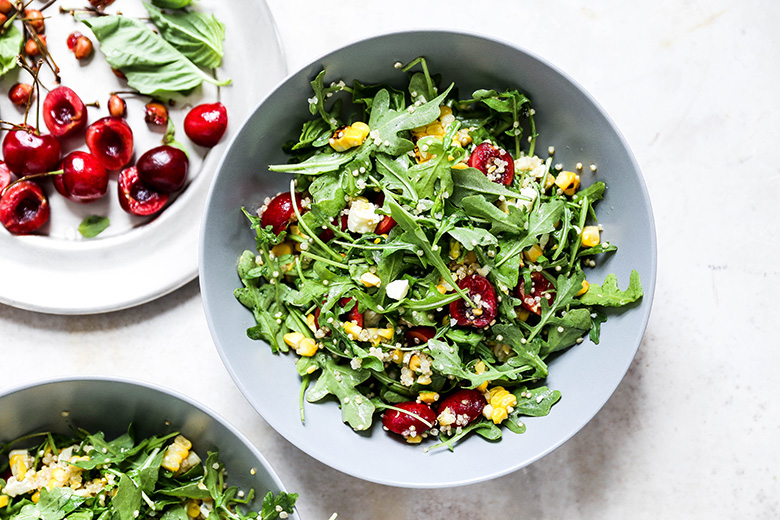 The quinoa in this recipe gives it some "oomph", helping to make it feel more like a main meal. I can happily devour a big bowl of this salad for dinner and be completely satisfied. But it's also a great partner to any and all of your grill-ables. In the past, I've served this Cherry, Corn and Arugula Salad with Quinoa and Blue Cheese alongside some grilled steak tips and, not to toot my own horn here or anything, that was a meal that got two very enthusiastic thumbs up from all my dinner guests. Highly recommended if you're looking for an easy, yet impressive, dinner for a warm Summer evening.
If blue cheese isn't your thing, you can substitute it for crumbled goat cheese or feta cheese. Or skip the cheese entirely to turn this into a vegan-friendly salad.
Cheers,
Liz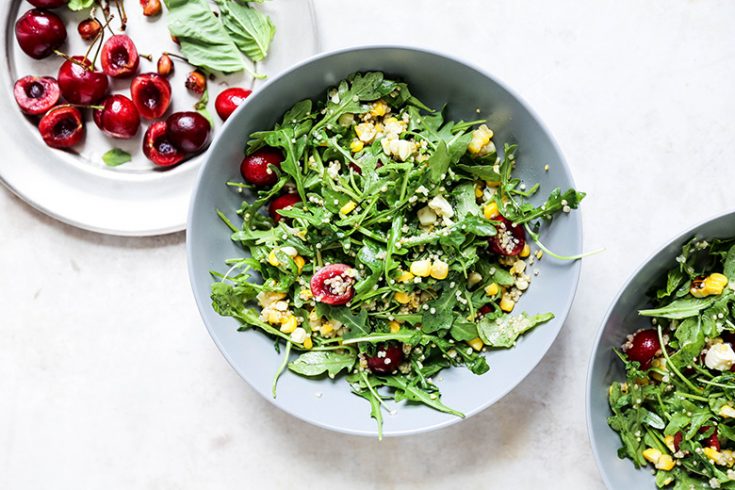 Cherry, Corn and Arugula Salad with Quinoa and Blue Cheese
Yield: Serves about 4
Prep Time: 15 minutes
Cook Time: 20 minutes
Total Time: 35 minutes
Ingredients
1/2 cup quinoa
1 cup water
4 ears fresh corn, husks and silks removed
3-4 cups arugula
1/4 cup fresh basil leaves, roughly torn
3 tablespoons apple cider vinegar
2 tablespoons extra-virgin olive oil
1 tablespoon maple syrup
1/2 tsp. salt
1/2 tsp. black pepper
2 cups fresh cherries, stemmed, pitted and halved
1/2 cup crumbled blue cheese
Instructions
Combine the quinoa and water in a medium saucepan over medium-high heat. Bring to a boil, then reduce the heat to maintain a simmer. Cook the quinoa, covered, until all the water has been absorbed, about 15 minutes. Remove the saucepan from the heat and let it stand covered for 3-5 minutes. Then fluff the quinoa with a fork and set it aside to cool completely.
Meanwhile, pre-heat your grill to medium-high. Rinse the corn cobs under cold water. Then place them directly on the grill grates. Grill for 8-10 minutes, turning the corn cobs every couple of minutes, until some of the kernels have started to blacken. Remove the corn cobs from the grill and set them aside to cool. Once they are cool enough to handle, slice the corn kernels off the cobs and place the kernels in a large bowl. Discard the cobs.
Add the arugula, basil and cooked quinoa to the bowl with the corn kernels. In a separate small bowl, whisk together the vinegar, olive oil, maple syrup, salt and black pepper. Then pour this dressing over the salad, tossing to combine. Gently stir in the cherries and the blue cheese. Serve immediately.