Disclosure: This post is sponsored by Blue Diamond Almonds. All opinions are my own. Thank you for supporting companies and brands that support Floating Kitchen.
I don't think I've ever met a dessert that I didn't like. And I shamelessly indulge in a little something sweet every single day. But this blog certainly isn't a blog dedicated solely to the pursuit of baked goods and frozen treats. I'm conscientious of the types of recipes that I post here. And I want them to reflect real life. Or at least MY real life and what I'm actually eating day in and day out, which involves mostly healthy dishes, a few fun cocktails and small doses of over-the-top indulgences. I'm all about balance.
Although you'd be hard pressed to know any of this if you looked at my posting schedule so far for the month of June. We've had cake, two different ice cream recipes and boozy popsicles.
I accept full responsibility for my poor editorial planning.
And I think it's about time we had a salad.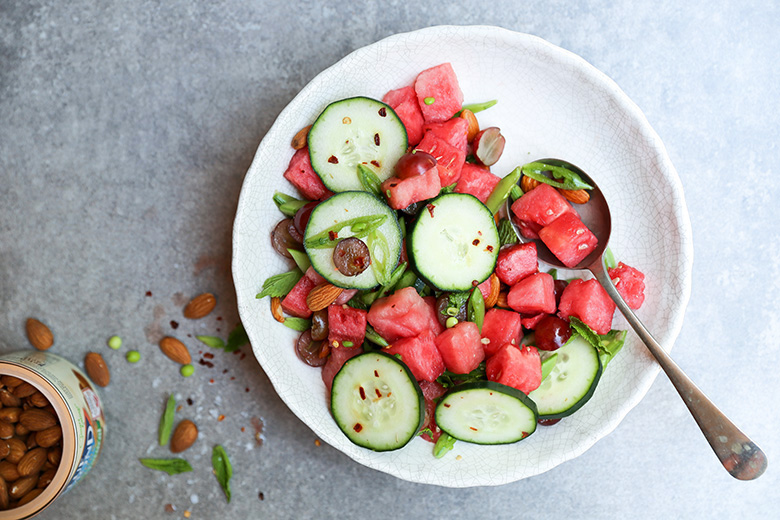 As the season progresses and the temperatures continue to rise, I find myself craving fresh, light, hydrating foods. After a major sweat session, either from an intense work out or simply because my house lacks sufficient air conditioning (#realtalk), consuming foods with a high water content is one way that I've found to really help me stave off the negative effects of dehydration. And this Hydrating Watermelon Salad with Grapes, Snap Peas and Cucumbers is full of replenishing, water-rich foods. Watermelon and cucumbers are both over 90 percent water by weight. And grapes and snap peas are high on the list as well.
I've also added in some Blue Diamond Whole Natural Almonds for protein, fiber and of course, that unmistakable crunch. Blue Diamond Almonds is the Official Snack Nut of USA Swimming, so you know they know a thing or two about fueling workouts, post-workout recoveries and overall healthy lifestyles!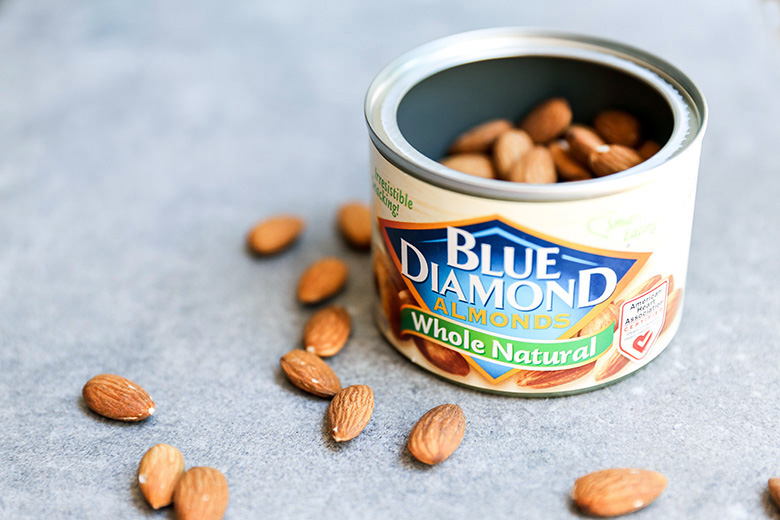 This Hydrating Watermelon Salad with Grapes, Snap Peas and Cucumbers is super refreshing and, in my humble opinion, best eaten straight out of the refrigerator when it's crisp and cold. I hope you get the chance to try it out!
Oh and don't worry about that dash of red pepper flakes. It's just there to help keep things interesting. A little bit of heat to make you say "hmmm…what's that?".
Cheers,
Liz
Disclosure: This post is sponsored by Blue Diamond Almonds. Blue Diamond Almonds understands what it takes to be the best. That's why we're proud to be an official sponsor of USA Swimming. Visit www.LaneToGreatness.com for a chance to win $5,000 to fuel your dreams of greatness (whatever they may be), get Blue Diamond Almonds coupons and recipes, and more!
Ingredients
2 cups cubed watermelon
1 cup halved seedless grapes
1 cup snap peas, sliced on the diagonal
1/2 large cucumber, thinly sliced
1/2 cup Whole Natural Blue Diamond Almonds
2 tablespoons fresh mint leaves, torn
1-2 tablespoons extra-virgin olive oil
1/4 tsp. salt
1/4 tsp. red pepper flakes
Instructions
In a large bowl, combine the watermelon, grapes, snap peas, cucumber, almonds and mint leaves. Drizzle with the olive oil and sprinkle with the salt and red pepper flakes, tossing gently to combine.
This salad can be served immediately. Or covered and refrigerated for a couple hours before serving.
https://www.floatingkitchen.net/hydrating-watermelon-salad-with-grapes-snap-peas-and-cucumbers/