Disclosure: I'm so grateful to have received a copy of Lindsay Cotter's latest cookbook, Nourishing Superfood Bowls: 75 Healthy and Delicious Gluten-Free Meals to Fuel Your Day. I hope you all enjoy this little sneak peek!
A few weeks have gone by since the move into my new house (when should I stop calling it "new"?), but it's really only been over the past 2-3 days that I've started to feel "normal" again.
The move took more out of me – both emotionally and physically – than I had anticipated it would. I guess the combined stress of (1) six months of home renovations, (2) selling my old house, and (3) sorting through the entire contents of my life, really added up in the end. And to make matters even worse, I basically ate like an untrained animal for months. Anything marginally edible and within arm's reach was fair game. And it all went straight into my mouth. As a result, I put on a few pounds. And my energy levels tanked.
But now that the dust has settled (both figuratively and literally), I'm back in my old routine and I'm feeling great. I'm eating healthier, hitting the pavement extra hard and I'm trying to develop a better sleep cycle (that last one has always been particularly tricky for me).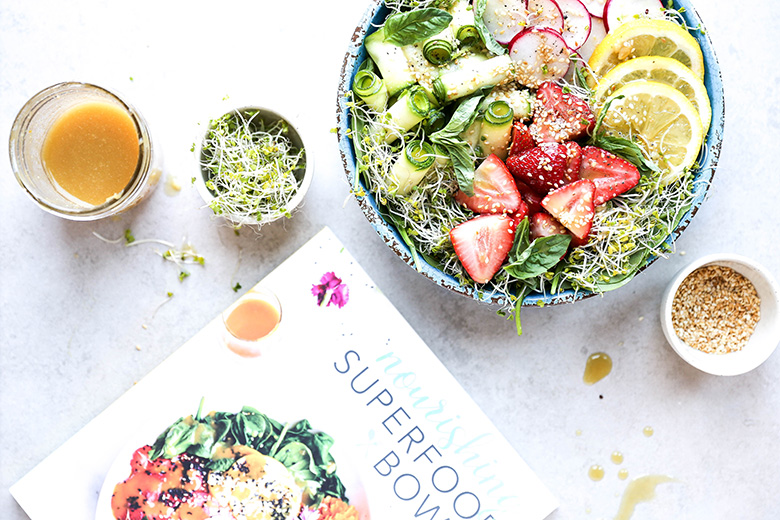 One thing that's really helped me get back on track with eating REAL foods every single day is Lindsay Cotter's latest cookbook, Nourishing Superfood Bowls: 75 Healthy and Delicious Gluten-Free Meals to Fuel Your Day. And I'm super excited to share a recipe from her cookbook here today!
If you like fresh, easy, tasty recipes (I mean, who doesn't?!?!), then you're going to love Lindsay's cookbook. And if you're a total nerd like me who likes "information", then you'll flip over the fact that all of Lindsay's recipes are peppered with little tidbits about antioxidants, probiotics, vitamins, etc. It's a whole lot of delicious eating, with a side of science and nutrition. And I'm very down with that.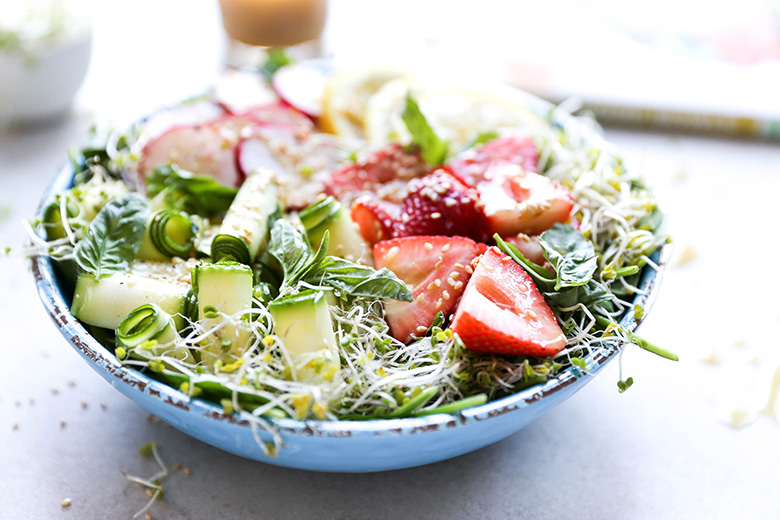 When I first flipped through Nourishing Superfood Bowls, I was instantly drawn to these Honey-Miso Summer Salad Bowls. All the colors and textures just screamed "EAT ME". Also, anything with a miso paste-based dressing will always stop me in my tracks. Miso paste has that umami quality that not a lot of other ingredients do (AND it's a superfood, containing good gut bacteria!). And, in my humble opinion, it can take any dish from "good" to "great". You could probably put this savory-sweet dressing on just about anything and I'd gobble it right up. It's that irresistible.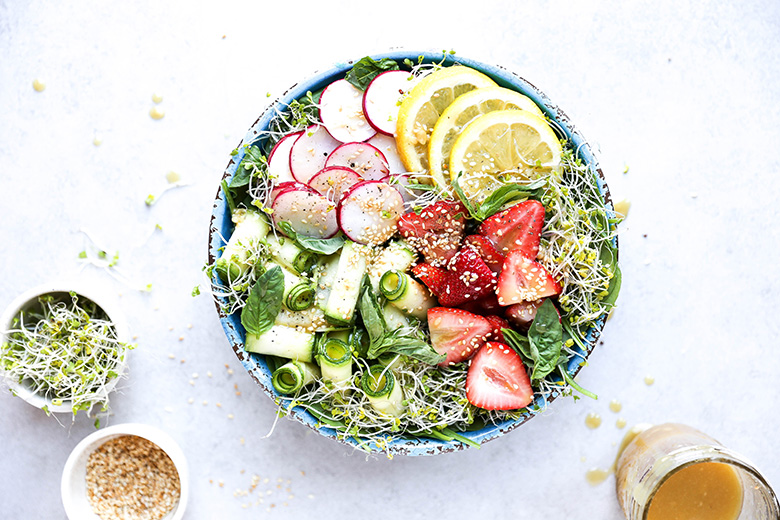 Lindsay suggests steaming the spinach for these Honey-Miso Summer Salad Bowls. But I skipped that step and I was very satisfied with the additional "chew factor" from the raw spinach. Either way, it's a big, vibrant, wholesome bowl of fuel for your day!
Cheers,
Liz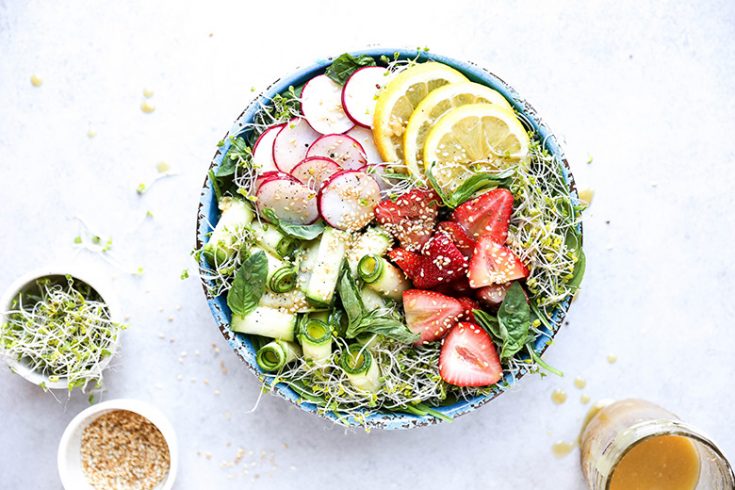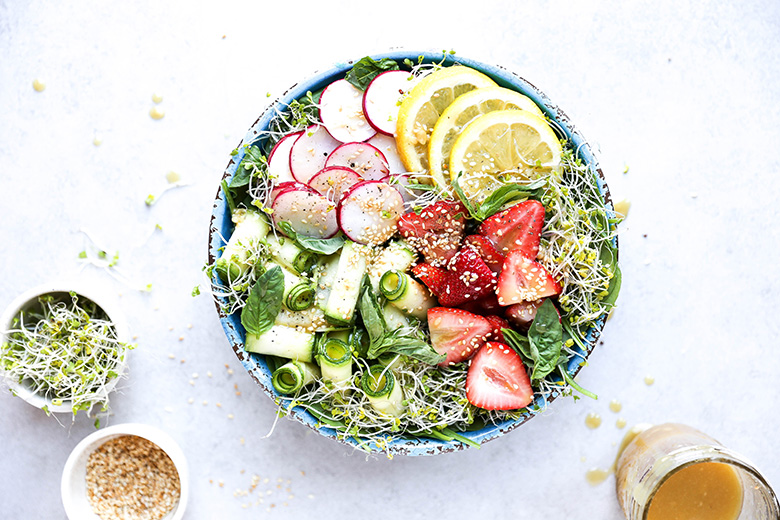 Honey-Miso Summer Salad Bowls
Yield: 2 servings

Prep Time: 10 minutes

Total Time: 10 minutes
Ingredients
For the Dressing:
1/4 cup honey
3 tablespoons white miso paste
3 tablespoons sesame oil
3 tablespoons rice vinegar
1 tablespoon fresh squeezed lemon juice
1 tsp. Dijon mustard
For the Bowls:
4 cups baby spinach leaves
1 medium zucchini, shaved into ribbons
1 cup broccoli or alfalfa sprouts
1 cup strawberries, trimmed and halved
1/2 cup radishes, thinly sliced
1/4 cup fresh basil leaves, torn
1 tablespoon black sesame or toasted sesame seeds
Lemon slices, for garnish
Salt and black pepper
Instructions
Whisk together all the ingredients for the dressing in a small bowl. Set aside.
Divide the spinach leaves between two bowls. Top with the zucchini ribbons, sprouts, strawberries, radishes and basil leaves. Drizzle with some of the dressing and sprinkle with the sesame seeds.
Garnish with lemon slices. Season with salt and black pepper, if desired. Enjoy immediately.
SaveSave
SaveSaveSaveSave
SaveSaveSaveSave
SaveSave
SaveSave
SaveSave