My favorite thing about late-Summer is the appearance of real tomatoes.
What do I consider a "real" tomato? It's any tomato that's homegrown. Or from a local farm, if you don't have a garden at home. They're flavor and texture is leaps and bounds better than any grocery store tomato. In fact, I rarely even eat tomatoes during the other 10 months of the year because I find the ones from the grocery store to be so disappointing.
So I spend every August and September gorging myself on real tomatoes. Mostly in the form of caprese salads and BLT's. But lately, this Tomato and Butter Bean Salad has been stealing the show. It's been on the menu at my house three times this past week alone. It's a true celebration of late-Summer colors, flavors and textures!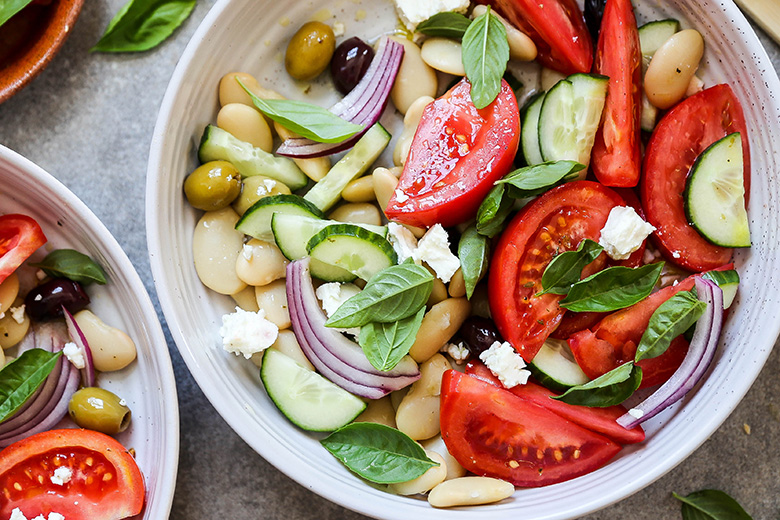 If you love Greek salads, then this Tomato and Butter Bean Salad will be right up your alley. It's very similar, with fresh tomatoes, cucumbers, red onion, olives, feta cheese and a splash of red wine vinegar dressing. I also add in a generous handful of fresh basil leaves. And one of my favorite pantry staples: a can of butter beans. These large, flat beans (which are actually lima beans) have a smooth texture and a creamy, mild flavor. They provide a nice contrast to the acidic tomatoes and the crunchy cucumbers and red onions. And they also give this salad a little more "oomph", making it a satisfying main meal. I like to serve this Tomato and Butter Bean Salad with some crusty bread, which I usually end up dipping into any of the leftover dressing. So good!
There's no cooking required for this salad. Just some chopping and slicing. I like to assemble the salads in their individual serving bowls (instead of in one big bowl to be divided later), because I think it gives a nicer presentation. Real tomatoes should be handled with care. And never refrigerated!
Which Summer fruits and vegetables are you eating with reckless abandon these days?
Cheers,
Liz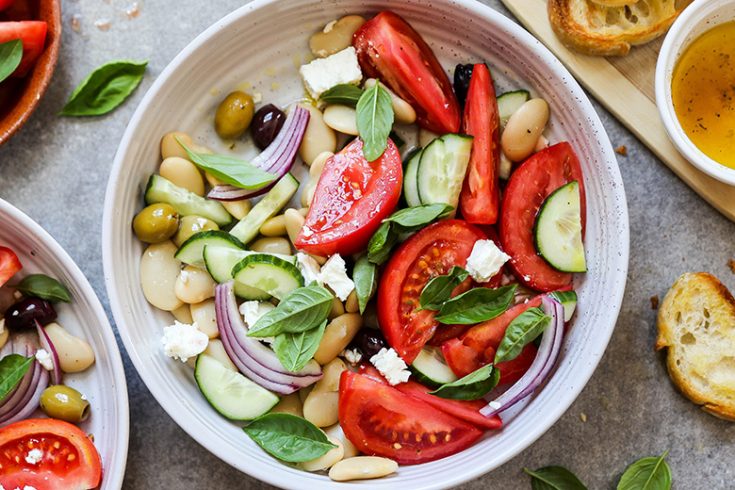 Tomato and Butter Bean Salad
Yield: Serves 2
Prep Time: 10 minutes
Total Time: 10 minutes
Ingredients
For the Dressing:
2 tablespoons extra-virgin olive oil
1 tablespoon red wine vinegar
1 tablespoon fresh squeezed lemon juice
1/4 tsp. salt
1/4 tsp. pepper
1/8 tsp. dried oregano
For the Salad:
2 medium-large local/homegrown tomatoes
1 (15.5 ounce) can butter beans, rinsed and drained
1 cup thinly sliced cucumber
1/3 cup pitted olives (I used a mixed medley)
1/4 cup thinly sliced red onion
2 ounces feta cheese, crumbled
1/4 cup fresh basil leaves, torn if large
Instructions
In a small bowl, stir together all the ingredients for the dressing. Set aside.
Slice the tomatoes into wedges and divide them between two serving bowls. Drizzle some of the dressing over the tomatoes. Let them sit for 5 minutes at room temperature.
Divide the butter beans, cucumber, olives and red onion between the two bowls. Drizzle some additional dressing into each bowl and stir gently. Top with the feta cheese and basil. Enjoy immediately.