You know I had to squeeze in one final recipe before the end of the year. And of course, it had to involve champagne in some way!
New Year's Eve is a very "grazing friendly" night. Because the ability to stay up until midnight is all about playing the long game. Especially for a person like myself, who prefers a 9pm bed time. If I hope to have any chance of making it to the end of the night, I really need to pace myself with the food and drinks!
So I'm all about the light and easy appetizers on New Year's Eve. And these Champagne-Marinated Olives and Feta are just that. Plus they have champagne, which makes them extra festive and fun for this Holiday!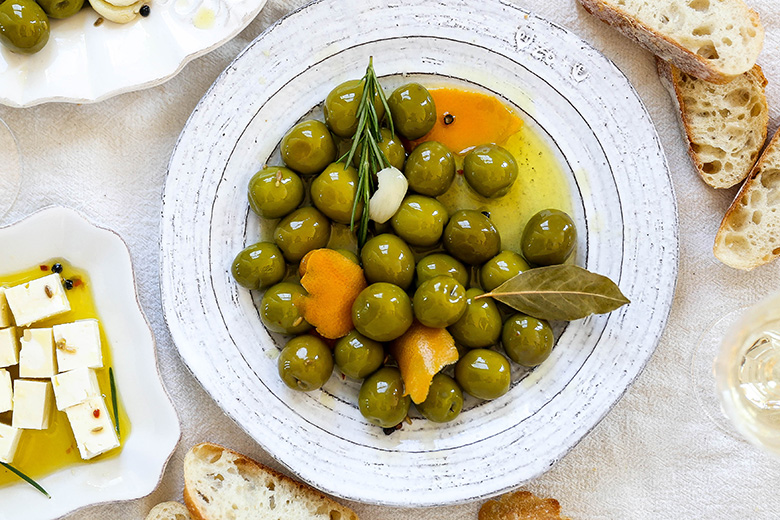 For most of my life, I thought I disliked olives. But it was really that I had never had an olive that I liked. Once I was introduced to varieties beyond the standard bitter, briny black olives that I encountered on pizzas, sandwiches and garden salads, I realized that olives could be delicious!
My personal favorite are Castelvetrano olives. And it's the variety that I recommend for this recipe They are mild, slightly sweet and buttery. And not bitter at all. They are an all-around excellent eating olive. And they are worth seeking out. And because their flavor is light, they work well with the other ingredients in this recipe.
To pit or not to pit? That is the question. There are pros and cons of both. I won't deny the convenience of pitted olives. But I do think un-pitted olives have a better texture and taste. As well as a prettier presentation. But of course, you and your guests will then be forced to search out the pits and spit them out. If you're with a group of close family and friends, and you don't mind performing this activity in front of them, I'd say go for un-pitted. But otherwise, pitted might be the way to go.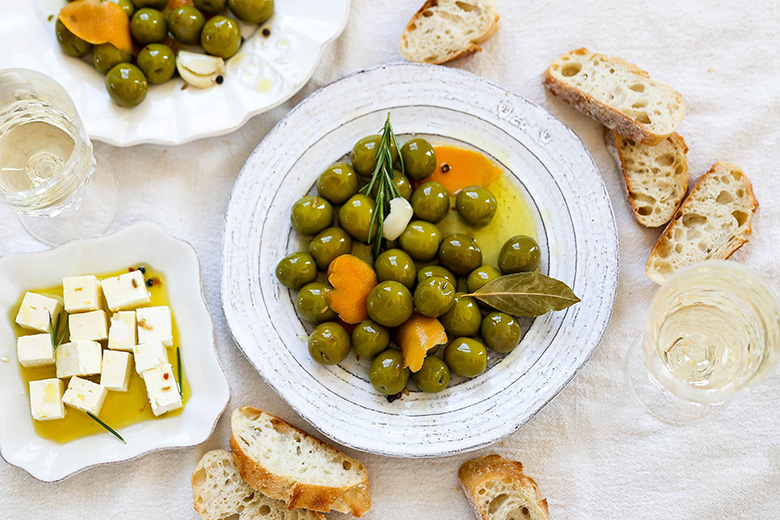 I like to keep the feta and olives separate for serving, because this makes it easier to accommodate different dietary needs. But you can combine them, if that's not an issue for you and your guests. I've written notes for both in the instructions below. Just don't forget the crusty bread for dipping and soaking up all the delicious marinade!
I hope you all have a fun and safe New Year's Eve! Double cheers!
Cheers,
Liz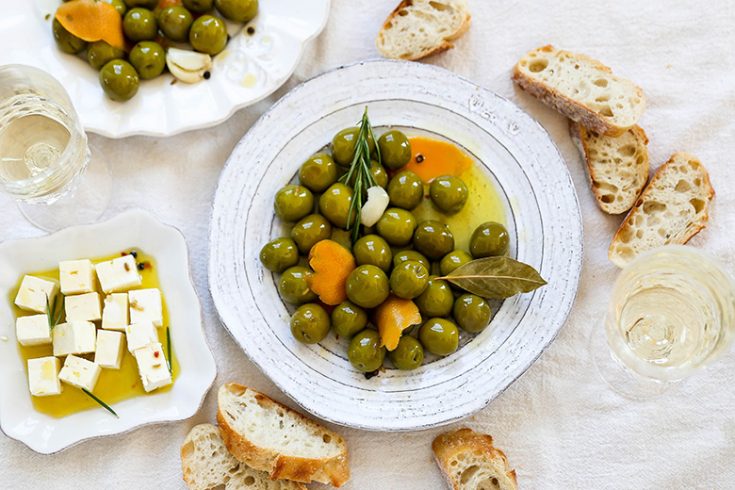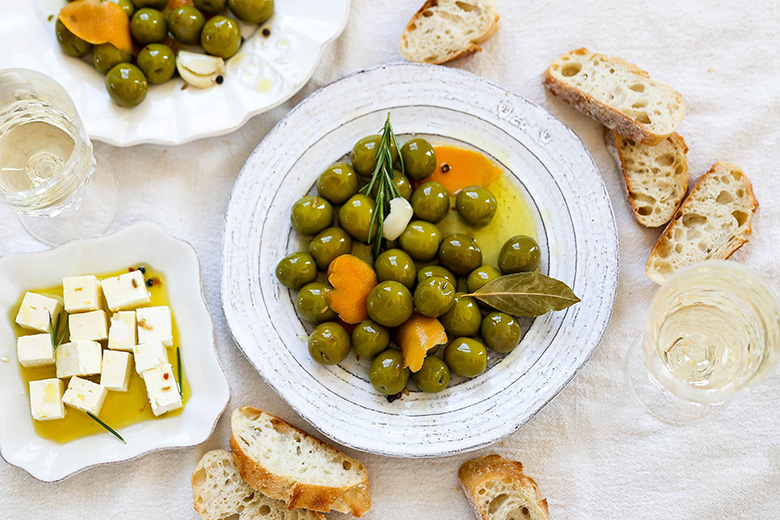 Champagne-Marinated Olives and Feta
Yield: Makes 3 cups
Prep Time: 5 minutes
Cook Time: 5 minutes
Additional Time: 30 minutes
Total Time: 40 minutes
Ingredients
2 cups olives, rinsed and drained (I highly recommend Castelvetrano olives)
1/3 cup extra-virgin olive oil
1/4 cup champagne
4 strips grapefruit peel
2 garlic cloves, peeled and smashed
1 bay leaf
1 small sprig fresh rosemary
1/2 tsp. black peppercorns
1/2 tsp. fennel seeds
1/4 tsp. red pepper flakes
1 cup cubed feta cheese
Instructions
Add all the ingredients, except for the feta cheese, to a medium saucepan set over medium heat. Bring to a simmer and cook, stirring occasionally, for about 5 minutes.
Turn off the heat, place the lid on your saucepan and let everything sit for 20-30 minutes.
Add the feta cheese and gently stir to coat it in the marinade. Then transfer everything to a serving bowl.
Alternatively, you can keep the feta cheese separate by placing it in its own bowl and pouring some of the marinade from the saucepan over top. Then serve the feta cheese and olives in separate bowls.