I'm usually the type of person who greets the start of the new year with lists of goals, aspirations and a renewed sense of hope and productivity. But this year, I just didn't have it in me. And from what I'm seeing and hearing around the internet, I'm not alone. You guys are feeling this way, too. I think we're all just collectively tired. And languishing (the word made popular by the New York Times last year).
So it took me a couple of weeks to get up the motivation to tackle some new blog content. But I finally did it. Here we are.
I've been leaning on easy, low-fuss recipes these past couple of weeks. And since I think those are the types of recipes that you're also jonesing for, I'm sharing one of them today. This Tortellini and White Bean Soup with Swiss Chard, inspired by Northern Italy's traditional Tortellini en Brodo, is quick, satisfying and nourishing. It's everything I want for the month of January.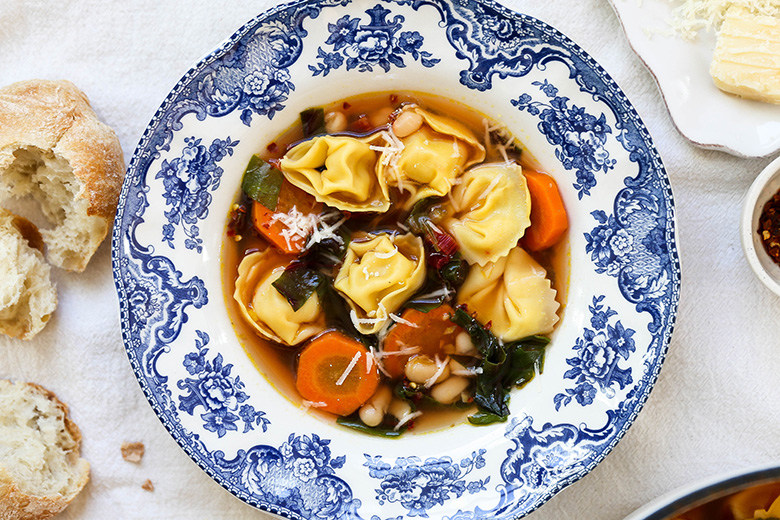 I'm usually a total sucker for a toothsome chili. Or a thick, creamy puréed soup. But lately I've been craving soups that are much more brothy, like this vegetarian Tortellini and White Bean Soup with Swiss Chard. Since the broth is a key component here, it's important to flavor it well. Which in this case means adding a Parmesan cheese rind (a Pecorino Romano rind would also work) to the soup during the cooking process. This will infuse the broth with lots of salty, umami goodness. Which makes a real difference in the final flavor of this soup. Hint: don't skip this step.
I like red Swiss chard for this recipe, because it adds a nice pop of color to the final dish. But any color variety you can get your hands on will be fine. Since the stems are tough, I treat them like I would stalks of celery. I slice them thin and sauté them along with the carrots and garlic. Then I hold off on adding the leaves until the very end.
A bowl of this Tortellini and White Bean Soup with Swiss Chard with a side of crusty bread and salted butter is pretty much my favorite thing right about now. I hope you give it a try!
Cheers,
Liz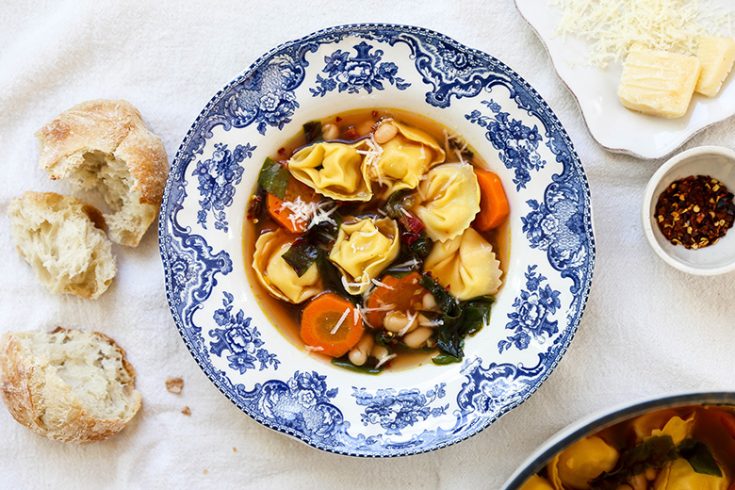 Tortellini and White Bean Soup with Swiss Chard
Yield: Serves 4-6
Prep Time: 5 minutes
Cook Time: 25 minutes
Total Time: 30 minutes
Ingredients
4 stalks Swiss chard
2 tablespoons extra-virgin olive oil
1 carrot, peeled and sliced
4 garlic cloves, peeled and minced
1/2 tsp. salt
1/4 tsp. black pepper
1/4 tsp. red pepper flakes
4 cups vegetable broth
2 cups water
1 (15-ounce) can white beans, rinsed and drained (I used Great Northerns)
1 Parmesan cheese rind, plus freshly grated Parmesan cheese for serving
10-ounce package refrigerated cheese tortellini (I used Giovanni Rana)
Instructions
Separate the thick Swiss chard stems from their leaves. Slice the leaves into ribbons and set aside. Then slice the stems.
Warm the olive oil in a large pot over medium-high heat. Add the carrots, garlic and sliced Swiss chard stems. Cook, stirring frequently, for about 5 minutes. Stir in the salt, black pepper and red pepper flakes.
Add the vegetable broth, water, white beans and Parmesan cheese rind. Increase the heat to bring the soup up to a simmer. Then cook for 15 minutes. Stir in the tortellini and sliced Swiss chard leaves and cook according to the time on the package instructions until the tortellini are al dente (mine was 3 minutes). Remove the pot from the heat.
Remove and discard the Parmesan cheese rind. Then ladle the hot soup into bowls and serve with freshly grated Parmesan cheese.
Leftovers can be stored in an airtight container in your refrigerator for 2-3 days. The tortellini will adsorb some of the liquid over time, so you may need to add additional vegetable broth or water when re-heating the soup.