Disclosure: This post is sponsored by Duda Farm Fresh Foods. All opinions are my own. Thank you for supporting brands and companies that help to keep Floating Kitchen afloat!
I'm not sure how I've made it through 8 years (I know!) of blogging without a stuffing recipe. Because hands down, it's the dish that I look forward to the most at our Thanksgiving and Christmas dinners. Yet somehow, it's flown under the radar here on the blog.
But today, I'm partnering with Duda Farm Fresh Foods to correct this massive oversite. Their crispy, crunchy Dandy Celery Sticks are a must-have ingredient for the perfect stuffing recipe. And that's something to be thankful for!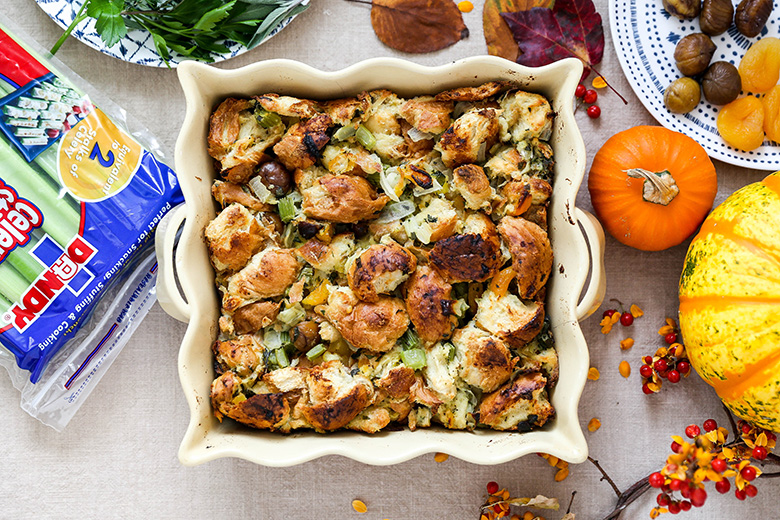 My Fennel and Fresh Herb Stuffing with Chestnuts and Apricots has all the traditional flavors that I crave in a stuffing. And of course, I added a few small tweaks to keep things interesting. I hope you get the chance to try it out this Holiday season. Below I've listed all my best tips and tricks for making this unbeatable stuffing recipe!
(1) Bread. Choose a rich-tasting bread like challah or brioche for maximum flavor. Drying it out in the oven is a crucial first step. But don't worry, you can do this part 1-2 days in advance, if necessary.
(2) Fresh vegetables. It wouldn't be stuffing without diced onions and sliced Dandy Celery Sticks! They are the base for all great traditional stuffing recipes, providing both flavor and texture. I also include diced fennel for a mild anise-flavor.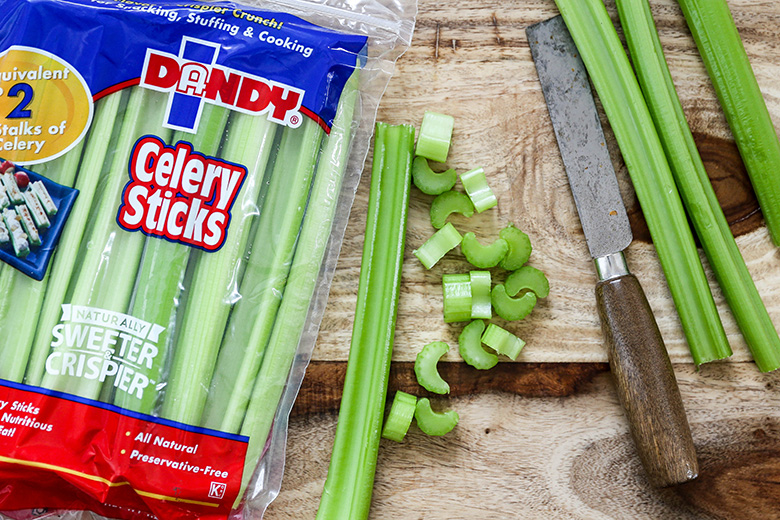 (3) Fresh herbs. For maximum flavor, fresh herbs are the best choice. I use a combination of parsley, sage, rosemary and thyme. You could also add in some oregano or marjoram, if you have it.
(4) Butter and olive oil. The butter is for taste. And the olive oil will help prevent your vegetables from browning too quickly. You want to cook the vegetables until they're softened, but not overly browned.
(5) Mashed potatoes. This is a trick I learned from my Great Auntie Dot! The mashed potatoes add flavor, moisture and help to bind everything together. Your favorite mashed potato recipe will work great here!
(6) Chestnuts. Growing up, we always roasted and shelled our own chestnuts for the stuffing. But over the years, I've had more difficulty finding fresh chestnuts reliably. So now I buy them already roasted and shelled. You can find them in jars or bags at any major grocery store. Sometimes they are in the international foods aisle.
(7) Apricots. Dried apricots bring some sweetness and soft texture to this stuffing recipe. If you don't have dried apricots, dried figs or pitted dates would also work.
(8) Low-sodium vegetable broth. I know the drippings from the turkey pan taste great. But I find using low-sodium vegetable broth gives me more control over the salt in the recipe. Also, there are always 1-2 vegetarians at my Holiday table, so I like to have dishes that everyone can enjoy!
(9) Baking. When you add the stuffing mixture to your baking dish, just press it down lightly so it fits and is even across the top. Don't compress it firmly into the pan or it will turn out super dense. Start by baking the stuffing at a lower temperature, covered with aluminum foil. This will help it cook through, while keeping moisture locked in. Then remove the foil and increase the oven temperature to get that golden brown, crisp topping that we all love!
(10) Make it in advance. I often make my stuffing the day before the big meal. To do this, I skip the second part of the baking process and do that part on the day of. This prevents the stuffing from drying out.
(11) Feed a crowd. Feel free to double this recipe and bake it in a 9 X 13-inch baking dish. The more leftovers, the better!
You can pick up Dandy's naturally sweeter and crispier celery sticks at a store near you. Their store locator will help you find ALL their amazing fresh products. They've also got lots of delicious recipes on their website for all your Holiday and non-Holiday needs!
And if you make my Fennel and Fresh Herb Stuffing with Chestnuts and Apricots part of your Holiday celebrations, I'd love to hear about. So please let me know!
Cheers,
Liz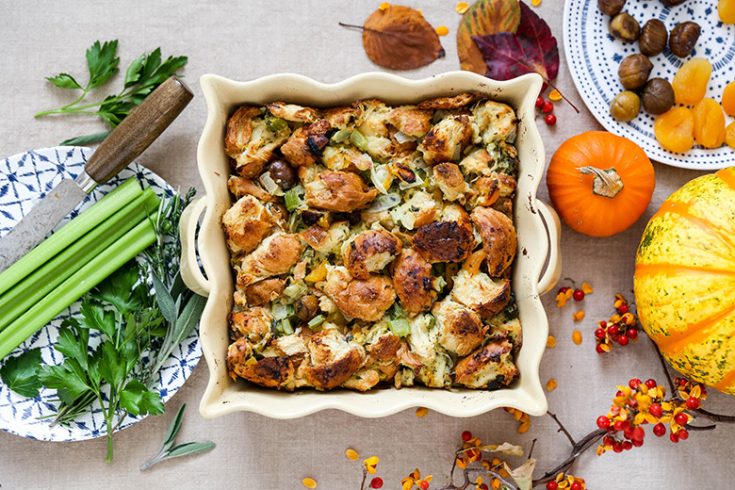 Fennel and Fresh Herb Stuffing with Chestnuts and Apricots
Yield: Serves 6-8
Prep Time: 20 minutes
Cook Time: 2 hours 20 minutes
Total Time: 2 hours 40 minutes
Ingredients
1 lb loaf challah or brioche bread, torn into about 2-inch pieces
4 tablespoons unsalted butter
2 tablespoons extra-virgin olive oil
4 Dandy Celery Sticks, sliced
1 cup diced fennel (from about 1/2 a fennel bulb)
1 cup diced onion (from about 1/2 an onion)
2 tsp. salt
1 tsp. black pepper
20 roasted and shelled chestnuts, roughly chopped
10 dried apricots, roughly chopped
1/4 cup fresh parsley, roughly chopped
1 tablespoon fresh sage, roughly chopped
1 tablespoon fresh rosemary, roughly chopped
1 tablespoon fresh thyme, roughly chopped
1 cup mashed potatoes
1 3/4 cups low-sodium vegetable broth, divided
1 egg
Instructions
Pre-heat your oven to 250 degrees.
Spread the bread out onto a large rimmed baking sheet and bake it in your pre-heated oven for 60 minutes. The bread should feel dry and crisp. Remove the baking sheet from your oven and set it aside to cool. Once cooled, transfer the bread to a very large bowl and set aside. The bread can be baked 1-2 days in advance and stored in an airtight container at room temperature.
Increase your oven temperature to 350 degrees. Lightly coat an 8 X 8-inch baking dish with non-stick cooking spray and set aside.
In a large skillet over medium heat, melt the butter with the olive oil. Add the celery, fennel and onion and cook, stirring occasionally, for 15 minutes. If the vegetables start to brown, turn down the heat.
Stir in the salt and black pepper and cook for 2 minutes more. Then remove the skillet from the heat and stir in the chestnuts, apricots, all the fresh herbs and the mashed potatoes. Set aside.
In a medium bowl, whisk together 1 1/2 cups of the vegetable broth with the egg. Slowly pour this mixture over the bread in the bowl. Toss with a pair of tongs to make sure most of the bread is moistened. Then scrape in the cooked vegetables/herbs, folding gently until all the ingredients are well combined.
Transfer the stuffing to your prepared baking dish and pat it down lightly, just so it fits evenly in the dish. Pour the remaining 1/4 cup of vegetable broth over top. Then cover the baking dish tightly with aluminum foil and transfer it to your pre-heated oven. Bake for 40 minutes. Carefully remove the aluminum foil and increase your oven temperature to 425 degrees. Bake uncovered for an additional 20 minutes. The top should be golden brown and crisp.
Remove the baking dish from your oven and set it aside to let the stuffing rest for 10 minutes before serving.
Leftovers can be stored in an airtight container in your refrigerator for 3-4 days.