This is the time of year when I develop "produce anxiety".
I know. Only I could have anxiety about literally everything. But produce anxiety is a real thing. And it happens because there is just SO MUCH fresh, local produce right now and I can't seem to manage to use it fast enough. And I know the clock is ticking.
Luckily, this Garden Fresh Herb Yogurt Dip is a great way to relieve some of that anxiety. Because not only does it contain almost every fresh herb I've got on hand at the moment. But it can also be eaten with any and all of the vegetables that you've got. I love serving this creamy dip with sliced cucumbers, carrots, peppers, romaine hearts/endive, snap peas, and MORE!
But also don't forget to put out some salty potato chips and/or warmed pita bread!
Oh and this dip can also be used as a sandwich spread. I especially recommend trying it on a BLT with the best Summer tomatoes you can find!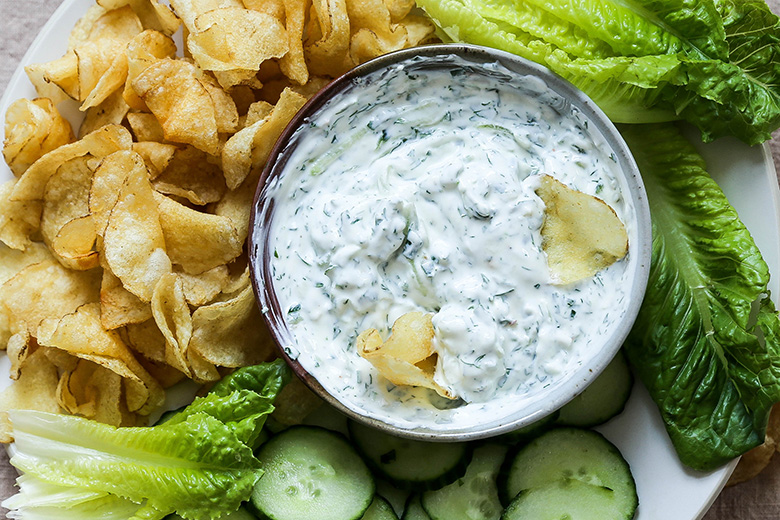 Making this Garden Fresh Herb Yogurt Dip is super quick and easy. Start by grating some cucumber (no need to peel it first). Then squeeze the grated cucumber between a few paper towels to remove the excess liquid. This step is important because it ensures you don't end up with a soupy dip (= yuck). Then simply mix everything else together in a bowl. DONE! You don't even need a food processor. In fact, I like this dip better when it's combined by hand because I like to see all the flecks of green, instead of everything just turning into a uniform light green hue (which is what will happen if you over process it).
I used a combination of fresh dill, cilantro and parsley in this recipe. For my cilantro haters, you could substitute it with fresh basil. A little mint would be nice, too. Just stay away from any herbs that are overly woody, like rosemary.
This Garden Fresh Herb Yogurt Dip can be made several hours ahead of when you plan to serve it. But I wouldn't recommend making it more than one day in advance. Because inevitably some liquid will remain in the grated cucumber. And it will start to seep out over time. So if you do make this in advance, just remember to give it a quick stir before serving it.
Cheers,
Liz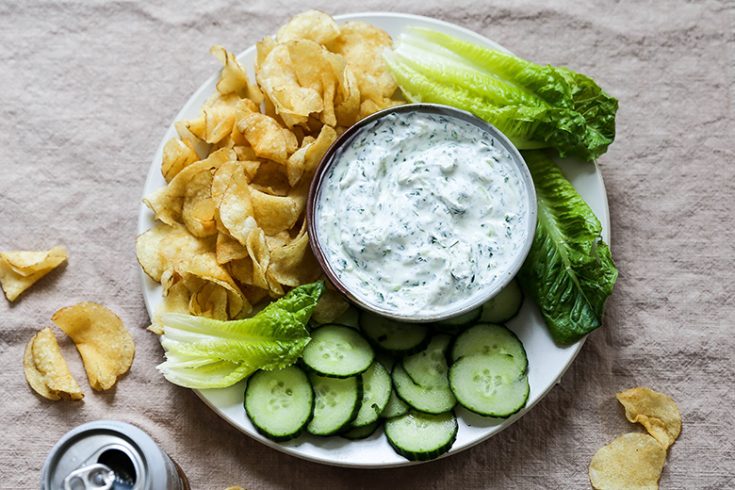 Garden Fresh Herb Yogurt Dip
Yield: Makes about 1 1/2 cups
Prep Time: 10 minutes
Total Time: 10 minutes
Ingredients
1/2 cup grated cucumber
1 cup full-fat Greek yogurt
1/4 cup sour cream
1 garlic clove, peeled and finely minced
1 tsp. extra-virgin olive oil
1 tsp. fresh squeezed lemon juice
2 tablespoons fresh dill, finely minced
2 tablespoons fresh cilantro, finely minced
2 tablespoons fresh parsley, finely minced
1/2 tsp. salt
1/4 tsp. black pepper
1/8 tsp. red pepper flakes
Instructions
Roll the grated cucumber up into a paper towel and squeeze it firmly over your sink to remove excess moisture. Once most of the moisture is removed, unroll the paper towel and transfer the cucumber to a medium bowl.
Add the yogurt, sour cream, garlic, olive oil and lemon juice to the bowl with the cucumber. Stir to combine. Then add all the fresh herbs, salt, black pepper and red pepper flakes. Stir to combine.
You can serve this dip immediately. Or transfer it to a clean container and refrigerate it for several hours before serving.