This post was originally published here on June 1, 2015. I've updated the photographs and text to better showcase just how snack-tastic this hummus recipe really is!
It's hard to believe that Easter is next weekend. We're still in a Winter weather holding pattern here in New England (can you hear me audibly sighing through the Internet?). So the idea of fresh cut grasses, baby animals and delicate Spring flowers seems to me to be more like a story built out of a fantasy fiction novel, rather than a concept based in reality.
But the calendar advances none-the-less. Which means that Easter is less than one week away. Cue panic attack. Because up until this point, the only thing I've managed to do to prepare is indulge in a couple bags of Cadbury Mini Eggs.
Seriously, I have a problem with those things. They are my greatest weakness.
But since we can't just eat chocolate all day long on Easter (or can we?), let's talk about something slightly more nutritious: carrots.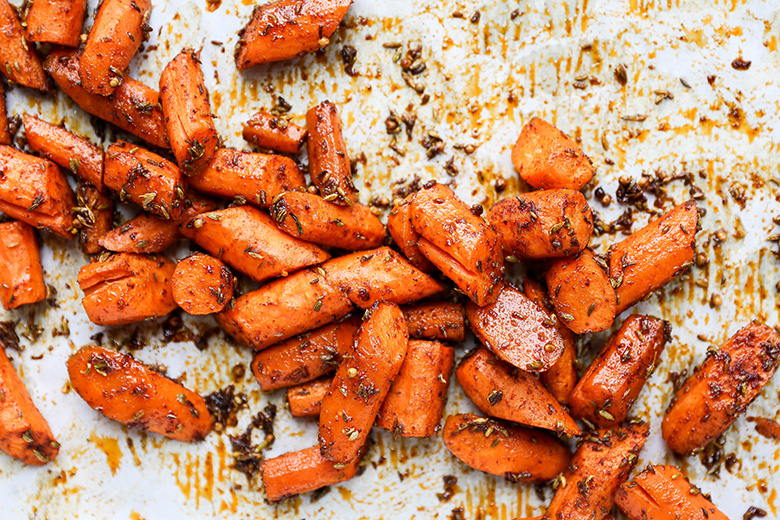 Carrots are always a must-have item for the Easter Holiday. Typically, I have them either in cake form (I make this recipe from The Faux Martha every year) or as a simple side dish. But now, I'm also making them part of my appetizer spread by breaking out this Spiced Roasted Carrot Hummus.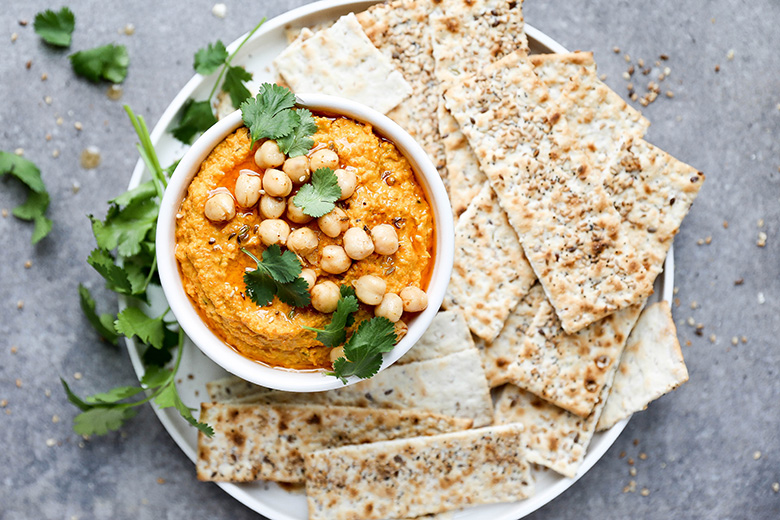 Plain hummus will always be good. Always. But sometimes, it's nice to jazz things up a bit. Case in point: this Spiced Roasted Carrot Hummus. In addition to the usual players (chickpeas, tahini, lemon, olive oil and salt), I've blended in some carrots that I first roasted with a handful of whole spices and tomato paste. And holy smokes, you guys! It's a flavor explosion! It's like hummus on steroids. No lie. You seriously won't be able to stop digging into this vibrantly colored dip (or using it as a sandwich spread!). And it also happens to be vegan and gluten free, too. So that's cool.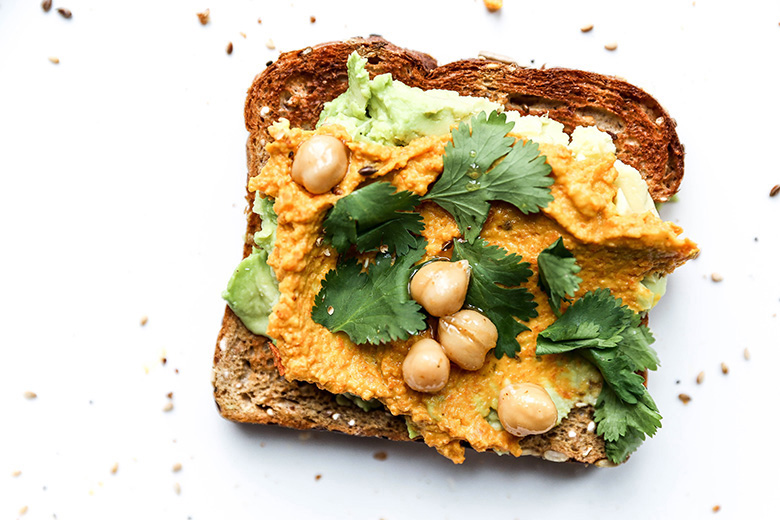 There is one thing worth mentioning before you embark on snacking nirvana. This hummus won't get super-duper smooth. So if you're particular about that kind of thing (I get it if you are), then just be aware of that fact.
Cheers,
Liz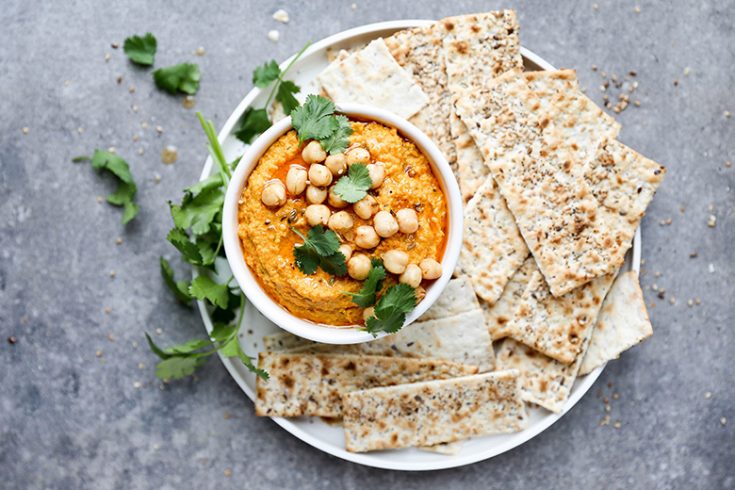 Spiced Roasted Carrot Hummus
Yield: Makes about 4 cups

Prep Time: 10 minutes

Cook Time: 20 minutes

Total Time: 30 minutes
Ingredients
For the Hummus:
1 lb carrots, trimmed and peeled
6 tablespoons extra-virgin olive oil, divided
1 tablespoon tomato paste
2 tsp. fennel seeds
1 tsp. cumin seeds
1 tsp. coriander seeds
1 tsp. caraway seeds
1 tsp. salt
1 (16-ounce) can chickpeas, rinsed and drained
6 tablespoons tahini paste
1/4 cup fresh squeezed lemon juice
2-4 tablespoons water
For Topping:
Fresh cilantro leaves
Chickpeas, rinsed and drained
Extra-virgin olive oil
Instructions
Pre-heat your oven to 400 degrees. Line a large rimmed baking sheet with parchment paper and set it aside.
Chop the carrots into large chunks, about 2-inches in size. Toss them in a large bowl with 2 tablespoons of the olive oil, the tomato paste, fennel seeds, cumin seeds, coriander seeds, caraway seeds and salt. Spread them out onto your prepared baking sheet and roast in your pre-heated oven for 20 minutes. Then remove the carrots from the oven and set them aside to cool slightly.
Add the chickpeas, tahini, lemon juice, a couple tablespoons of water and the remaining 4 tablespoons of olive oil to the bowl of your food processor with the blade attachment and pulse a few times to combine. Then add in the roasted carrots, making sure to scrape in all the juices and seeds collected on the parchment paper. Process until smooth, stopping to scrap down the sides of the bowl as necessary. If the hummus is too thick, you can add additional liquid (water, lemon juice or olive oil) until you reach your desired consistency. Taste and add additional salt, if necessary.
Transfer the hummus to a bowl. Garnish with fresh cilantro leaves, chickpeas and a drizzle of olive oil, if desired. Serve with crackers or bread of your choice.
Leftover hummus can be stored in an airtight container in your refrigerator for 3-5 days.
SaveSave
SaveSave