Disclosure: This post is sponsored by Premio Foods. All opinions are my own. Thank you for supporting brands and companies that help to keep my kitchen running!
Say hello to the best pasta dish that I've made so far this year. Which coincidently, also happens to be the best risotto dish that I've made so far this year.
So, what the heck am I talking about? I'm talking, of course, about "pasta risotto".
If "pasta risotto" (i.e. instead of the pasta being cooked in a large pot of boiling water, it's simmered and stirred in a smaller volume of broth over time) is news to you, don't be alarmed. Because it was news to me, too. The idea caught my attention in a recent special issue magazine of Bon Appétit (up until that point, I had always only made risotto with Arborio rice), and it's an idea that now I can't believe I ever lived without. Because pasta risotto a very magical, wonderful, crave-worthy dish that encompasses the best of both worlds. It's big on both flavor and creaminess. Without being even the teeniest bit mushy or gloopy (an often unfortunate side effect of traditional risotto).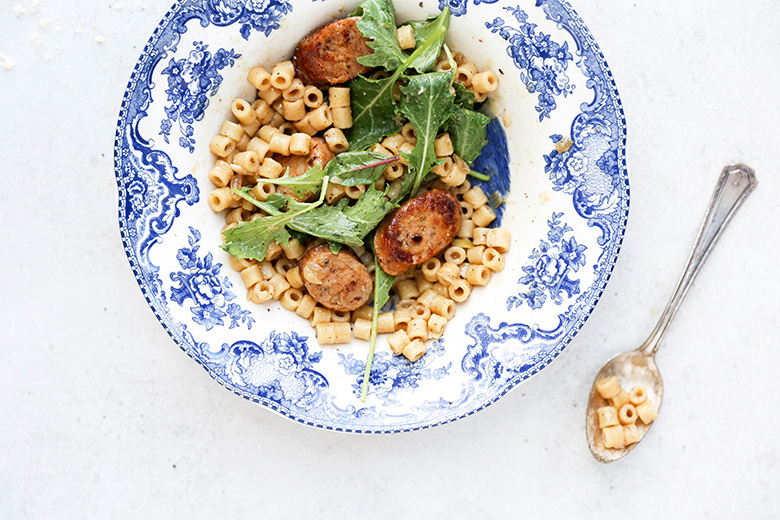 Simply stated, it's al dente pasta in a rich, luscious broth. Yet somehow, it's so much more than that. It's one of those dishes that's greater than the sum of it's parts. So trust me when I tell you to just go and make it. I know you'll become a firm believer once you try it.
This One-Pot Ditalini Risotto with Spicy Chicken Sausage features Premio Foods Hot & Spicy Italian Chicken Sausage. It's the sausage that I reach for when I want something a bit healthier (it has 60% less fat than pork or beef sausages), but I don't want to be forced to sacrifice even an ounce of flavor. Because life is too short to make sacrafices in the flavor department.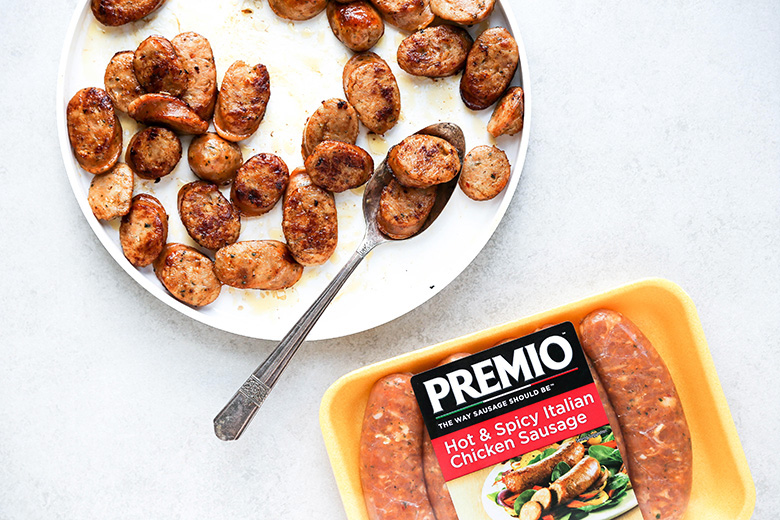 Premio Foods Hot & Spicy Italian Chicken Sausages deliver all the "zip" that I love.
Without delivering any fillers, preservatives, MSG, gluten, dairy, soy or nuts. In fact, all of Premio Foods products are crafted using only butcher-quality cuts of meats and carefully selected spices. And that's it. No extras. Just the good stuff.
They're a family company that's been making prize-winning sausages for over 40 years, so you better believe they know exactly what they're doing!
Before I send you off onto your own pasta risotto making adventures, one last piece of advice: please use a white wine that you actually enjoy drinking in this recipe. I guarantee it will make for a much better eating experience!
Cheers,
Liz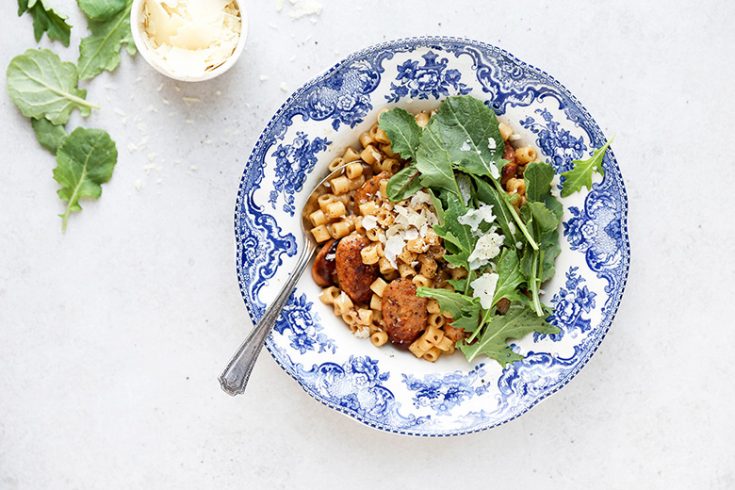 One-Pot Ditalini Risotto with Spicy Chicken Sausage
Yield: 4-6 servings

Prep Time: 5 minutes

Cook Time: 50 minutes

Total Time: 55 minutes
Ingredients
For the Pasta:
1 (14-ounce) package Premio Foods Hot & Spicy Italian Chicken Sausage
3 tablespoons extra-virgin olive oil, divided
1 cup diced onion
3/4 cups white wine
2 cups uncooked ditalini pasta
4 cups low sodium chicken broth, divided
1/3 cup grated Parmesan cheese
For Serving:
About 4 cups baby greens (I used a mix of kale, arugula and mustard greens)
Shaved Parmesan cheese
Black pepper
Instructions
Add the chicken sausages and 1/3 cup of water to a large, heavy bottom pot over medium heat. Cover and cook the sausages 10-12 minutes, turning them 1-2 times during this time. Then remove the cover and continue to cook the sausages for an additional 5-7 minutes. The water should be mostly evaporated.
Remove the sausages from the pot and set them aside to cool. Once they are cool enough to handle, slice the sausages into rounds.
Return the same pot to medium heat and warm 2 tablespoons of the olive oil. Add the sausage rounds and cook until browned on both sides, about 2 minute per side. Remove the browned sausage rounds to a clean plate, cover to keep warm and set aside. Then add the remaining tablespoon of olive oil to the pot and stir in the diced onion. Cook, stirring frequently, about 5 minutes, or until the onion is softened and browned. Add the wine and increase the heat to bring it to a boil, scrapping the bottom of the pot with a wooden spoon to loosen any browned bits. Cook until the wine is reduced by half, about 5-7 minutes.
Stir in the ditalini pasta and 2 cups of the chicken broth. Cook, stirring frequently so the pasta doesn't stick to the bottom of the pot, until the broth is almost fully absorbed. Then stir in the remaining 2 cups of chicken broth, 1 cup at a time as the pasta absorbs the liquid, cooking until the pasta is al dente, about 10-15 minutes.
Stir in the grated Parmesan cheese and the browned sausage rounds.
To serve, divide the pasta between serving bowls. Top with greens, shaved Parmesan cheese and freshly ground black pepper. Serve immediately.
SaveSave
SaveSave
SaveSave