Elbow season.
A term used to describe those times of year when you feel stuck in the awkward, wrinkly space between two seasons.
Which is exactly (and begrudgingly) where I am right now.
New England weather has been a total B*TCH this year. The calendar says Spring. But the snow, wind and freezing temperatures say otherwise. It's been relentless. And I'm tired.
Also, I'm moving in less than 10 days. And if it snows on my moving day, I'm going to be very cranky. The end.
But since there isn't much I can do to change the weather (other than complain incessantly about it), I can at the very least channel Spring in my kitchen with my favorite Spring vegetable: asparagus.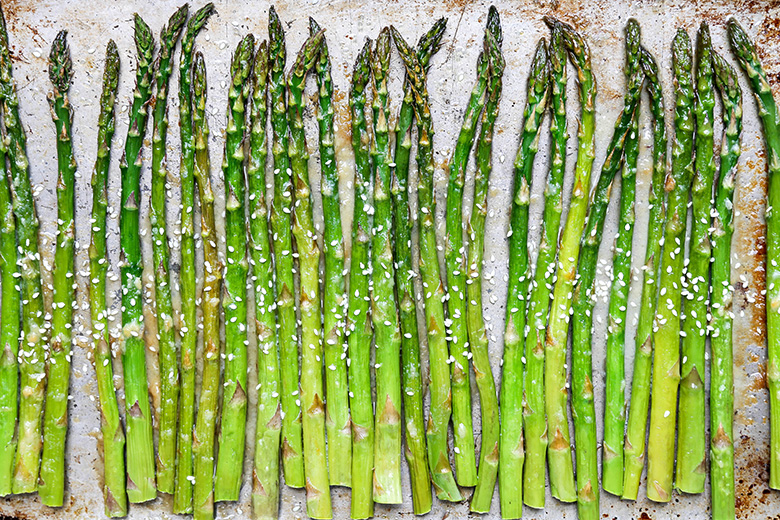 I have a decent number of asparagus recipes here on Floating Kitchen (like here, here and here!), but there always seems to be room for one or two more concoctions each year. Asparagus is SO versatile (soups! sides! salads!). And I never tire of eating it.
And today's recipe for Roasted Asparagus with Miso Butter might just take the proverbial asparagus cake. Because OH MY GAWD MISO BUTTER. It's life changing.
Usually, I'm all about roasting my vegetables in olive oil. But this time, I decided to go more decadent and use melted butter combined with miso paste. And let me just say, totally worth it. This is precisely how you end up sitting on the floor of your kitchen eating an entire tray of roasted asparagus by yourself. Seriously addicting. And hello, only 5 ingredients required. You can't beat that!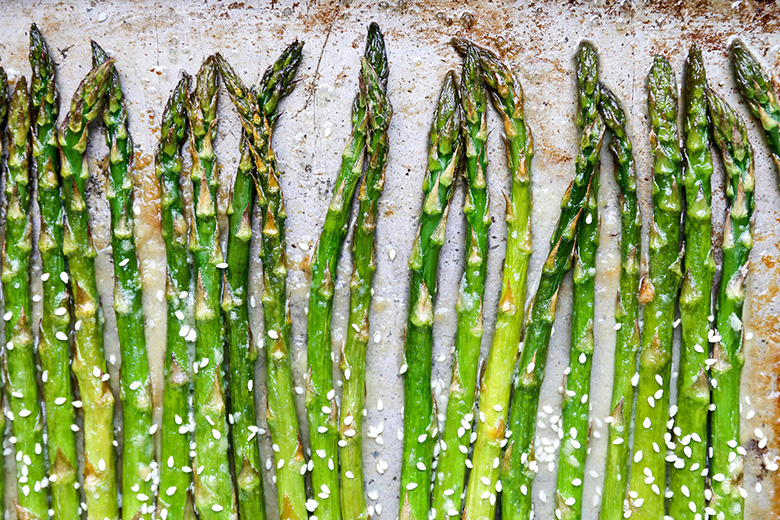 Please try it for yourself. And then come back here and tell me how much you loved it!
For more ways to help get yourself out of this "elbow season", check out the links below to see what some of my blogging friends were inspired to create this month!
Cheers,
Liz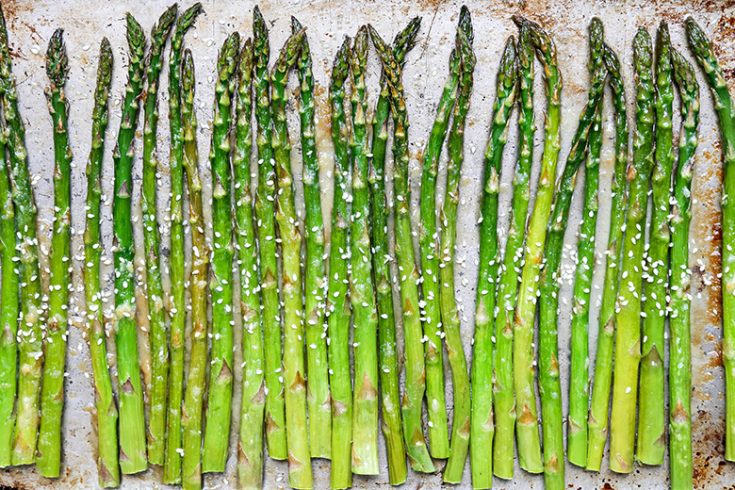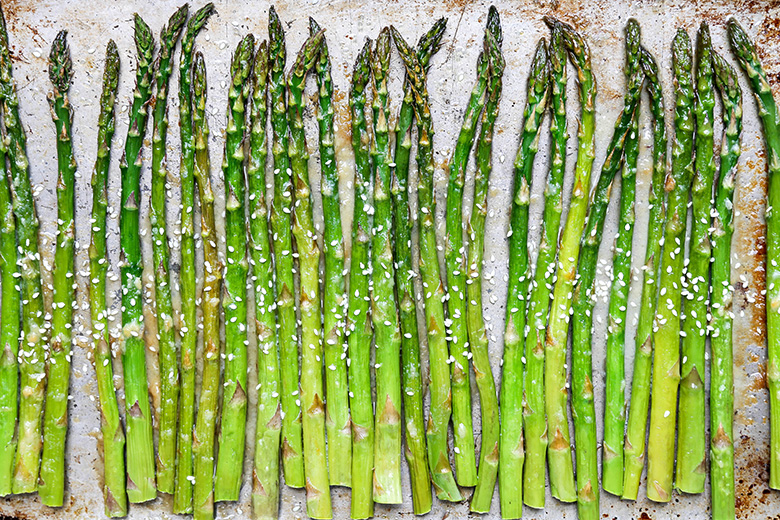 Roasted Asparagus with Miso Butter
Yield: 4-6 servings
Prep Time: 5 minutes
Cook Time: 15 minutes
Total Time: 20 minutes
Ingredients
1 lb asparagus
3 tablespoons unsalted butter
1 tablespoon white miso paste
1/2 tsp. salt
1-2 tsp. sesame seeds
Instructions
Pre-heat your oven to 425 degrees.
Trim off and discard the thick, woody ends of the asparagus. Then spread the asparagus out onto a large rimmed baking sheet and set aside.
Add the butter and miso paste to a microwave safe bowl. Microwave until the butter is melted, about 30-60 seconds. Then stir to help incorporate the miso paste into the melted butter. It's OK if the mixture isn't completely smooth.
Pour the miso butter over the asparagus, using a pair of tongs to gently toss the asparagus so it's coated on all sides. Sprinkle with the salt.
Transfer the baking sheet to your pre-heated oven and roast the asparagus for 12-16 minutes, or until crisp-tender, gently stirring them once half way through the cooking time. Remove from the oven and garnish with sesame seeds. Serve immediately.
Notes
Miso paste can be found in the refrigerated section of your grocery store. Not all brands are gluten free, so make sure you check the labels.
April Eat Seasonal Recipes
Spring Arugula Salad with Shaved Asparagus, Radish and Peas by Flavor the Moments
Spicy Red Lentil and Mushroom Pasta by Letty's Kitchen
Greek Yogurt Avocado Chicken Salad by Joy Food Sunshine
SaveSave
SaveSaveSaveSave