Sweet potatoes are my jam. Mashed, grilled and even for breakfast, I'll take them anyway I can get them. They are a welcome addition to any meal. And as I've transitioned into more of a plant-focused diet this past year, sweet potatoes have become an even more integral part of my kitchen.
So it only made sense that I would combine sweet potatoes with two of my other favorite ingredients: crispy baked chickpeas (seriously, these things are like crack) and the seasons first asparagus spears.
Oh asparagus. Nothing screams Spring like asparagus. And right now, I am definitely screaming for Spring. Because we just came off of one of the coldest weekends we've had all Winter. And it's freaking MARCH you guys! I definitely thought we were out of the woods (I even folded and put away my snow pants!), but apparently we're not. Jack Frost has extended his stay a little while longer.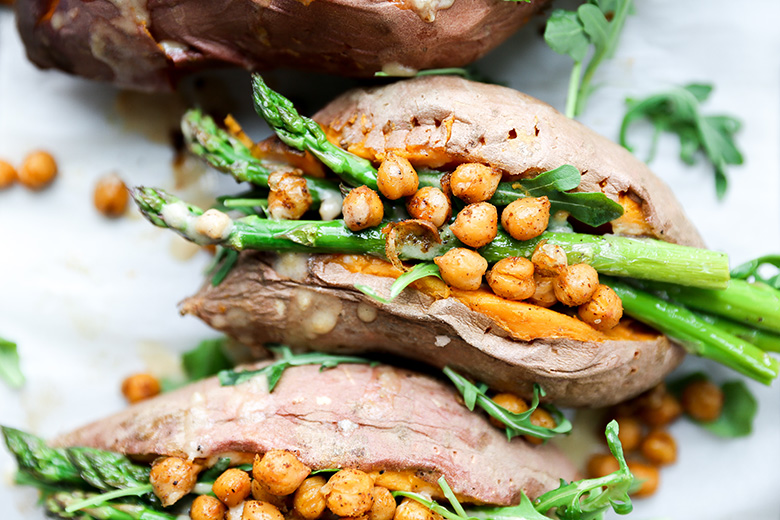 So I'm mixing hearty, belly filling baked sweet potatoes with tender greens. And smothering them with a creamy vegan dressing and some spicy roasted chickpeas. The seasons are colliding – inside my kitchen and out. I think that's what March is all about.
The sweet potatoes can take up to an hour to bake, depending on their size. But it's a completely hands off process. So while this might not be the quickest dinner to prepare, I'd still dare to categorize it as "easy". I also think this would be delicious with some roasted broccolini in lieu of the asparagus, if you happen to have that on hand.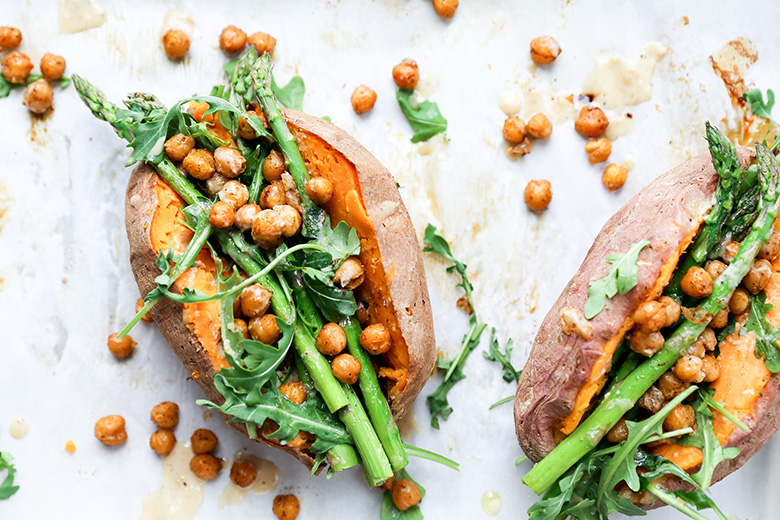 I'm sharing the recipe for these Stuffed Sweet Potatoes with Chickpeas, Asparagus and Arugula as part of our monthly round-up organized by Becky from Vintage Mixer. March can be a tricky month if you're like me and live somewhere where you're still stuck in a mix of seasons. So I hope you can find some cooking inspiration from Becky's March Produce Guide, as well as from the recipes that some of my blogging friends have created (links below!) that highlight this month's fruits and vegetables. And be sure to let us know ways in which you're using March produce by using the hashtag #eatseasonal on social media!
Cheers,
Liz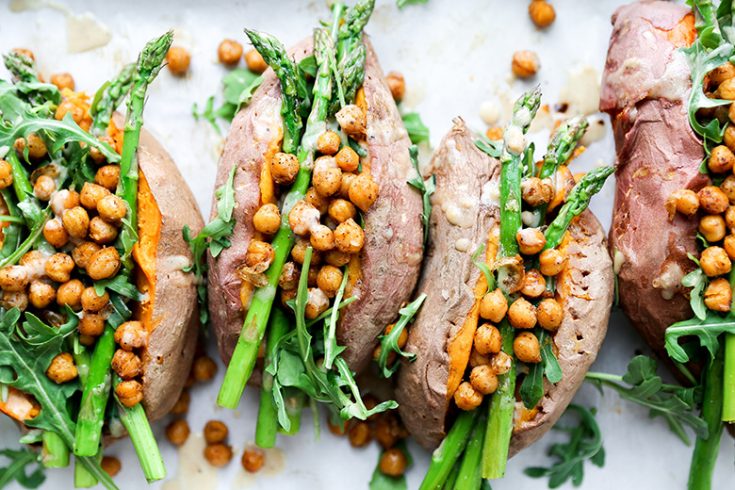 Stuffed Sweet Potatoes with Chickpeas, Asparagus and Arugula
Yield: 4 servings
Prep Time: 10 minutes
Cook Time: 1 hour
Total Time: 1 hour 10 minutes
Ingredients
For the Sweet Potatoes:
4 medium-large sweet potatoes, washed and scrubbed
1 cup loosely packed arugula
For the Chickpeas:
1 (16 ounce) can chickpeas, rinsed and drained
1 tsp. extra-virgin olive oil
1/2 tsp. salt
1/2 tsp. cumin
1/2 tsp. chili powder
For the Asparagus:
1/2 lb asparagus spears, trimmed
1 tablespoon extra-virgin olive oil
1/2 tsp. salt
1/2 tsp. black pepper
For the Dressing:
2 tablespoons tahini paste
2 tablespoons lemon juice
2 tablespoons water
2 tsp. maple syrup
1/4 tsp. salt
1/4 tsp. black pepper
Instructions
Pre-heat your oven to 400 degrees.
Line a large rimmed baking sheet with parchment paper. Prick the sweet potatoes all over with a fork and then place them on your baking sheet. Transfer them to your pre-heated oven to bake for 50-60 minutes, or until the sweet potatoes are soft enough to be easily pierced with a small pairing knife. Remove from the oven and set aside, covering to keep warm.
Meanwhile, spread the chickpeas out onto a paper towel. Then use a second piece of paper towel to pat the tops dry. Transfer the dried chickpeas to a rimmed baking sheet. Drizzle with the olive oil, tossing to coat. Then sprinkle with the salt, cumin and chili powder. Transfer the baking sheet to your pre-heated oven and roast the chickpeas for 20 minutes, stirring them once half way through cooking time. Remove from the oven and set aside.
Meanwhile, toss the asparagus on a rimmed baking sheet with the olive oil, salt and black pepper. Transfer to your pre-heated oven and roast for 10 minutes. Remove from the oven and set aside.
To make the dressing, add all of the ingredients in a small bowl or jar. Mix until well combined and smooth.
To serve, slice the sweet potatoes open, being careful not to cut them completely in half (you want the bottom to remain intact), and gently pry them apart to create space in the center. Drizzle about 1 tablespoon of the dressing inside each of the sweet potatoes. Then stuff with the arugula, asparagus and chickpeas, diving the ingredients evenly between the sweet potatoes. Drizzle with the remaining dressing. Serve immediately.
March Eat Seasonal Recipes
Creamy Vegan Kiwi Lime Avocado Pie by Letty's Kitchen
Chana Aloo Gobi Masala: Chickpea, Potato, and Cauliflower Curry by Food for My Family
Spicy Lemon-Ginger Tonic Tea by Suitcase Foodist
Broccoli Rabe and Chicken Pizza with Basil Cream Sauce by Vintage Mixer
Hot Chili Blistered Asparagus with Sriracha Aioli by Kitchen Confidante
Glazed Meyer Lemon Bundt Cake with Candied Lemons by Simple Bites
Frozen Chocolate-Dipped Kiwi with Sea Salt by Project Domestication
Tempura Cauliflower with Spiced Yogurt Dipping Sauce by Completely Delicious
Easy Lemon Thyme Roasted Artichokes by Flavor the Moments
Healthy Shamrock Shake by Joy Food Sunshine
Curry Roasted Cauliflower by Healthy Seasonal Recipes
Roasted Cauliflower Pasta with Lemon Chimichurri by She Likes Food
Thai Curry Cauliflower Soup by Mountain Mama Cooks