This post was originally published here January 27, 2014. I've changed the recipe slightly to make this recipe both vegan and gluten-free. I've updated the text and photographs to reflect those changes. I hope you try out these healthy, colorful wraps!
Back in mid-April, I started doubling down on the content posted here on Floating Kitchen. We were all staying home. And we were all cooking and baking our way through our days. So I wanted to provide you with as much useful content as possible. It was one small way in which I felt like I could help.
But I've noticed things (= traffic to the blog) have been slowing down. We are returning to our normal routines. Restaurants are open. And we're just generally spending less time in front of our devices.
Although I'm still a hermit. We aren't through the woods yet.
I guess what I'm trying to say with all of this is that I'm going to be taking my foot off the gas a little bit. I need to find a balance.
Anyway. I just thought you should know that's what's probably going to start happening around here. If you have any thoughts or suggestions about this matter, I'm open to hearing them. And shoot any recipe requests my way, too!
Now let's talk about these Black Bean and Brown Rice Veggie Burger Lettuce Wraps!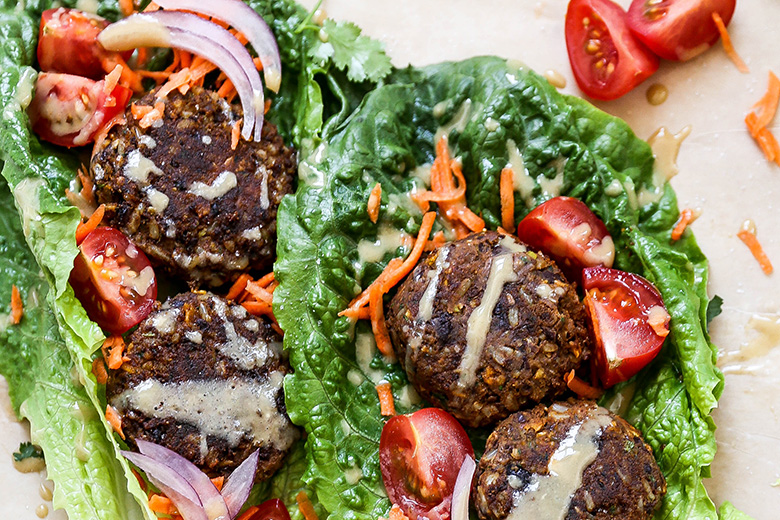 I've been making a version of these veggie burgers for many years now. But it always bothered me that they weren't vegan and gluten-free. Not because I have any dietary restriction. But because they were almost vegan and gluten-free. There were two ingredients that were non-compliant, but easily changeable. So I figured, why not make the recipe more accessible to everyone and give it a tiny makeover.
Which I did. And here we are.
These veggie burgers are moist and flavorful. But I think the thing I love the most about them is they feel substantial. You can really sink your teeth into them. They aren't flimsy or wimpy at all. Which is why I typically make them slider-sized. Because any bigger can feel a bit unwieldy.
I think romaine leaves work best here for the wrap portion, because they are big, crunchy and sturdy. I like to fill them up with whatever accoutrements I have on hand, but you can't go wrong with sliced tomatoes, red onion and shredded carrots. And a drizzle of the tahini sauce is the proverbial icing on the cake, so don't skip it!
Cheers,
Liz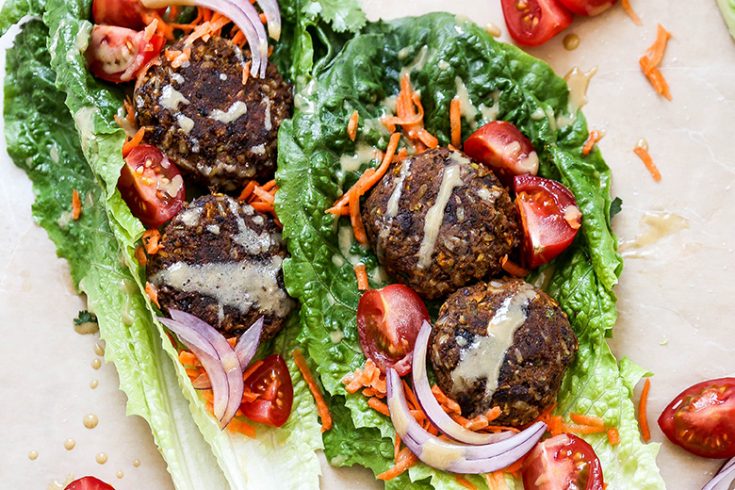 Black Bean and Brown Rice Veggie Burger Lettuce Wraps
Yield: Makes 4 wraps (2 burgers/wrap)
Prep Time: 15 minutes
Cook Time: 10 minutes
Additional Time: 1 hour
Total Time: 1 hour 25 minutes
Ingredients
For the Veggie Burgers:
1/2 cup pumpkin purée
3 scallions, roughly chopped
2 garlic cloves, peeled
1/4 cup fresh cilantro
1 tsp. chili powder
1 tsp. ground cumin
3/4 tsp. salt
4 tablespoons extra-virgin olive oil, divided
1 cup cooked and cooled brown rice
1/4 cup old-fashioned oats
2 tablespoons flaxseed meal (sometimes labeled milled flaxseed)
1 (15-ounce) can black beans, rinsed and drained
For the Wraps:
2 tablespoons extra-virgin olive oil
2 tablespoons tahini paste
2 tsp. maple syrup
1/4 tp. salt
8 romaine lettuce leaves, washed
Sliced tomatoes
Sliced red onions
Shredded carrots
Instructions
In your food processor fitted with the blade attachment, combine the pumpkin purée, scallions, garlic, cilantro, chili powder, cumin, salt and 3 tablespoons of the olive oil. Stop and scrape down the sides of the bowl. Then add the brown rice, oats, flaxseed meal and about half the black beans. Pulse 5-6 times to combine. Stop and scrape down the sides of the bowl. Then add the remaining black beans and pulse another 2-3 times, or until everything is just combined. You want some larger pieces of black beans remaining, so don't over process the mixture into a uniform paste.
Remove the mixture from your food processor and use your hands to form it into 8 equal-sized patties, each about 2-inches in diameter and 1/2-inch thick. Place the formed patties on a parchment paper-line baking sheet and chill them in your refrigerator for 30-60 minutes.
Warm the remaining tablespoon of olive oil in a large non-stick skillet over medium-high heat. Add the patties and cook them about 2-3 minutes per side, or until a light brown crust is formed. Remove from the heat and set aside.
In a small bowl, combine the olive oil, tahini paste, maple syrup and salt. Set aside.
Double up the romaine leaves and place them on your serving plates. Add two veggie burgers to the center of each stack of leaves. Then top with tomatoes, red onions, carrots or any other toppings you prefer. Drizzle with some of the tahini sauce. Serve immediately.