This post was originally published here May 6, 2013. I've adjusted the recipe slighted and updated the text and photographs to reflect those changes.
So. How is everyone doing? Hanging in there?
I'm physically good (= healthy and safe). But I'm emotionally exhausted. Words like "routine" and "schedule" don't seem to be very relevant right now. And that's really challenging for someone like me. I'm WAY out of my comfort zone. And it's taking a lot of energy to stay focused and positive.
But I'm here. And I'm cooking. Because that is something that gives me solace. The kitchen has always felt like a safe space for me. So that's where I'm going to stay for now.
There is a lot of "quarantine cooking" going on these days. Which is awesome (not awesome, but you know what I mean). I love seeing how everyone is getting creative with their pantry staples. I've also been doing some of that, since I'm only going out to the grocery store every 7-10 days. But I'm still trying to load up on as much fresh produce as possible. If it's available, I'm buying it!
This Roasted Strawberry and Asparagus Spinach Salad with Tahini Dressing feels like a celebration of Spring. It's helping to bring a little bit of joy into my days. And I hope it can do the same for you.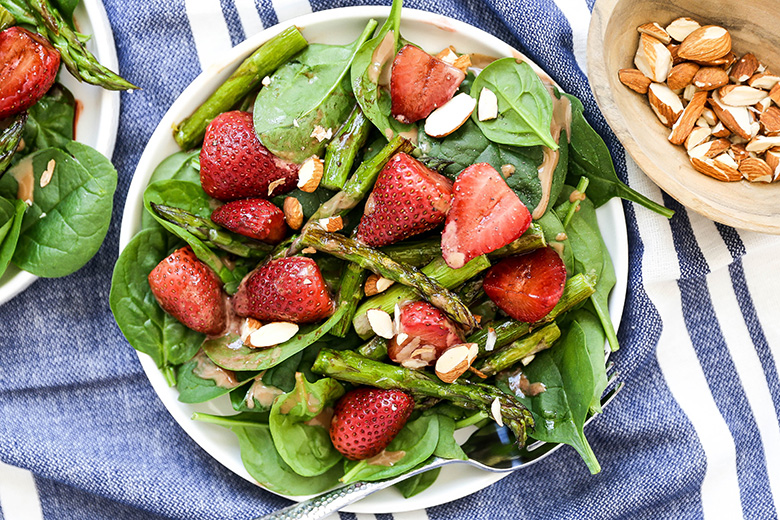 Not only is the asparagus roasted for this salad. But the strawberries are, too! It really makes them extra juicy and soft. And if your strawberries aren't looking their best, it's a good way to kind of hide that fact (just being honest). If you can't find fresh spinach, my next choice would be arugula. But any leafy green can be used.
Oh and this might be my favorite salad dressing EVER. It's creamy, salty and sweet. And I kind of like that it's on the thicker side, so it really clings to the salad ingredients. Tahini truly is one of the most versatile condiments I keep in my refrigerator. And I highly recommend grabbing a jar (if you don't already have one) the next time you venture out to the grocery store.
If you have any other substitution questions, just send me a quick note and I'll try and answer them the best I can.
Cheers,
Liz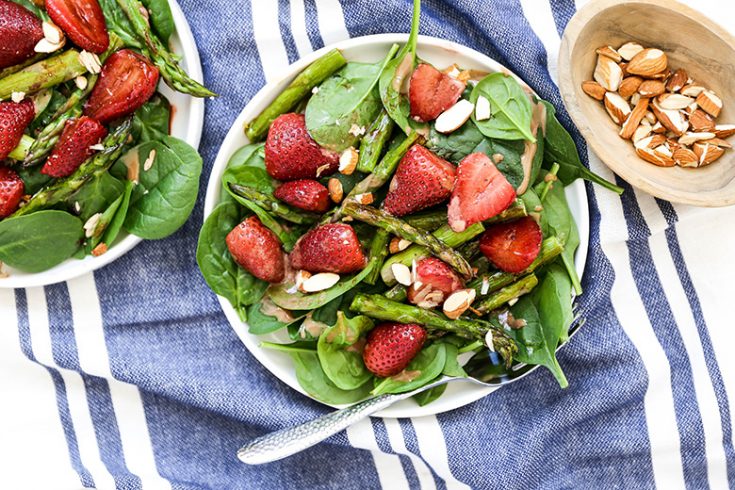 Roasted Strawberry and Asparagus Spinach Salad with Tahini Dressing
Yield: Serves about 4
Prep Time: 10 minutes
Cook Time: 15 minutes
Total Time: 25 minutes
Ingredients
For the Salad:
1 bunch asparagus, trimmed and chopped into 2-inch pieces
1 tablespoon extra-virgin olive oil
1/4 tsp. salt
1/4 tsp. black pepper
1 lb strawberries, stemmed and halved
2 tablespoons balsamic vinegar
8-10 ounces baby spinach leaves, torn if large
1/3 cup chopped almonds
For the Dressing:
1/4 cup tahini paste
3 tablespoons balsamic vinegar
2 tablespoons extra-virgin olive oil
1 tablespoon maple syrup
2-3 tablespoons warm water
Salt and black pepper
Instructions
Pre-heat your oven to 400 degrees.
Toss together the asparagus, olive oil, salt and black pepper. Spread the asparagus pieces out into a baking dish and transfer to your pre-heated oven to roast for 15 minutes. Remove and set aside.
Toss the strawberries with the balsamic vinegar and spread them out into a second baking dish. Transfer to your pre-heated oven and roast for 10 minutes. Remove and set aside.
Collect the juices that accumulated from the roasted strawberries and add them to a measuring cup. Add the tahini, balsamic vinegar, olive oil and maple syrup. Stir to combine, adding enough water to thin the dressing to your desired consistency. Taste and add salt and black pepper, if desired.
Gently toss the spinach with some of the dressing, then divide it between serving plates. Top with the roasted strawberries, asparagus and chopped almonds. Serve immediately.