This post was originally published here October 3, 2013. I've adjusted the recipe slighted and updated the text and photographs to reflect those changes. I hope you give these noodles a slurp!
I'm not sure how best to navigate in this space right now. It feels strange to go about business as usual. But it would also feel strange to me to suddenly turn and pivot.
Things are weird. And scary. And unknown.
But since this space has always been about delivering delicious recipes to you, I feel inclined to keep it that way for now. Because no matter what is happening outside our doors and windows, I know for a fact that we all still need to cook and eat. So I'm going to do my best to help you do that.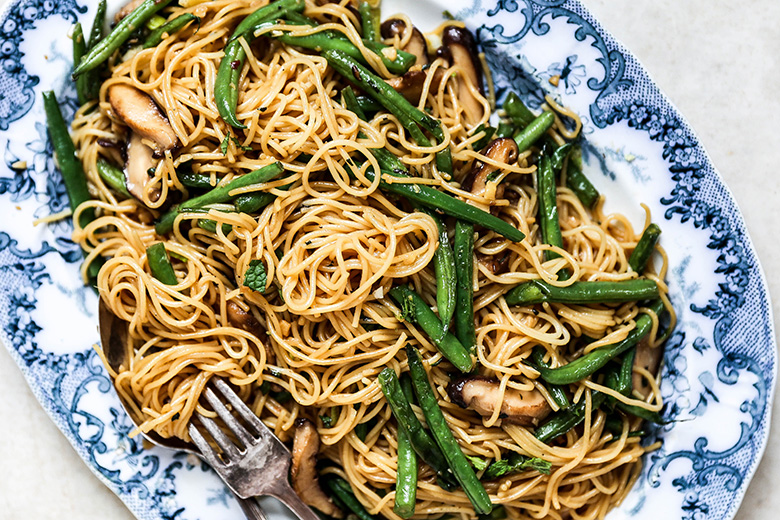 I've always considered noodles to be a comfort food, so it seems fitting that this Green Bean and Mushroom Noodle Stir Fry was already on the schedule for this month. It's a recipe I've loved for years. And I make it often. I usually enjoy it warm. But the cold noodle leftovers are equally good.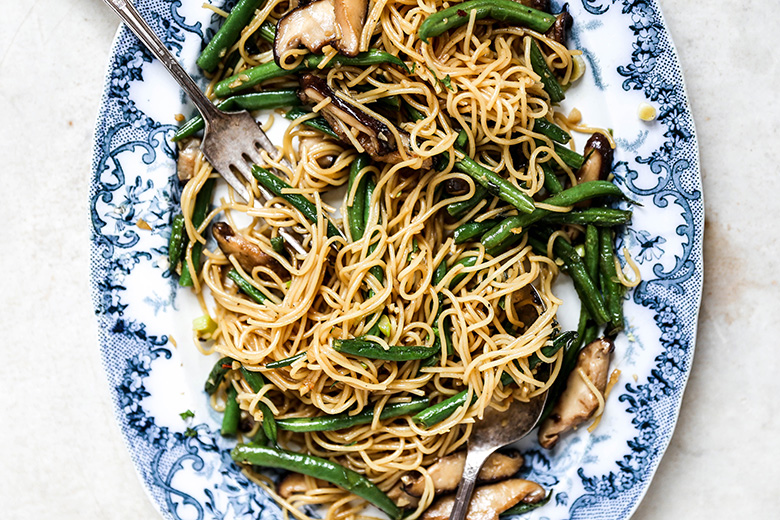 Some of the ingredients for this recipe are pantry staples. But many are not. Since I know certain items continue to be challenging to find at the grocery stores, please don't hesitate to ask me any questions about substitutions. I'm happy to brainstorm with you, so we can work together to keep things fresh and exciting in the kitchen.
Cheers,
Liz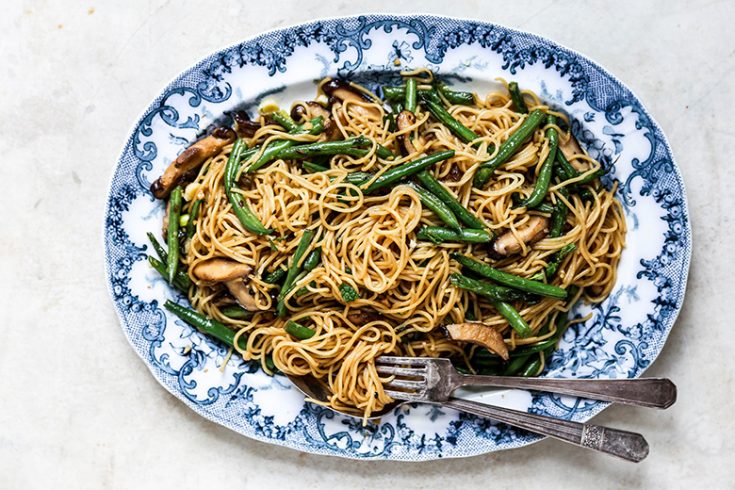 Green Bean and Mushroom Noodle Stir Fry
Yield: Serves 2-4
Prep Time: 10 minutes
Cook Time: 25 minutes
Total Time: 35 minutes
Ingredients
1/4 cup soy sauce
1/4 cup water
2 tablespoons mirin
2 tsp. granulated sugar
1 tsp. cornstarch
1/2 tsp. black pepper
1/2 tsp. red pepper flakes
1/2 tsp. ground mustard
1/2 lb thin spaghetti or angel hair pasta
2 tablespoons vegetable oil
1 lb green beans, trimmed and halves
2 tsp. sesame oil
4 ounces shitake mushrooms, cleaned and sliced
5 garlic cloves, peeled and minced
2 tablespoons peeled and minced fresh ginger
4 scallions, white and light green parts thinly sliced
2 tablespoons fresh mint leaves, chopped
Instructions
In a medium bowl, stir together the soy sauce, water, mirin, sugar, cornstarch, black pepper, red pepper flakes and mustard. Set aside.
Bring a large pot of water to a boil. Cook the pasta according to the package instructions. Drain and set aside.
Return the pot to your stove and warm the vegetable oil over medium-high heat. Add about half of the green beans and cook, stirring occasionally, until their skin starts to blister in a few places, about 3-4 minutes. Transfer to a clean plate and then cook the remaining green beans in the same manner, adding more vegetable oil to the pot if it starts to get dry on the bottom. Remove the green beans and add them to the plate with the others.
Return the pot to your stove and warm the sesame oil over medium heat. Add the mushrooms and cook, stirring frequently, for about 2 minutes. Add the garlic and ginger and cook, stirring frequently, for about 1 minute.
Give the sauce a quick stir to recombine it. Then add it to the pot along with the cooked pasta and green beans. Toss to combine all the ingredients and coat them in the sauce. Remove the pot from the heat. Add the scallions and mint and toss to combine.
This dish can be enjoyed warm or at room temperature. Leftovers can be stored in an airtight container in your refrigerator for 2-3 days.