This post was originally published here February 23, 2015. I've since updated the text and photographs.
Just when you thought soup season was over, here I am. With soup!
Don't be mad. I know we're all aching for Spring (and if we could throw in some uplifting news while we're at it, that would be much appreciated). But this isn't like the heavy, cold-weather soups we've been enjoying all Winter. This Southwest Chicken and Sweet Potato Soup is much lighter and brighter. And it's perfect for these weird transition weeks when it feels like we're stuck between two different seasons.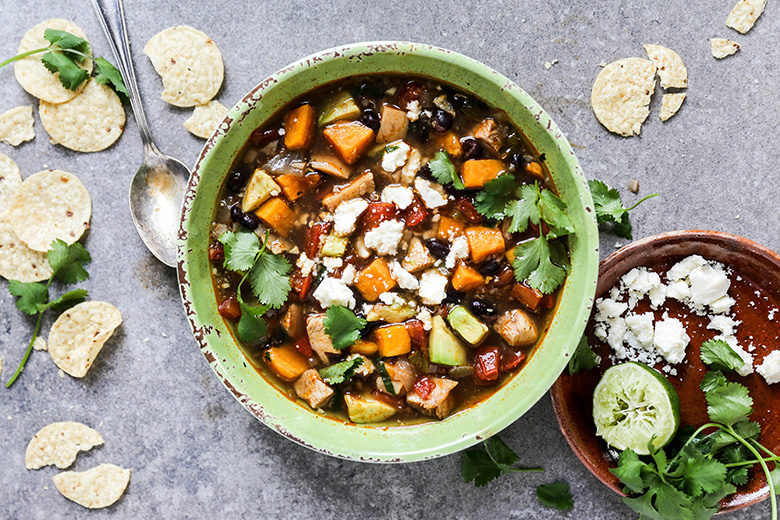 The ingredient list may seem long, but I promise you this recipe is easy to make. Much of what you see listed below are pantry staples. And you can easily prepare the base of the soup during the time the chicken is baking in the oven. It can all be done in about 40-45 minutes. And it still packs a punch in the flavor department.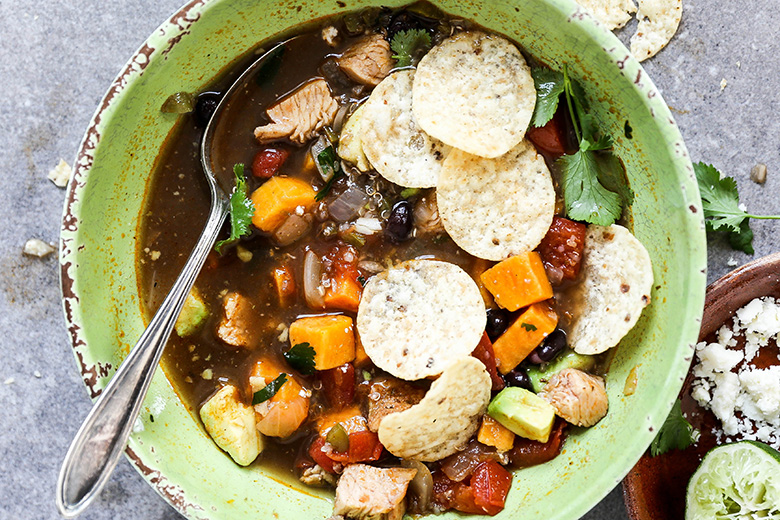 The best part about this Southwest Chicken and Sweet Potato Soup is the toppings. Sometimes I say silly things in my recipe instructions like "toppings are optional". But nope. Not this time. You need them. All of them. The cheese. The fresh cilantro. And the tortilla chips. Especially the tortilla chips. Crumbled on top of the soup, they provide the perfect amount of crunch and salt. I should seriously consider renaming this recipe "how to eat an entire bag of tortilla chips in one sitting". Because that may have happened to me. Or it may not have. I'll never tell.
Cheers,
Liz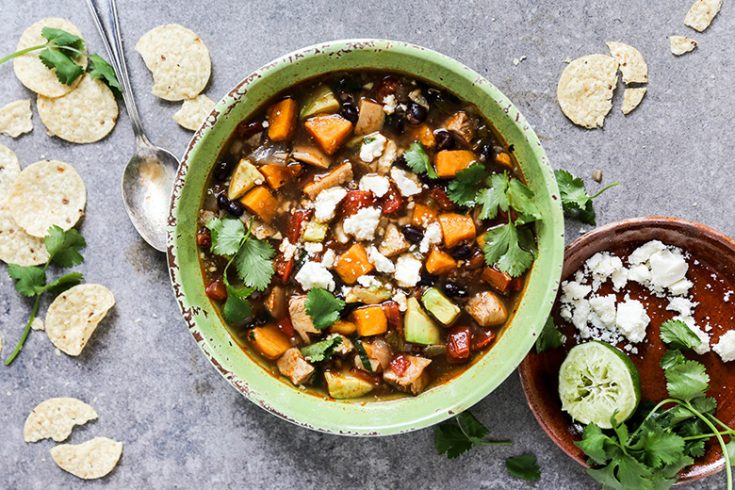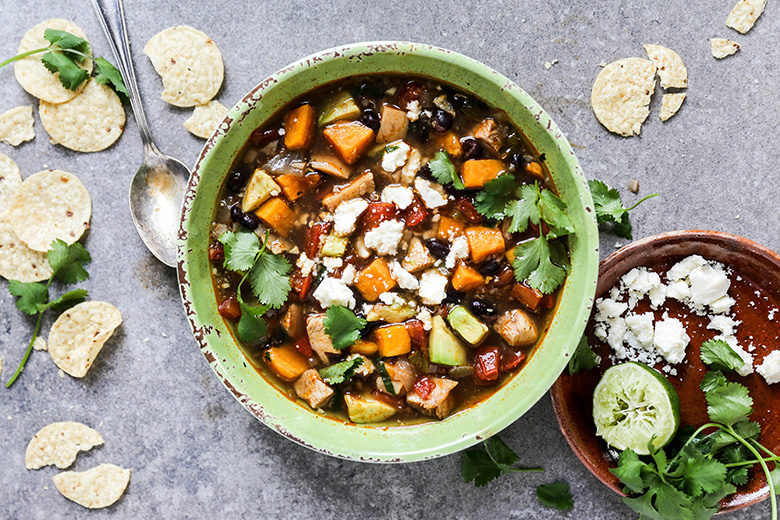 Southwest Chicken and Sweet Potato Soup
Yield: Serves about 6
Prep Time: 15 minutes
Cook Time: 30 minutes
Total Time: 45 minutes
Ingredients
For the Chicken:
1 tsp. salt
1 tsp. paprika
1 tsp. ground cumin
1 tsp. ground coriander
1/2 tsp. dried oregano leaves
1/2 tsp. dried thyme leaves
1/2 tsp. garlic powder
About 2 tsp. extra-virgin olive oil
2 boneless, skinless chicken breasts (about 1 lb total)
For the Soup:
2 tablespoons extra-virgin olive oil
1 small onion, peeled and diced
1 large sweet potato, peeled and cut into 1-inch cubes
1/2 tsp. salt
1/2 tsp. black pepper
1/2 tsp. chili powder
1/4 tsp. ground cumin
2 garlic cloves, peeled and minced
1 jalapeño pepper, minced
2 medium tomatoes, chopped
1 (15-ounce) can black beans, rinsed and drained
1/2 cup uncooked quinoa
6 cups chicken broth
3 limes, juiced
1 avocado, pitted, peeled and cubed
1/2 cup fresh cilantro, roughly chopped
For serving:
Queso fresco or cotija cheese, crumbled
Fresh cilantro, chopped
Tortilla chips
Instructions
Pre-heat your oven to 425 degrees. In a small bowl, combine the all the spices for the chicken. Add the olive oil and stir until a paste forms. Then rub this paste mixture all over the chicken breasts. Place the coated chicken breasts on a wire rack that's set into a baking pan. Then transfer the pan to your pre-heated oven and bake for about 25 minutes, or until the chicken is fully cooked. Set aside to cool.
Meanwhile, heat the olive oil in a large heavy bottom pot set over medium-high heat. Add the onions, sweet potato, salt, pepper, chili powder and cumin. Cook, stirring frequently, for 5 minutes. Add the garlic and jalapeño pepper and cook for 1-2 minutes more. Then stir in the chopped tomatoes, black beans, quinoa and chicken broth. Bring the soup to a boil. Then reduce the heat to maintain a simmer and cook, uncovered, until the sweet potatoes are tender, about 20-25 minutes.
Chop the cooked chicken into 1-inch cubes. Add the chicken, lime juice, avocado and cilantro to the soup and cook until everything is warmed through, about 3-5 minutes.
To serve, ladle the hot soup into bowls. Top with crumbled cheese and additional cilantro, if desired. Serve with tortilla chips.