This post was originally published here March 12, 2014. I've since adjusted the recipe slightly and updated the text and photographs to reflect those changes. I hope you'll try out these individual desserts for St. Patrick's Day!
I'm not one to usually party it up on St. Patrick's Day. In the traditional "go big or go home" mentality, I definitely lean more towards the "go home" option most of the time. But St. Patrick's Day does provide me with a nice excuse to play with some of my favorites in the kitchen. Like Irish cream.
When I first started going out to pubs, an Irish cream on the rocks was my beverage of choice. It tastes like dessert and you can't screw up ordering it. Done and done.
These days, my cocktail preferences have matured somewhat. But I do still love the taste of Irish cream. Which is why I'm moderately obsessed with incorporating it into dessert recipes. Like in these adorable Irish Cream and Chocolate Mini Cheesecakes.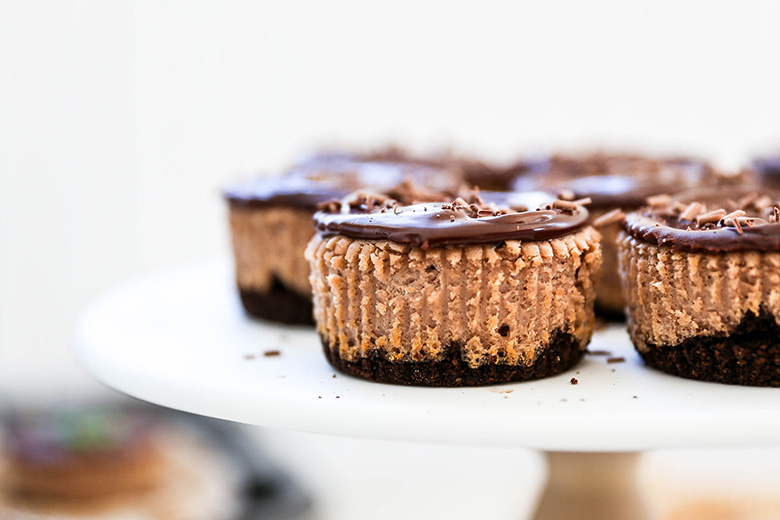 These Irish Cream and Chocolate Mini Cheesecakes have three fabulous layers: (1) a chocolate graham cracker crust, (2) a smooth Irish cream-flavored cream cheese filling, and (3) a glossy Irish cream-flavored chocolate ganache. That's three layers of decadence for you (and for me!). AND the best part is that because these babes are made in a standard 12-cup muffin tin, they take just a fraction of the time to bake up compared to a full-sized cheesecake.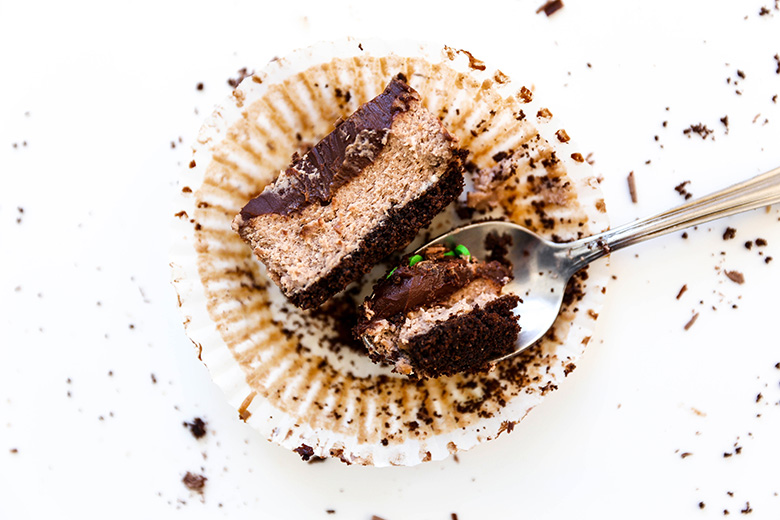 There's often a lot of angst about cheesecake cracking. And the internet is filled with tips to help home bakers avoid such imperfections. But since we're adding a thick layer of ganache as the final layer (this is done after the cheesecakes have cooled completely), we don't have to worry about any of that. Any unevenness will get covered up with the ganache. And all anyone will see is a beautiful, high-gloss shine!
So with a Guinness in one hand and a cheesecake in the other (another benefit of them being miniature!), I wish you all a joyful St. Patrick's Day!
Cheers,
Liz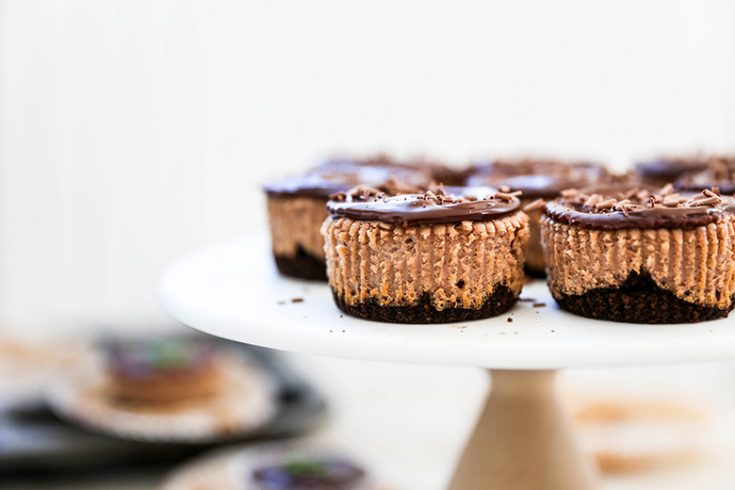 Irish Cream and Chocolate Mini Cheesecakes
Yield: Makes 12 cheesecakes
Prep Time: 20 minutes
Cook Time: 30 minutes
Additional Time: 2 hours
Total Time: 2 hours 50 minutes
Ingredients
For the Crust:
3/4 cups chocolate graham cracker crumbs (from about 7-8 graham crackers)
2 tablespoons butter, melted
1 1/2 tsp. instant espresso powder
For the Cheesecake:
2 (8-ounce) packages full fat cream cheese, softened at room temperature
1/2 cup granulated sugar
2 eggs, room temperature
5 tablespoons Irish cream (I used Baileys Original Irish Cream)
1 tablespoon unsweetened cocoa powder
For the Ganache:
1/3 cup heavy cream
3.5 ounces dark chocolate, chopped
2 tablespoons Irish cream (I used Baileys Original Irish Cream)
Instructions
Pre-heat your oven to 350 degrees. Line a standard 12-cup muffin tin with paper liners and set aside.
To make the crust layer, combine the graham cracker crumbs, melted butter and espresso powder in a bowl. Stir until all the graham cracker crumbs are evenly moistened and the mixture resembles sand. Evenly divide the crust mixture between the muffin cups (you'll use about 1 tablespoon per cup) and press it down firmly and evenly into the bottom of the cups. Transfer to your pre-heated oven and bake for 8 minutes. Remove and set aside.
While the crust bakes, prepare the cheesecake filling. In the bowl of your stand mixer fitted with the paddle attachment, beat the cream cheese until it's completely smooth. Add the sugar and beat until smooth. Then beat in the eggs, Irish cream and cocoa powder, stopping to scrap down the sides of the bowl as necessary. Evenly divide the cheesecake filling between the muffin cups, using a full 1/4 cup of filling per well. The muffin cups will be very full. Transfer to your pre-heated oven and bake for 20 minutes. Then remove and set the muffin tin on a wire rack to cool to room temperature. The filling will have puffed up during baking, but it will collapse slightly as it cools. Once at room temperature, place the muffin tin in your refrigerator to completely chill the cheesecakes, at least 2 hours or up to overnight.
To make the ganache, gently warm the heavy cream in a small saucepan over medium heat until small bubbles start to form. Do not bring the heavy cream to a full boil. Remove the saucepan from the heat and add the chopped chocolate. Let it sit in the warm heavy cream until it starts to melt. Then stir until fully melted and the mixture is smooth. Stir in the Irish cream. Spoon the ganache over the chilled cheesecakes, using about 1 tablespoon per cheesecake. Then place the cheesecakes in your refrigerator for about 10 minutes to set the ganache.
The cheesecakes can be stored in an airtight container in your refrigerator for 1-2 days.